Sweet and delicious date-nut mixture covered in dark chocolate sprinkled with dried coconut flakes. Satisfy your sweet craving with this healthier sweet treat free of gluten and refined sugar.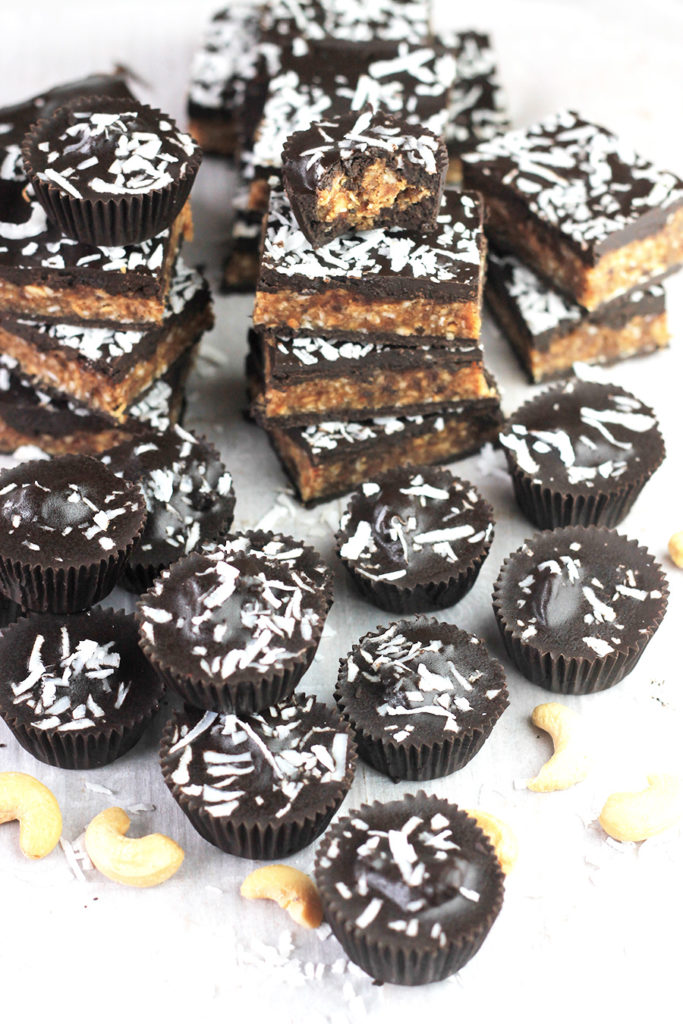 I have a serious sweet tooth but I try to avoid overly processed sugar, that's why dates are one of my go-to sweeteners.
Dates are amazingly sweet and filled with nutrients.
Dates provide 2.5g of protein, 77.5g of carbohydrates, 7.5g of fiber, 50mg calcium, and 600mg of potassium, which is three times the amount of potassium in bananas.
Isn't it nice when something so good can be good for you.
Sometimes for an afternoon or after workout snack I blend together a few dates, cashews or almonds, nut butter and dried coconut flakes, shape small amounts into balls or squares and store in my fridge.
A few weeks ago I decided to add some dark chocolate to the mix. What a wonderful combination of delicious flavors.
I made a batch using mini muffin cupcake liners, but if you like you can use regular cupcake liners or make in a pan and cut them into squares.
When you're craving something sweet why not make this healthier sweet treat. These would make a great gift for someone on Valentines Day.
If you like this try some of these other delicious sweet treats. Chili Chocolate Bark, Chocolate Hazelnut Hearts, and Chocolate Covered Nut Butter Stuffed Dates.
If you try this recipe, let me know! Rate it, leave a comment and tag me with @thewholeserving on Instagram! I always love seeing what you are creating!