Hello August, boy is it hot!
and I've been longing for some creamy ice cream, but being lactose intolerant I have to have the dairy free version. I've tried many a recipe, but none have wowed me, until today.
I experimented using one can of full fat coconut milk and a cup of unsweetened almond milk, and for sweeteners, I used agave nectar and coconut sugar, I was blown away with the taste,it was like having a bowl of rich creamy cappuccino. The next batch I make, I will add a bit of espresso for a bolder coffee taste.  I topped it off with some Buckwheat-Oat Granola, (recipe coming soon). I think what made the difference was the use of full fat coconut milk and my choice of sweeteners. I never have white sugar on hand, and all of the recipes I have found, use white sugar, so my first few trys were with honey or agave nectar, and I didn't like the taste and using a lower fat milk, I had trouble with the ice cream getting to hard because ice crystals formed.  Using the mix of agave and coconut sugar made all the difference in the sweetness and flavor.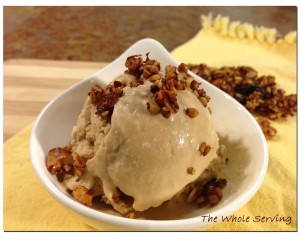 I am already thinking of more flavors to try.
Creamy, Dreamy Dairy Free Coconut Ice Cream
Yield: 4 servings
Ingredients
   1 13.5 oz. can of full fat coconut milk
   1 cup of unsweetened almond milk
   ⅓ cup agave nectar
   2 tablespoons of coconut sugar
Instructions
  1. Blend all ingredients in a high speed blender, if you don't have a high speed blender,you can use   mixer.  chill in the fridge for 2 hours or more.
  2. Prepare according to your ice cream maker manufacturers instructions.
 3. When done transfer to freezer safe container and store in freezer. If you don't have an ice cream maker, you can transfer to a freezer safe container and freeze for several hours.
If you try this recipe, please let me know how it works for you.
If you have a good dairy free ice cream recipe, please share.