Easy Vegan Tempeh Pho is filled with aromatic vegetable broth bursting with flavor ladled over tender rice noodles, topped with pan-fried tempeh and a mixture of mushrooms and sliced Brussels sprouts seasoned with Hoisin sauce. So easy to make!
What is Pho?
Pho is a Vietnamese soup consisting of broth, rice noodles a few herbs, and meat, primarily made with either beef or chicken. It's a popular street food in Vietnam and the specialty of a number of restaurant.

Traditionally Pho recipes start with a broth seasoned with spices like cinnamon, star anise, cloves, ginger and fish sauce. Thin strips of beef or chicken are also used as the star of the soups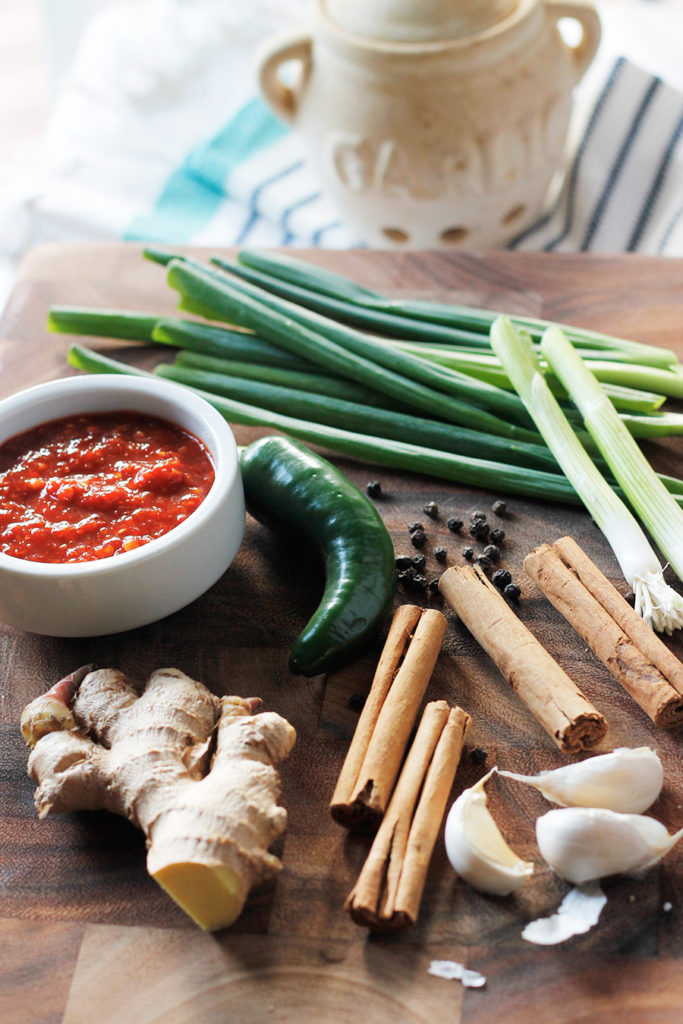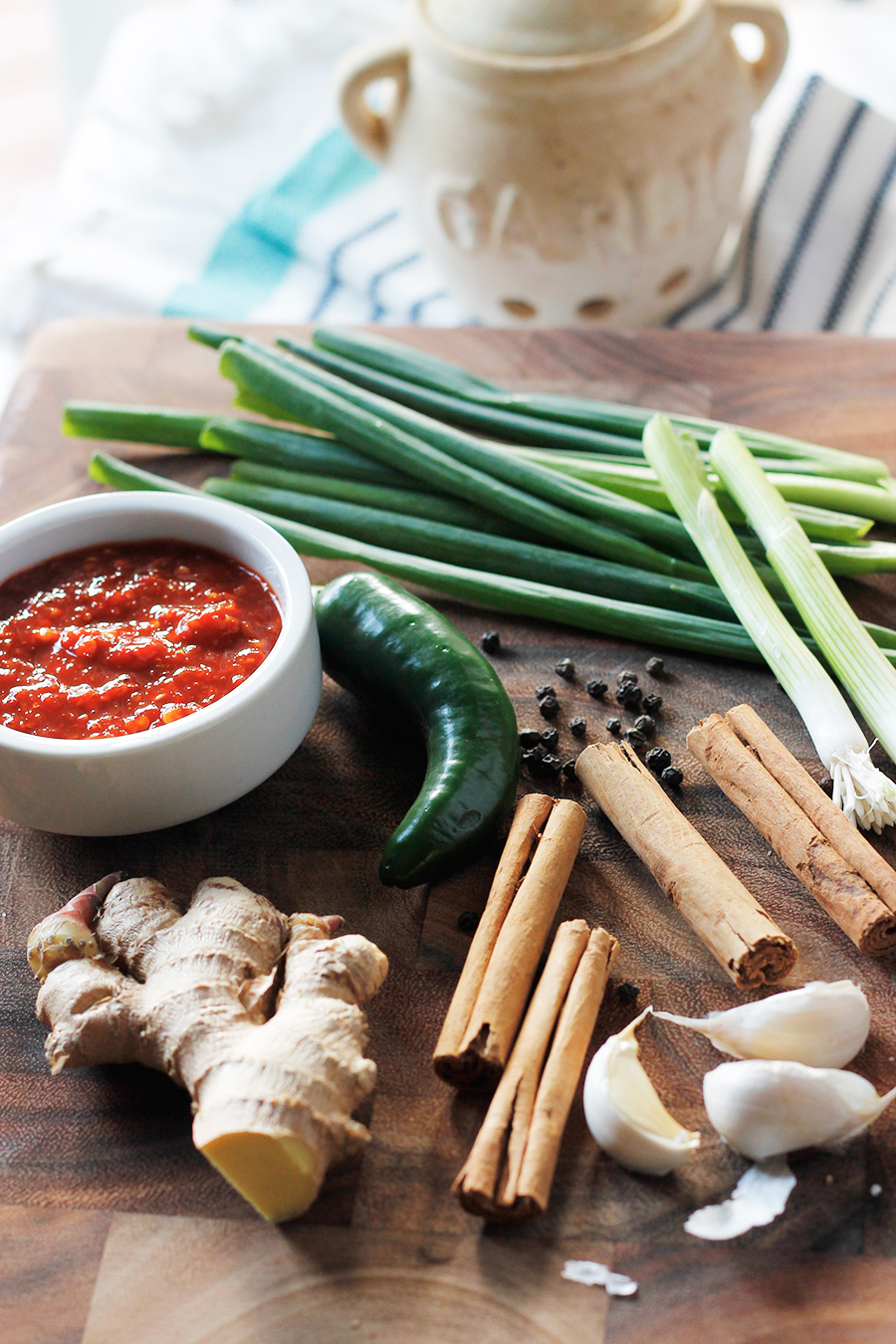 Another important ingredient for Pho is rice noodles. They can be purchased fresh or dried. Thai Kitchen Brown Rice Noodles is one of my favorites, because it has 4 individually wrapped packets, so convienant for work a lunch.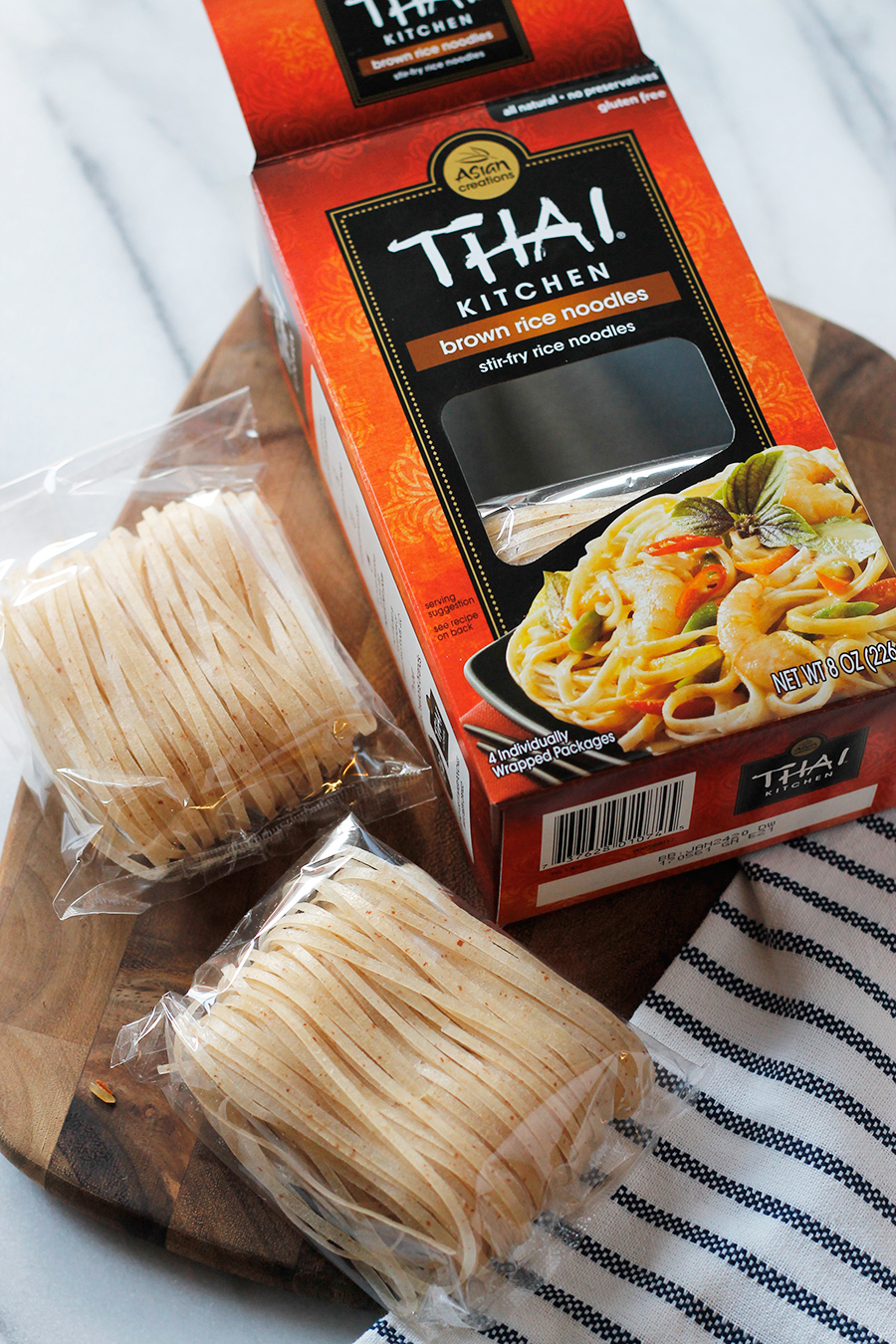 Below are some popular ingredients used in traditional Pho recipes.
Spices
Typical spices used in Pho are warm and sweet and add so much dimension to the broth.
Cinnamon
Clove
Star anise
Chinese black cardamom
Coriander seeds
Fennel seeds
Pepper

Aromatics
Ginger
Shallots and onions
Scallions

Seasonings
Soy sauce
Maggi seasoning sauce (great for meatless Pho)
Nutritional yeast
Liquid Aminos (vegan option for soy sauce)
Tamari sauce (vegan option for soy sauce)
Herbs
Mint
Basil
Thai basil
Cilantro

Popular add in ingredients or garnishes
Chiles
Chile sauce
Bean sprouts
Hoisin
Jalapeño
Lime wedges

Experiment with some of the basics, have fun and be creative with your Pho.

In this vegan version I replaced the beef with sautéed tempeh and mushrooms and I used Braggs instead of fish sauce. Because I like spice I included a bit of red chili sauce in my broth. I'm not a fan of star anise, so I omitted it in my recipe. But If you like it you can include one whole star anise in our broth.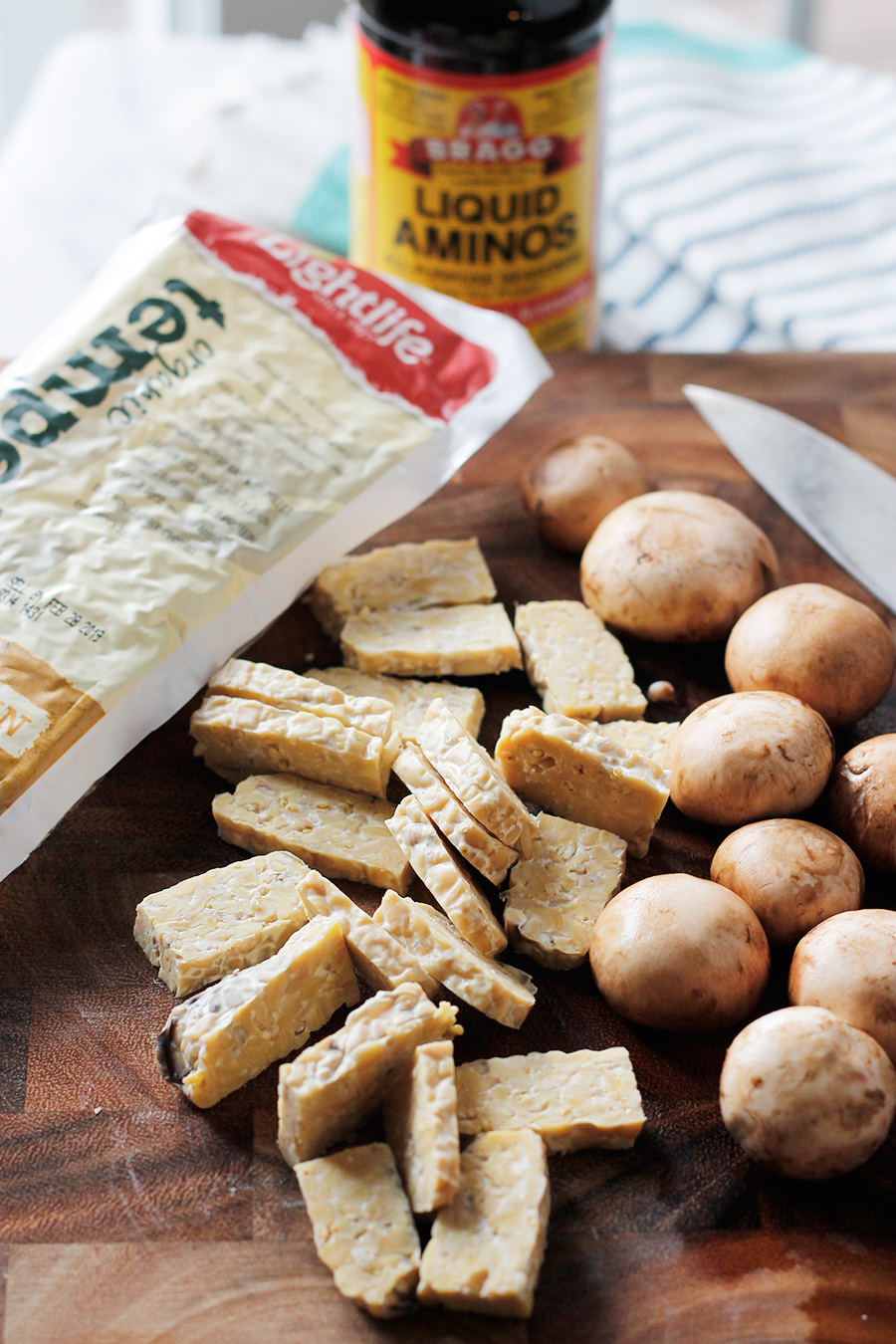 For added texture I included sliced Brussels sprouts to the sautéed mushrooms. And because I love hoisin sauce I added some to this recipe.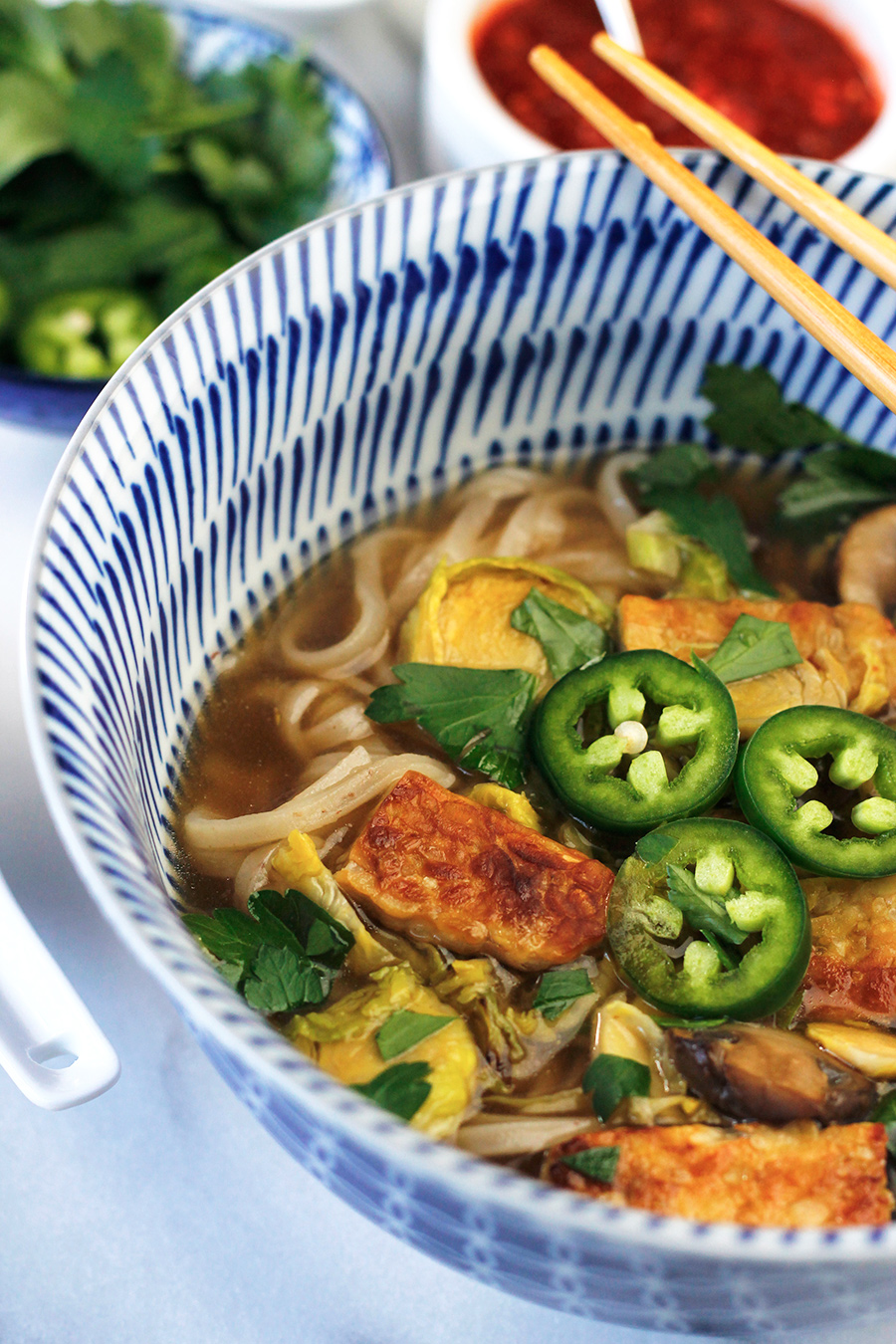 While the broth is simmering prepare noodles and slice tempeh, mushrooms and Brussels sprouts for sautéing.
Once the broth is made everything else comes together fairly quickly. And by the way, you can make the broth and freeze for future use.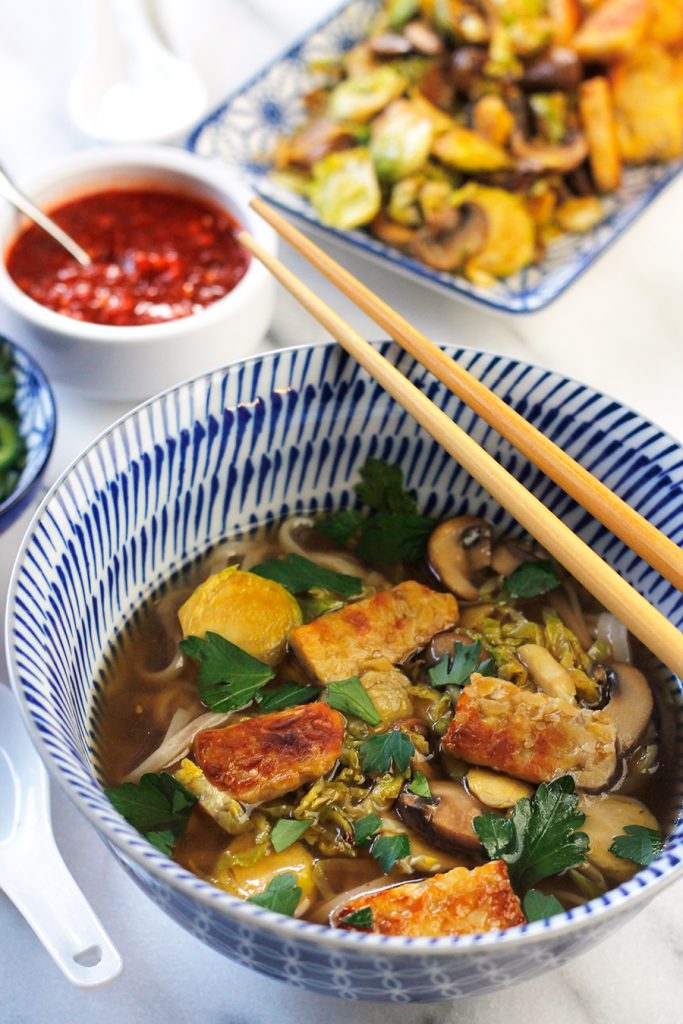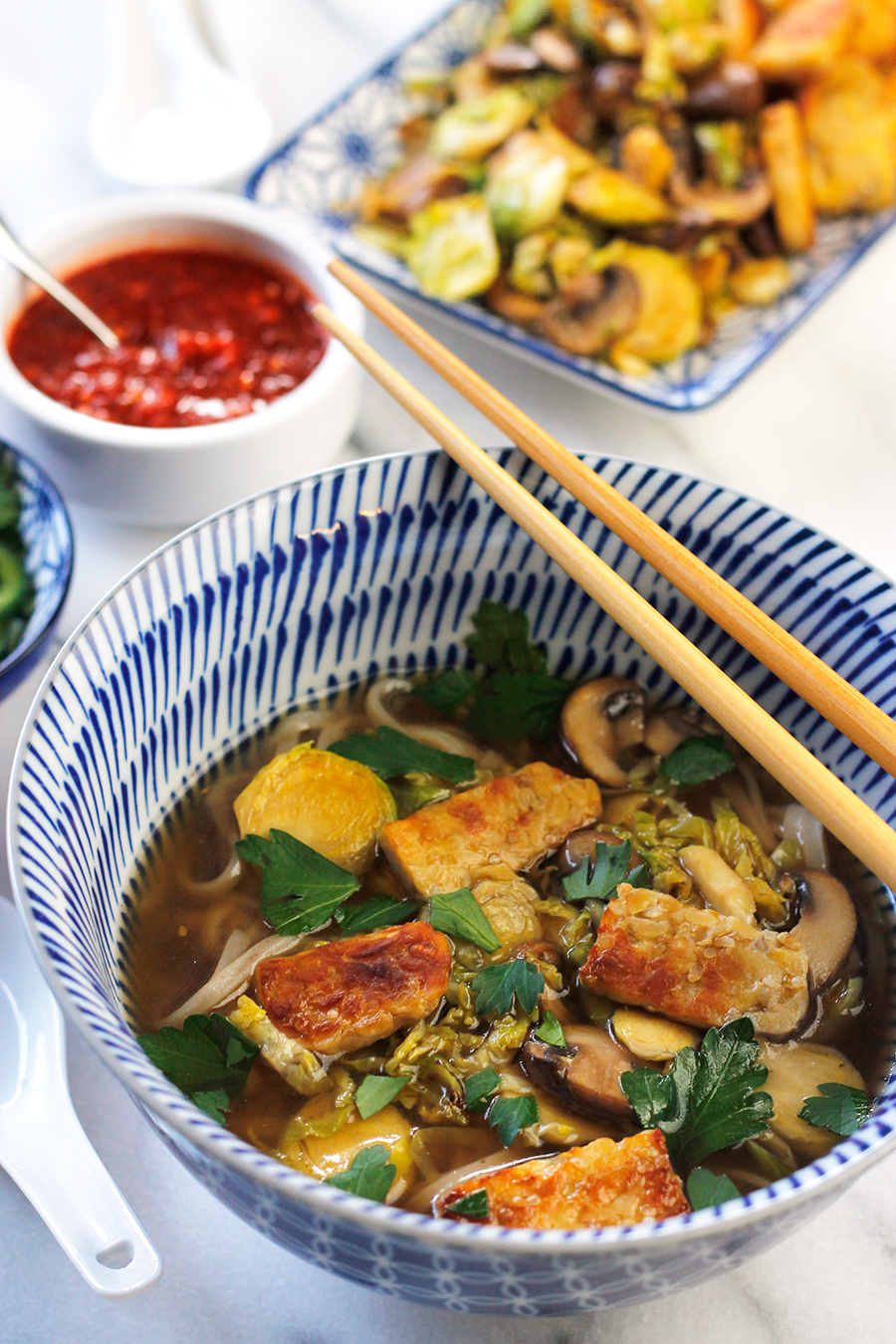 If you like this recipe here are some others you might like. Check them out. Sesame and Ginger Soba Noodle Soup, Spicy Ramen Vegetable Stir-Fry, Spicy Teriyaki Ramen with Sriracha.
If you try this recipe, let me know! Rate it, leave a comment and tag me with @thewholeserving on Instagram! I always love seeing what you are creating!
Print ---
Description
Aromatic vegetable broth bursting with flavor ladled over tender rice noodles, topped with pan-fried tempeh and a mixture of mushrooms and sliced Brussels sprouts seasoned with Hoisin sauce. So easy to make!
---
1 stick cinnamon
3 whole cloves
½ inch fresh ginger
3 cloves of garlic, smashed
2 stems of scallions, white portion
4 cups vegetable broth
2 tablespoons Braggs
1 tablespoon maple syrup
½ teaspoon red chile sauce
salt to taste
8 oz. box of brown rice noodles
1 8 oz. packet tempeh
8 oz. package of baby bella mushrooms
16 oz. bag of fresh Brussels sprouts
1 tablespoon Hoisin sauce
---
Instructions
In a 3 or 4 quart pot, toast the cinnamon, cloves over medium heat until fragrant, include star anise if you're using it. Add ginger, garlic, and scallions to pot, stir 30 to 40 seconds. Pour in broth, Braggs, syrup, and red chili sauce. Bring to a boil then lower heat and simmer for 30 minutes.
While broth simmers, soak the rice noodles in hot water until noodles are tender yet firm. Drain, rinse and set aside.
Prepare tempeh. Cut in half lengthwise and then into ½ inch pieces.
Heat a large skillet over medium heat. Once hot, drizzle in olive oil. Sauté tempeh for 3-4 minutes, turning on each side until browned. Remove from pan and set aside.
In the same skillet sauté mushrooms for one minute, adding more oil or water if needed.
Toss in Brussels sprouts and sauté 30 to 40 seconds. Add hoisin sauce to skillet, tossing to coat, sauté 30 seconds more, then remove skillet from heat.
Once broth is done, strain out the spices, ginger, garlic, and scallions by pouring through a fine colander or metal sieve. Pour back into pot, taste and season as needed and keep warm.
Place prepared noodles in bowls. Ladle broth over noodles and add mushrooms, Brussels sprouts, and tempeh to bowl. Garnish and serve immediately.
---
Notes
Broth can be made and frozen for future use.