This pizza Is simply delicious, loaded with flavorful roasted veggies, creamy ricotta, and served with a topping of arugula greens and balsamic glaze.
Making homemade pizza doesn't have to be laborious. Actually it can be one of the quickest meals to make. Simply grab some flatbread and your favorite toppings and you'll have pizza in minutes.
However, this pizza takes a bit longer than usual because the veggies were roasted just before adding them but it was still ready in under 30 minutes.
Make it Quick Tip
Roast the veggies a day or two ahead and store in the fridge until you're ready to prepare your pizza.
I think roasting the veggies adds a level of flavor complexity that's absolutely delicious.
In this recipe I used the Easy 5-Minute Pizza Sauce I shared here last week as my base layer before spreading on the ricotta. Together they create such a creamy goodness for this pizza.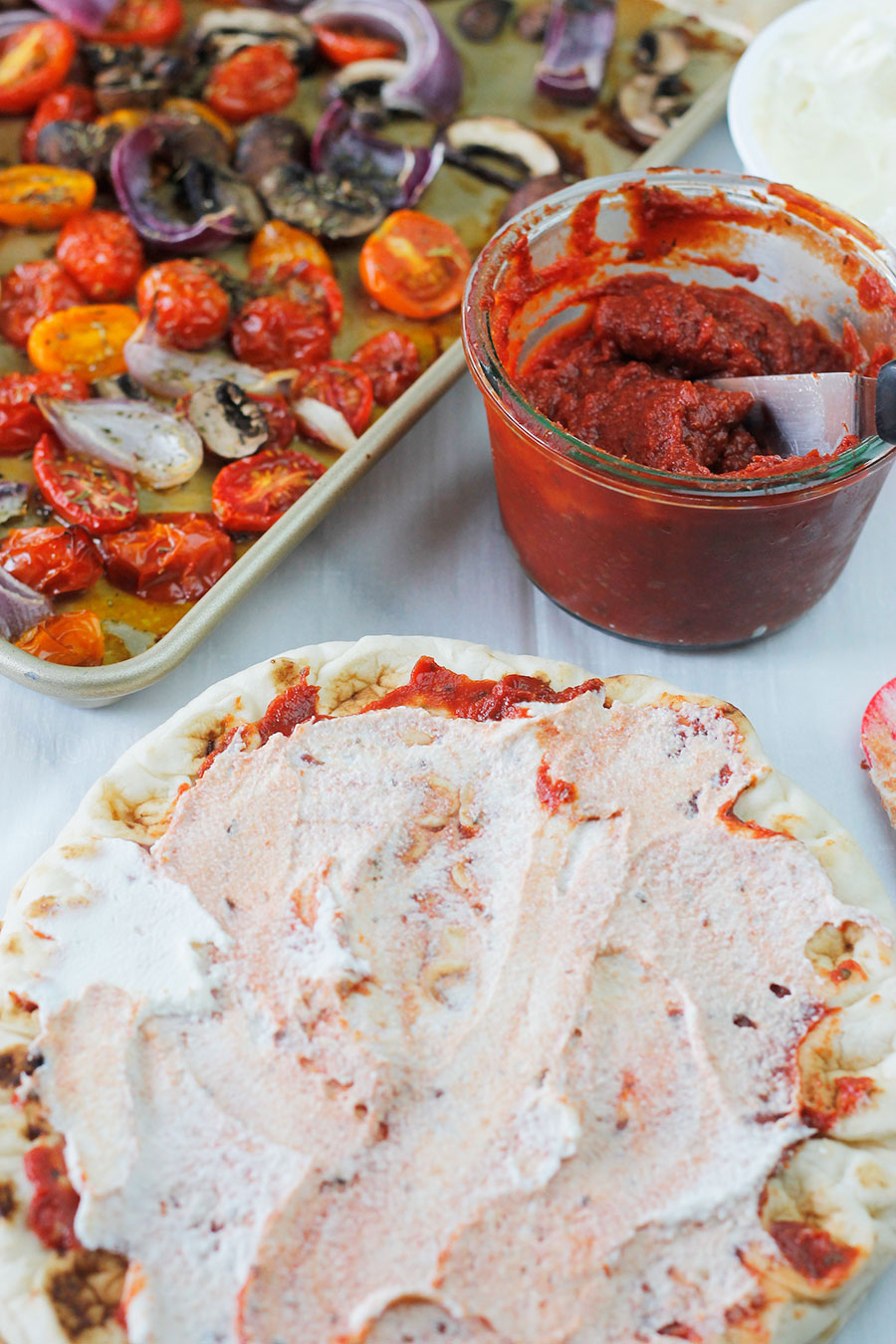 For toppings I roasted veggies I had on hand, mushrooms, red onions, and cherry tomatoes tossed with garlic, oil and seasonings. The robust flavor of the roasted veggies coupled with the creaminess of the ricotta is amazing these flavors meld together wonderfully.
You can totally use whatever you have on hand, that's the great thing about making pizza.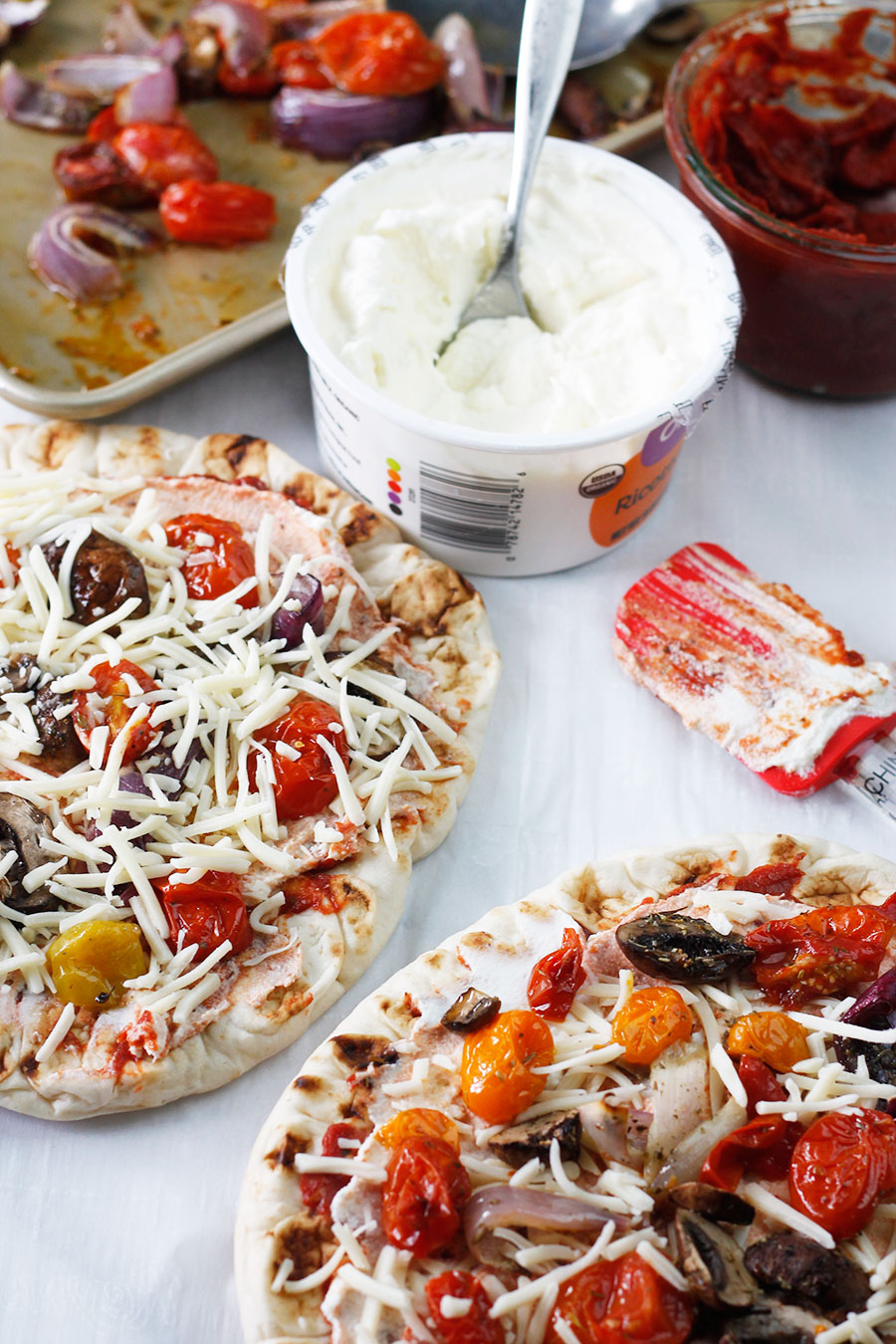 This recipe is perfect for those days when you want to get something tasty on the table quick without paying for takeout.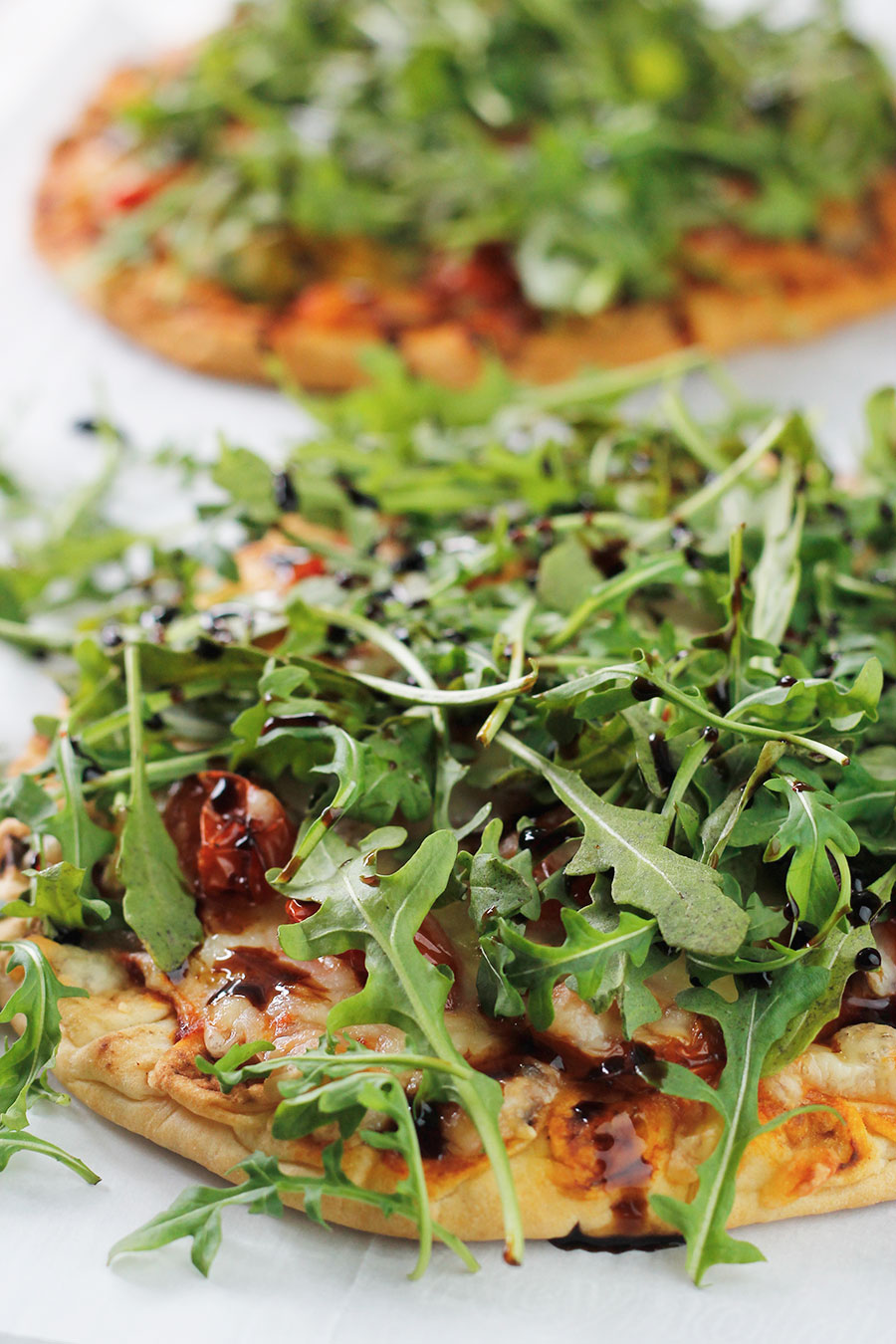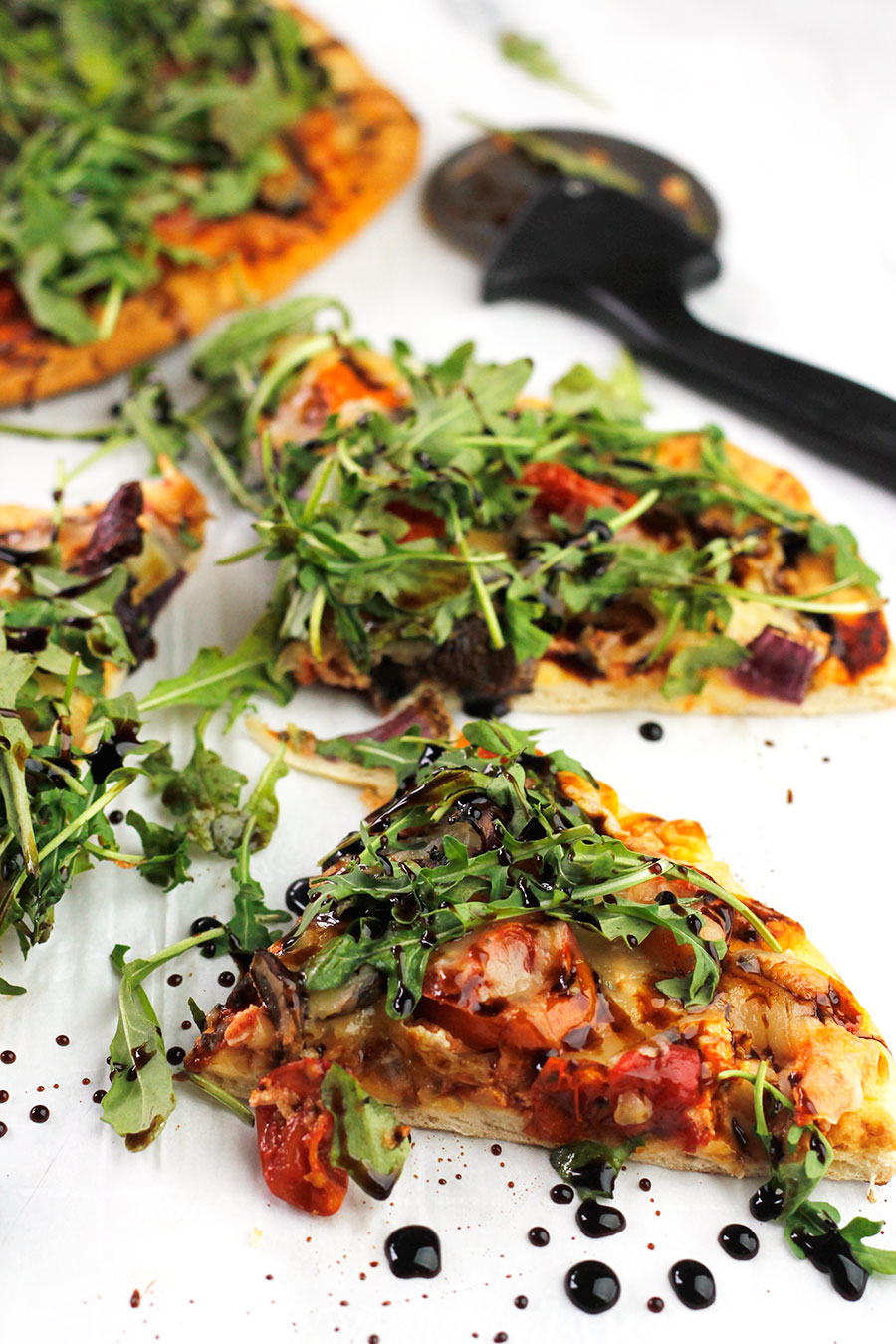 If you try this recipe, let me know! Rate it, leave a comment and tag me with @thewholeserving on Instagram! I always love seeing what you are creating!
Print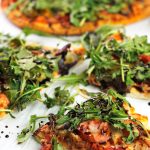 Roasted Veggie Pizza with Arugula Greens and Balsamic Glaze
---
Description
This pizza Is simply delicious, loaded with flavorful roasted veggies, creamy ricotta, and served with a topping of arugula greens and balsamic glaze.
---
8 ozs. cherry tomatoes, sliced in half
8 ozs. baby bella mushrooms, sliced
1 medium to large red onion
1 tablespoon extra virgin olive oil
3 cloves of garlic, minced
1 teaspoon Herb de Provence
salt and pepper to taste
4 rounds of Nann bread or any other flatbread of your choice
¼ cup Easy 5-Minute Pizza Sauce
½ cup ricotta cheese
1 cup shredded mozzarella cheese
½ cup shredded Parmesan cheese
3 cups of Arugula greens
balsamic glaze
---
Instructions
Preheat oven to 375 degrees.
Clean and slice the tomatoes and mushrooms and place them into a medium bowl. Peel and cut the red onion into wedges and add to the bowl with the tomatoes and mushrooms.
Drizzle the veggies with the olive oil and toss to coat. Add in the garlic, herb de Provence and salt and pepper, toss and transfer veggies to a shallow baking pan and spread evenly. Place in oven and roast 15 minutes.
While the veggies are roasting prepare the cheese and flatbread. In a small bowl toss together the mozzarella and Parmesan cheese and set aside.
Spread flatbread with a layer of the pizza sauce then a layer of ricotta cheese, spread evenly. If you prefer you can mix the pizza sauce and cheese together before spreading.
Top the ricotta with the roasted veggies and a sprinkling of mozzarella/Parmesan mix. Place on a baking sheet and bake in oven for 10 minutes or until cheese has melted. Remove from oven and allow to cool slightly.
Top pizza with arugula and drizzle with the balsamic glaze. Slice and serve.
---
If you like this recipe you may want to try these recipes.