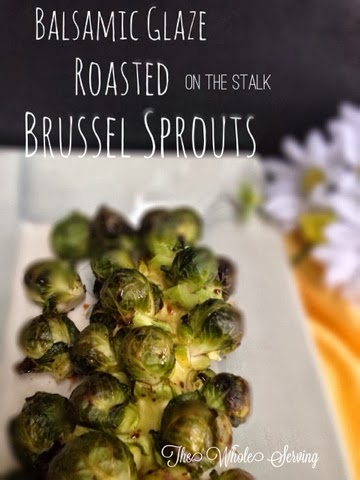 As a child I cried every time I ate Brussels Sprouts, I think it was the fact that I was forced to eat them, you know that, "you can't leave the table until you cleaned your plate" thing, and they were always the last thing on my plate. My mom prepared them simply by putting them into a pan with a little water, salt and pepper and sometimes she would put cheese over them, the cheese made them easier to eat.  Over the years I have had Brussels Sprouts prepared several ways and I have acquired a taste for them. Sometimes it's the preparation of a food that makes the difference.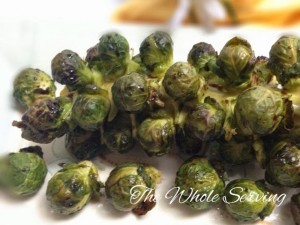 When I saw these on-the-stalk Brussels Sprouts at Trader Joe's, I was excited to purchase and roast them on-the-stalk. Such a simple recipe, but loads of flavor.
Balsamic Glaze Roasted

On-The-Stalk

Brussels Sprouts
Ingredients
1 Brussels Sprout stalk
¼ cup extra virgin olive oil
sea salt and cracked black pepper to taste
⅓ cup, balsamic glaze (I used Trader Joe's )
Don't have Trader Joe's glaze, that's OK.
to make your own glaze, mix 1 cup of balsamic vinger with 3 tablespoons of honey, bring to a boil in small saucepan, reduce to simmer and cook until thickened.
Instructions
1. Preheat oven to 350 degrees.
2. Rinse stalk well in fresh water and trim any unsightly parts.
3. Brush olive oil over sprouts.
4. Wrap sprouts in parchment paper, and wrap parchment covered sprouts in aluminum foil.
5. Place in oven for 20 to 25 minutes.
6. Remove parchment and foil, brush on glaze, season with salt and pepper and return to oven.
7. Tent sprouts with foil to prevent burning.
8. Roast for about 45 minutes or until sprouts are fork tender.
9. Rotate and brush on more glaze halfway through roasting.
10. Remove foil and glaze once more during the last 15 minutes of roasting.
11. Brush on more glaze just before serving.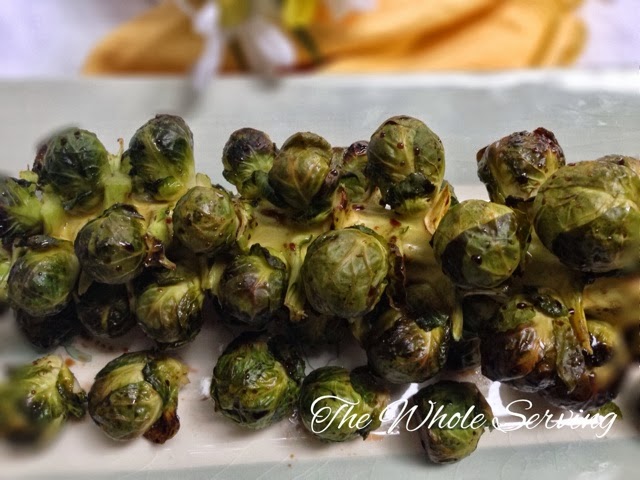 Roasted tomatoes anyone?
 Add some in for a flavor variation.



This post was shared with The Naptime Review, Janie's Confessions of Mommyaholic, Adventures with Jude, Krystal's Kitsch for Mom's Monday Mingle.