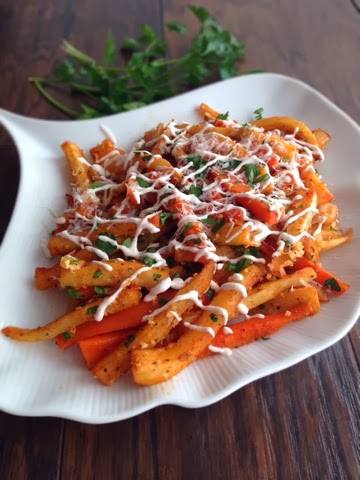 I have to admit, parsnips is not a vegetable that is a regular in my vegetarian diet, so when I saw them today I decided to break away from my same old, same old, and add them to my shopping cart, at a 100 calories a cup, it's a smart choice.
Parsnips are packed with folate, potassium, vitamin C, E, K and manganese.
I paired the parsnips with it's cousin carrots, both have a earthy, sweet flavor and go well together. Adding the parmesan and garlic gives the dish a more complex flavor.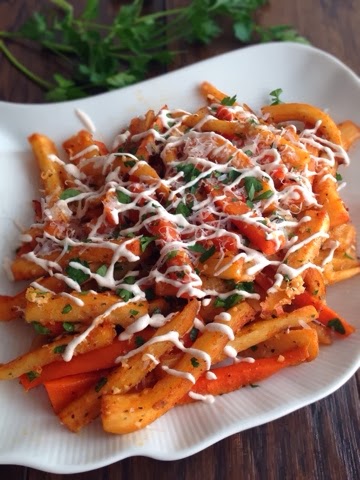 Roasted Parsnips and Carrots

Ingredients 
1 lb parsnips, peeled and sliced into strips
1 lb carrots, peeled and sliced into strips
3 tablespoons extra virgin olive oil
2 teaspoons smoked paprika
cracked black pepper and sea salt to taste
4 cloves, minced garlic
1 cup, finely grated parmesan cheese
½ cup finely chopped Italian flat leaf parsley
Sauce
1 cup ranch dressing
2 teaspoons, fresh lemon juice
½ teaspoon smoked paprika
Instructions
 Preheat oven to 425 degrees and brush large baking sheet with a little olive oil or spray with non-stick cooking spray.
 In a large bowl toss dry parsnips and carrots with extra virgin olive oil.
 Sprinkle on smoked paprika and season with cracked black pepper and sea salt.
 Roast for 15 minutes. Sprinkle with minced garlic, stir vegetables and roast another 5 to 10 minutes.
 While parsnips and carrots are roasting, mix ranch dressing, lemon juice and smoked paprika.
 Remove from oven and toss with all but 2 tablespoons of parmesan and parsley.
 Transfer to serving platter, sprinkle on remaining parmesan and parsley.
 Drizzle with ranch dressing mixture.
 Serve and enjoy!