No-Cook Strawberry Mint Chia Jam-filled with flavors of lemon and mint. Takes only minutes to make and no stove required.
Remember last week when I shared how to make Strawberry Shrub, I told you that more than drinks can be made with the wonderful stuff.  So today I'm sharing my No-Cook Strawberry Mint Chia Jam in which I used Strawberry Shrub as the sweetener. This is one of those quick and easy recipe, no need to turn on the stove-top or oven.
This recipe starts with beautiful strawberries, lemons, I used Meyer lemons, pungent mint.
I've been loving strawberries lately and it was hard not to eat the ingredients before using them in this recipe . Every third or fourth berry went into my mouth, so sweet and juicy.
The lemons I used this time were Meyer lemons. Have you ever wondered what the difference is between a Meyer lemon and a regular lemon?
Meyer lemons get their name from Frank Meyer, he brought the Meyer lemon to the US from China in the early 20th century. The Meyer lemon is thought to be a cross between a regular lemon and a mandarin orange. Meyer lemons may be smaller than regular lemons, with smoother deep yellow skin, and Meyer lemons aren't as acidic, they are sweeter than regular lemons. The rinds of a Meyer taste and smell more herb or spice-like, which adds more complexity. Meyer lemons are more seasonal and best found from December through May.
Regular lemons are generally larger, thicker skinned, more acidic and are readily available throughout the year.
I couldn't resist the mint because it was so beautiful and pungent and it adds so much flavor to the jam.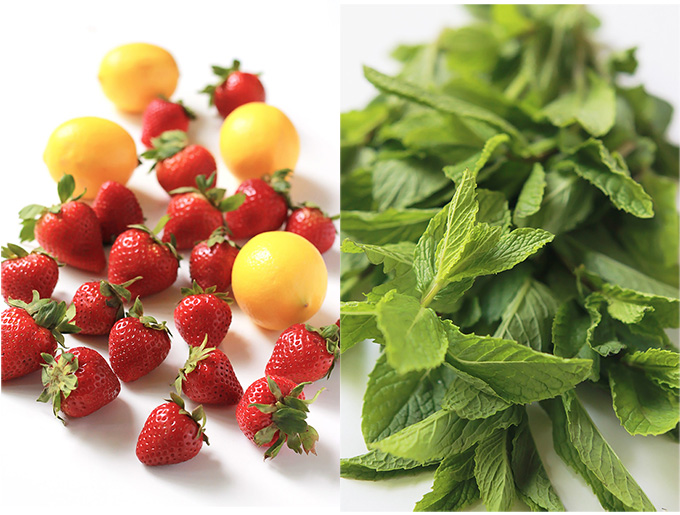 It's the chia seeds that really give this jam texture. It's amazing how something so tiny packs such a powerful punch.
Increased and sustained energy levels, mental clarity, stable blood sugar levels, bone health, increased fiber intake, weight management and healthy hair, skin and nails, these are just a few of the benefits you may have if you include Chia seeds to your daily diet. Just 15 to 20 grams (2 to 3 tablespoons) of Chia a day will provide you with all the omega-3 your body needs. Reference:Dr. Wayne Coates-AZChia.com.
Finely chopped strawberries can be added for a chunkier more textured jam, which is what I did for mine. This step is completely optional.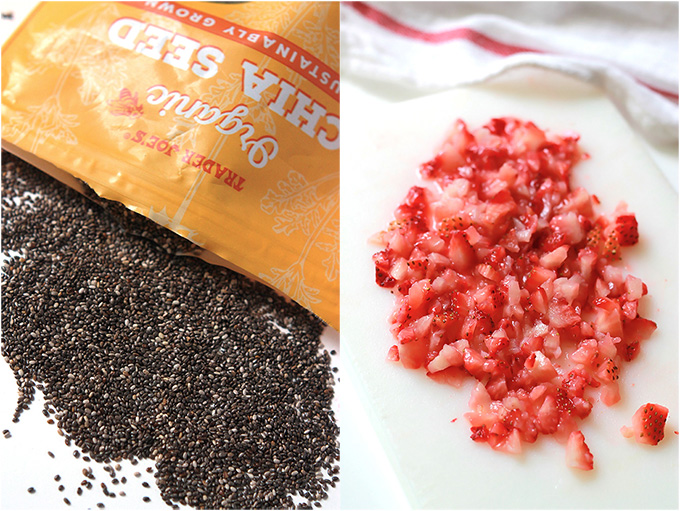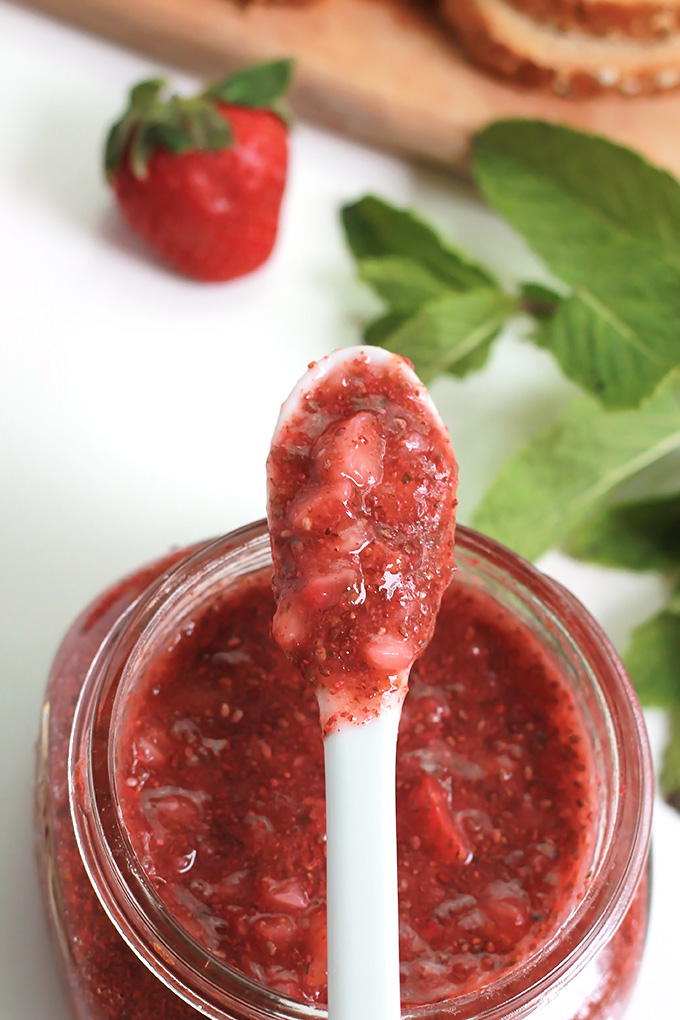 If you don't have fresh berries you can totally use frozen berries or whatever berry is your favorite.
This awesome jam is great in yogurt, hot cereals, ice cream, on toast, pancakes, waffles and in your favorite nut butter sandwich. And by the way, this jam makes a great gift if you don't eat it all yourself.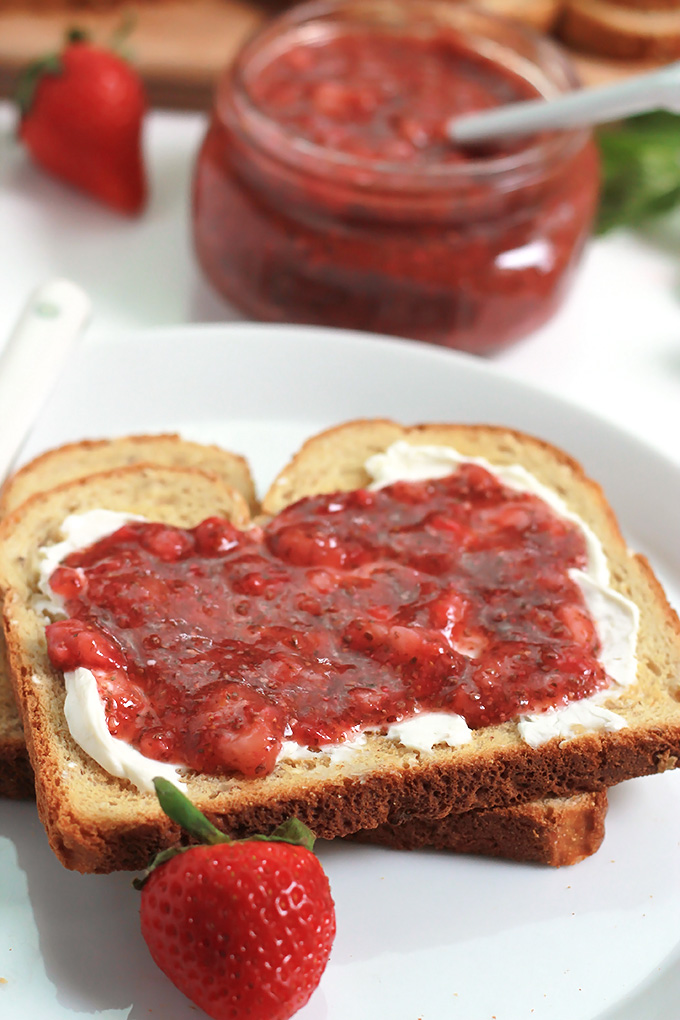 Print
---
2

cups

quartered strawberries, measured after they have been quartered

⅔

cups

strawberry shrub

3 tablespoons

fresh lemon juice

2 tablespoons

lemon zest

2 tablespoons

finely chopped mint

¼

cup

chia seeds

1 ½

cups

of finely chopped strawberries, optional
---
Instructions
Place strawberries, shrub, lemon juice, zest, mint and chia seeds in a blender. Puree until mixture is your desired consistency.
Transfer mixture to a bowl and add in the remaining chia seeds, and strawberries. Mix well. You canals add in more mint if you like.
Transfer to glass jar seal and place in the fridge several hours or overnight. Jam will thicken as it cools.
---
Notes
Jam should keep in the fridge 2 week to 10 days.
---
Nutrition
Serving Size:

1 tablespoon

Calories:

11

Sugar:

0.8

Sodium:

0.4

Fat:

0.4

Saturated Fat:

0

Carbohydrates:

1.8

Fiber:

0.7

Protein:

8.3

Cholesterol:

0
If you make this recipe or a version of it, take a picture and share with me on Instagram, tag it #thewholeserving or leave a comment below. I'd love to see or hear about your version of No-Cook Strawberry Mint Chia Jam.