A delicious, aromatic blend of nuts, seeds and spices. Perfect for snacking or cooking. I served my Dukkah recipe with my Homemade Herb Bread as a bread dip.
You know how you prepare a dish in your head to the point you taste the goodness and your soul is so excited for what's to come. But then you find that you don't have all the ingredients, such a disappointment.
Well this happened to me the other day. I was so certain I had a container of Dukkah in my fridge, turns out I didn't have any. After dealing with the disappointment I decided to just make the trip to Trader Joe's, since it's just two minutes around the corner from where I live and all would be fine.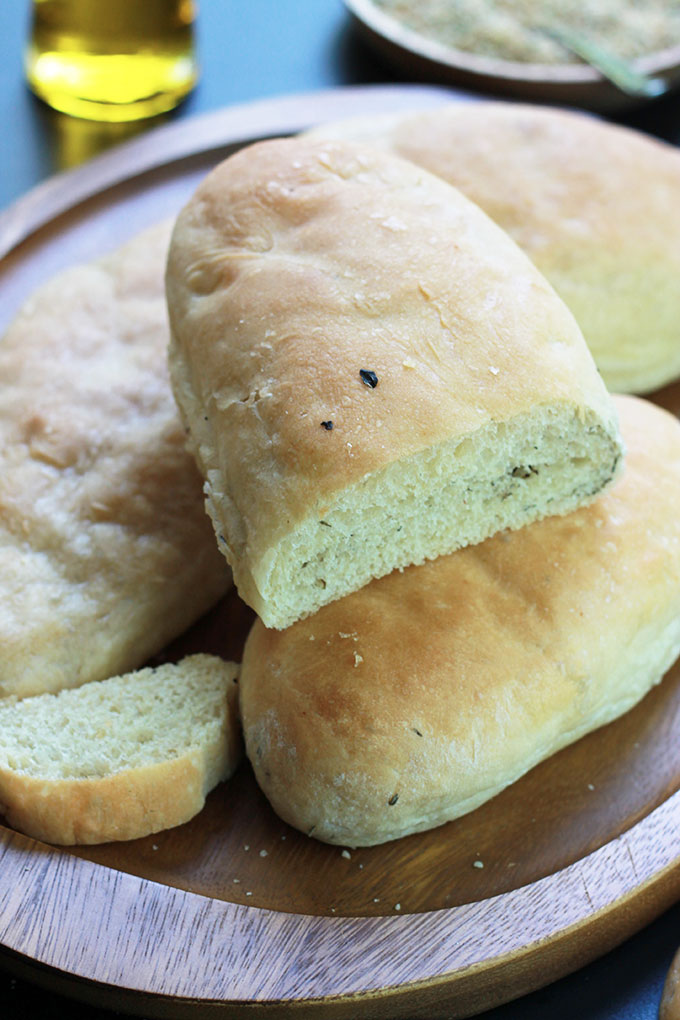 I walked up and down the same aisle several times determined I could find it without having to ask for help. I finally had to ask for help. Guess what, they were out, completely out. I was disappointed but determined. That was the moment I decided to make it myself.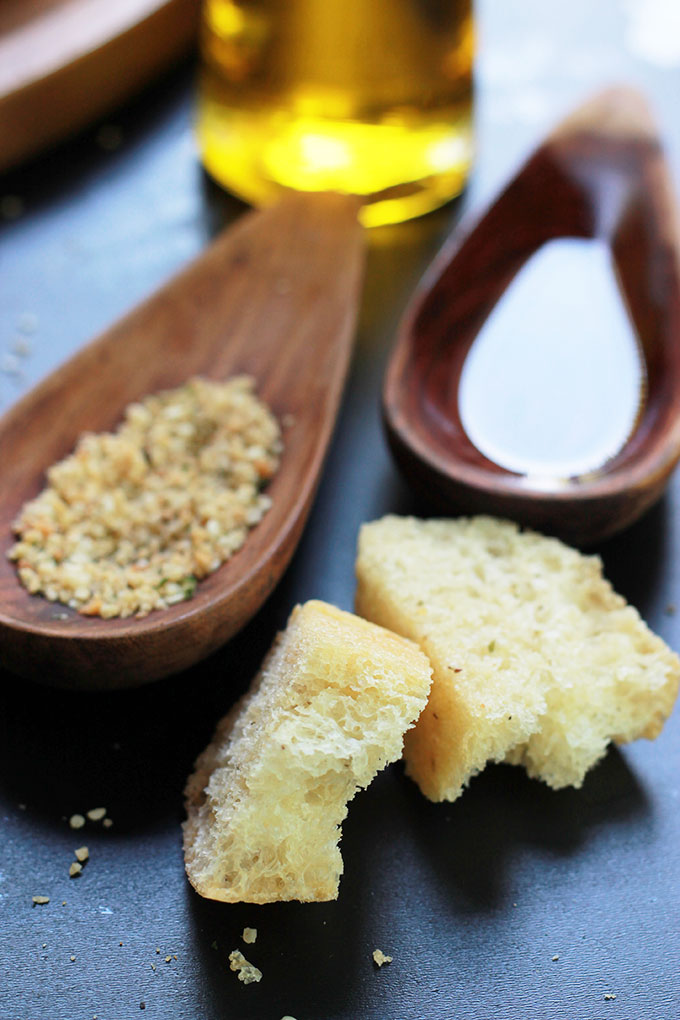 It really is quite simple and actually better because I had all the control over what nuts to use. I decided on hazelnut and almond.
Some of you may be wondering what in the heck is Dukkah? Pronounced Doo-kah.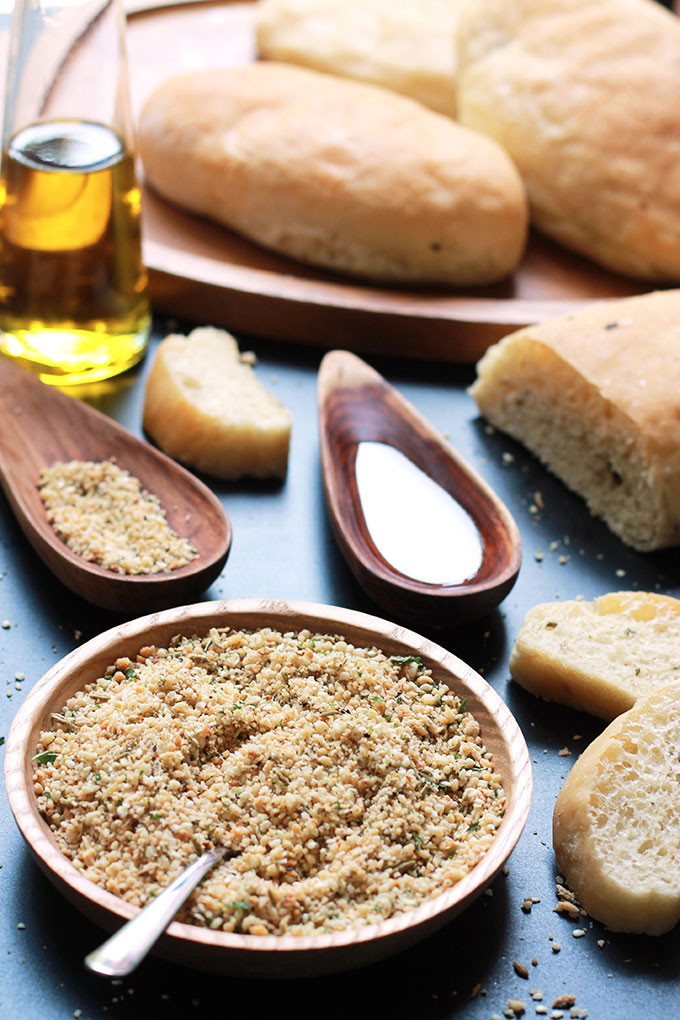 Dukkah is an Egyptian spice blend made with nuts and spice seeds, used mostly as a bread dip with extra virgin olive oil.  There are more versions of Dukkah recipes than I can count, I took the ingredients from the side of the empty Trader Joe's Dukkah container, excluded some added others and played around with the spices to get this blend.
I even split my batch and added dried mint, coconut chips and hemp seeds to the second half to use over cereal and fruit.
There are many ways to use Dukkah and I'm having fun finding those many ways.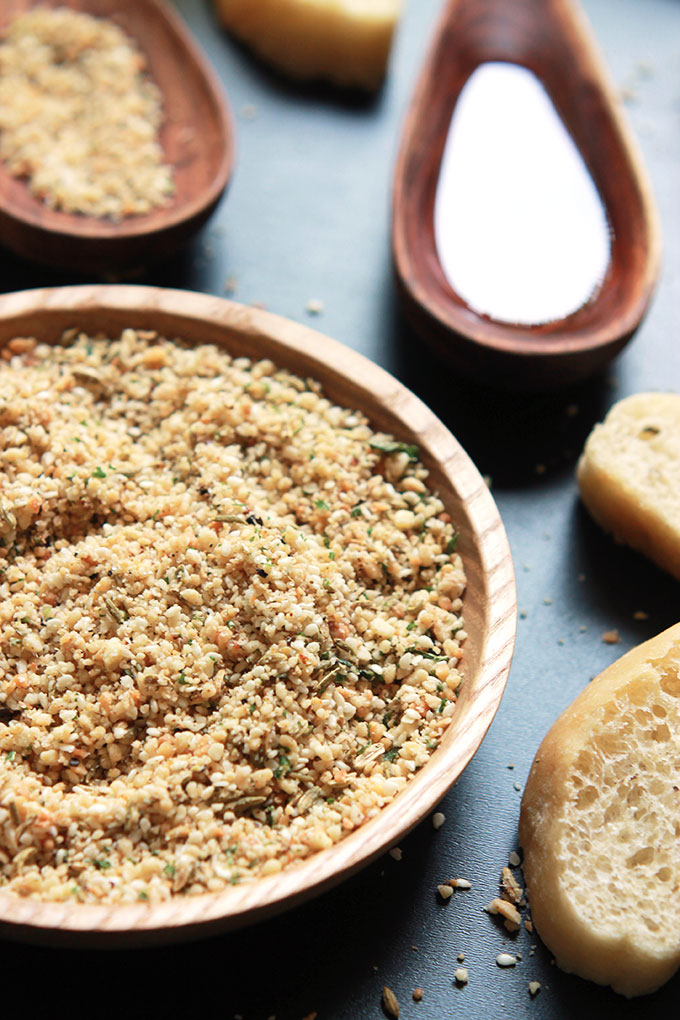 Some of those ways are over salads, soups, roasted veggies, eggs, fruit and yogurt to name a few. 
By the way the best place to store Dukkah is in the fridge, it helps prevent the nuts and seeds from going rancid. Which is why I store all of my nuts and seeds in my fridge.
It's absolutely amazing and so quick and easy to make. I don't think I'll be buying again.
I served my Dukkah with slices of herbed bread that I had made earlier and I included the recipe below.
Print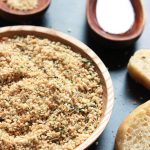 My Dukkah Recipe with Homemade Herb Bread
---
¾

cup

almonds

¼

cup

hazelnuts

¼

sesame seeds

2 tablespoons

fennel seeds

2 teaspoons

ground coriander

1 teaspoon

freshly grated black pepper

2 teaspoons

dried mint (optional)

2 teaspoons

dried coconut flakes (optional)
---
Instructions
Heat a large skillet over medium high heat, dry roast the almonds, hazelnuts, sesame and fennel seeds separately, just until fragrant.
Place dry roasted nuts and seeds in bowl of food processor and process until it's at desired consistency.
Transfer to a bowl and add the remaining ingredients and mix well.
Store in an airtight container in your fridge. Mixture should last about one month.
---
---
Nutrition
Serving Size:

1 tablespoon

Calories:

38

Sugar:

0.3

Sodium:

60.7

Fat:

3.2

Saturated Fat:

0.4

Carbohydrates:

1.8

Fiber:

1.1

Protein:

1.3
Print
---
Description
I used my bread maker to make my dough and baked the bread in my oven. If you don't have a bread machine you can mix the traditional way with your hands.
---
1 ½

cup

water

2 teaspoons

yeast

3 ½

cups

bread flour

2 teaspoons

sea salt

½ teaspoon

dried oregano

½ teaspoon

dried basil

½ teaspoon

dried thyme

1 teaspoon

garlic powder
---
Instructions
Place the ingredients into the bread machine, making sure to place the wet ingredients in first.
When dough is ready, turn onto a lightly floured surface and cut into 6 pieces.
Lightly oil two large shallow baking pans.
Shape dough into a logs and place on prepared baking pans, cover with a clean kitchen towel and allow to rise for an hour.
Preheat oven to 350 degrees and bake bread until golden brown, about 30 minutes.
---
---
Nutrition
Serving Size:

2 oz

Calories:

111

Sugar:

0.1

Sodium:

240.5

Fat:

0.5

Saturated Fat:

0.1

Carbohydrates:

22.1

Fiber:

0.9

Protein:

3.8
If you make this recipe or a version of it, take a picture and share with me on Instagram, tag it #thewholeserving or leave a comment below. I'd love to see or hear about your version of My Dukkah Recipe with Homemade Herb Bread.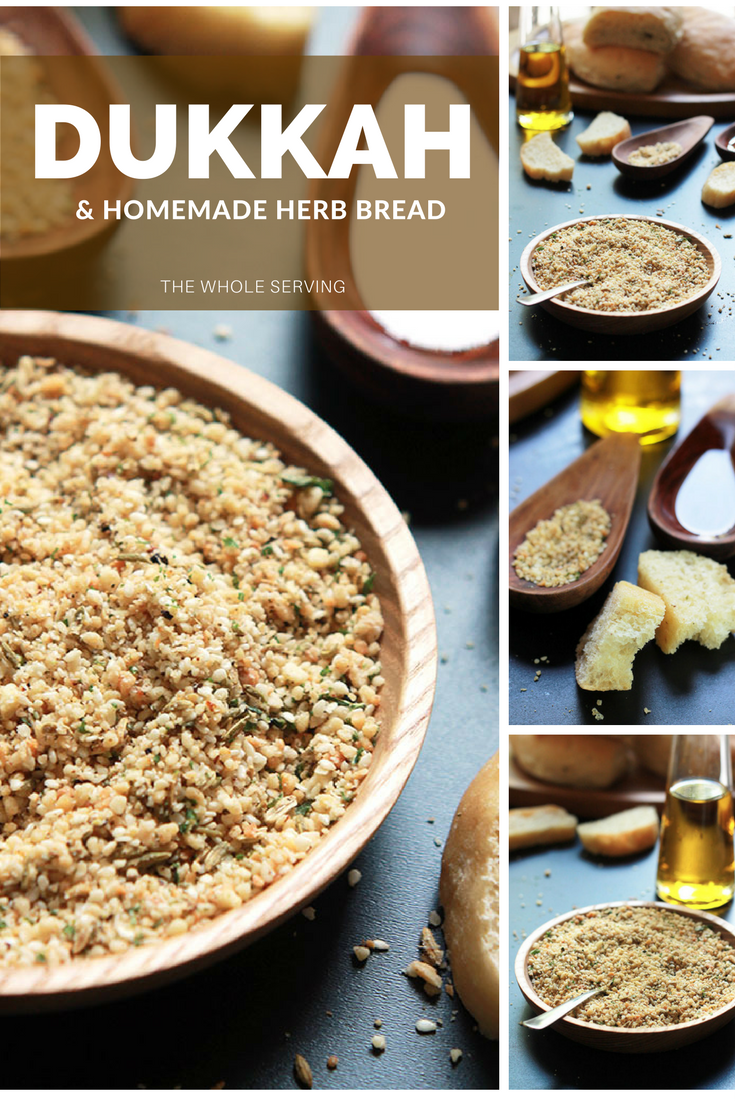 Items used to make this recipe you may like.