Healing Turmeric Golden Juice - A healthy anti-inflammatory drink you and your body deserves.
Several months ago I started to have pain in my left shoulder and arm. I was unable to lift my extended arm above my shoulder without experiencing pain.  I had been including turmeric in my diet but not everyday. That was it, time to make a batch of turmeric paste.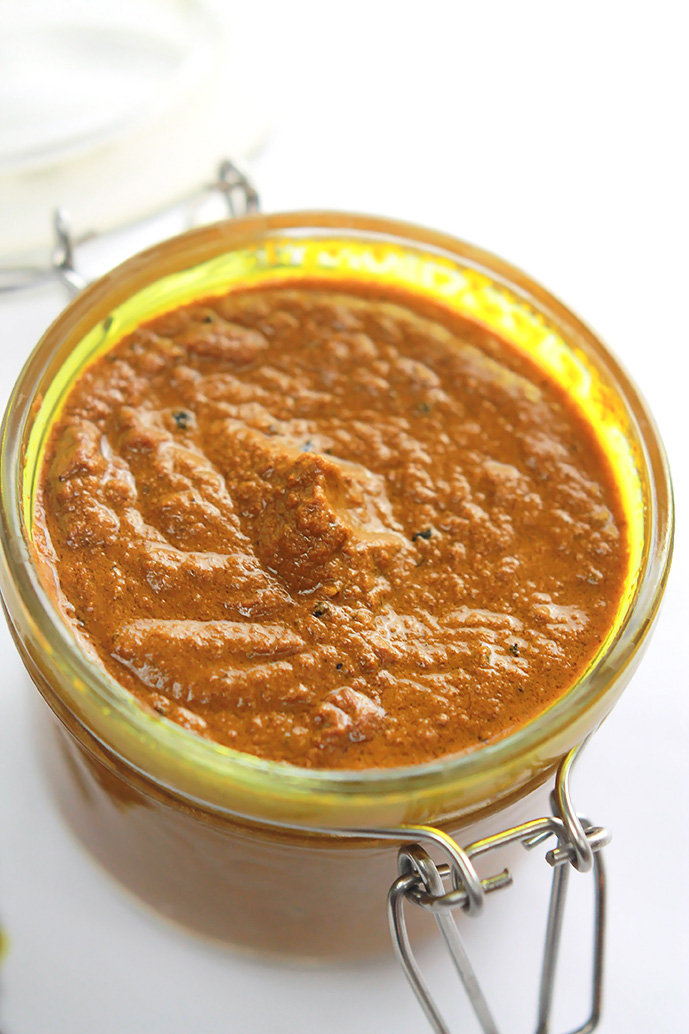 Turmeric paste can be made using fresh or powdered. The recipe I'm sharing today is made with organic turmeric powder because it is much less expensive than using fresh grated. Once you have a batch of this paste you can use it in almost anything like smoothies, teas, lattes,and of course everyday cooking. It should be stored in the fridge and used within two weeks or you can freeze and use as needed. I like to freeze in ice trays and use when making smoothies, makes a nicely chilled smoothie.
Turmeric is anti-inflammatory and there are some that say it can be used to reduce pain and fever much like some of the over the counter pain relievers, without tons of side effects. For the most part turmeric is safe and well tolerated and rather tasty in this Healing Turmeric Golden Juice.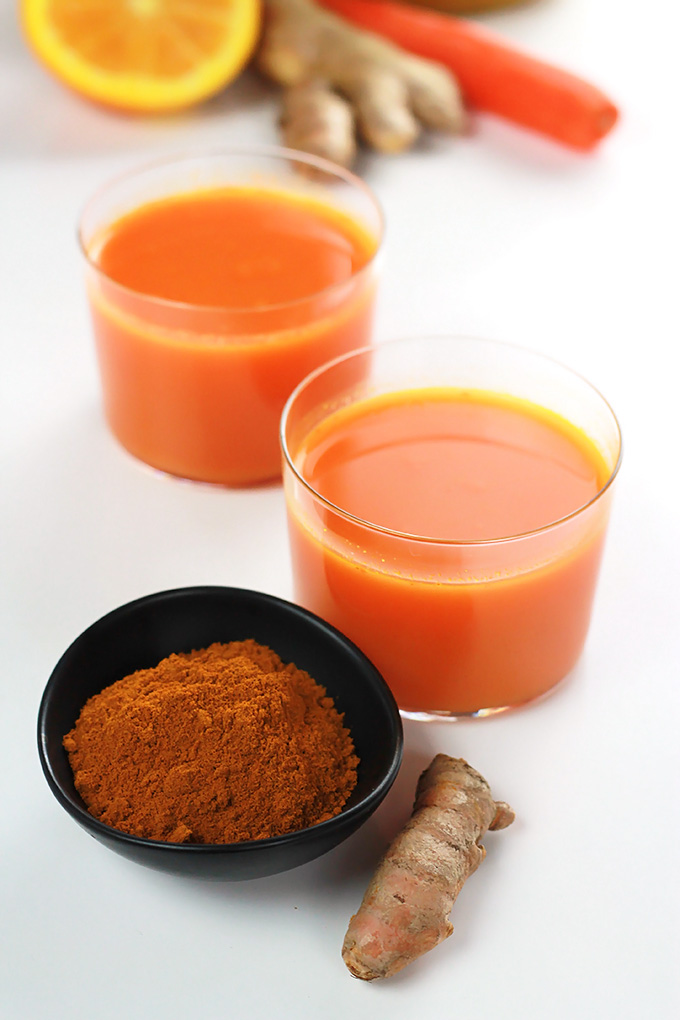 What gives this tiny root its power?
The answer is curcumin!
Curcumin is the main curvuminoid of the turmeric plant and is also found in ginger, but in much smaller amounts.
Curcumin has potent anti-inflammatory effects and scientist think that it also has protective effects against some forms of cancer cell progression.  There is much research being done with curcumin, for both cancer prevention and treatment.
A very important thing to know about curcumin is that it is poorly absorbed into the bloodstream. However, studies show that if consumed with cracked black pepper it's absorption is greatly increased. It's the piperine in the pepper that makes it more bio-available. Curcumin is also fat soluble and consuming with a bit of healthy fat like coconut or olive oil aids in its absorption as well. I like to include both black pepper and coconut oil for a little extra assurance.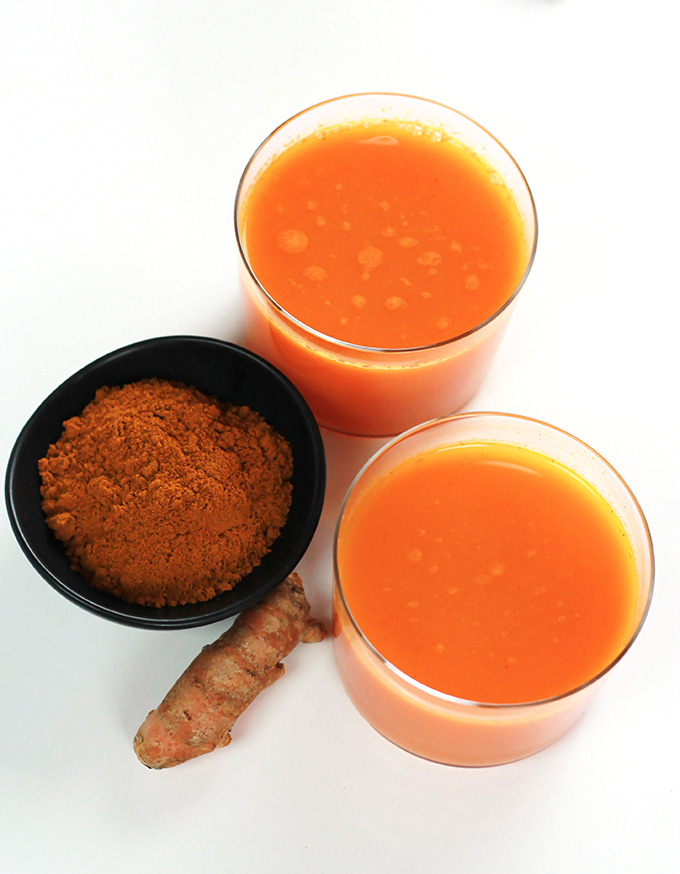 Now that you know all of that I bet you want to know how much?
Well the University of Maryland recommends up to 3 grams a day, which is 1 ½ teaspoons of turmeric powder. The medical community recommends 2000 mg as the maximum, but studies have used up to 8000 mg without toxicity.  
How to Take It
Pediatric
Turmeric supplements haven't been studied in children, so there is no recommended dose.
Adult
The following doses are recommended for adults:
Cut root: 1.5 to 3 g per day
Dried, powdered root: 1 to 3 g per day
Standardized powder (curcumin): 400 to 600 mg, 3 times per day
Fluid extract (1:1) 30 to 90 drops a day
Tincture (1:2): 15 to 30 drops, 4 times per day
Sorce
I generally use 1 teaspoon of paste in a prepared drink in the morning, like the Lemon Ginger Turmeric Tea below that I drink when I first wake up in the morning and another teaspoon in another late afternoon drink or before bed.  A glass of Golden Milk, warm Latte or another Lemon Ginger Turmeric Tea.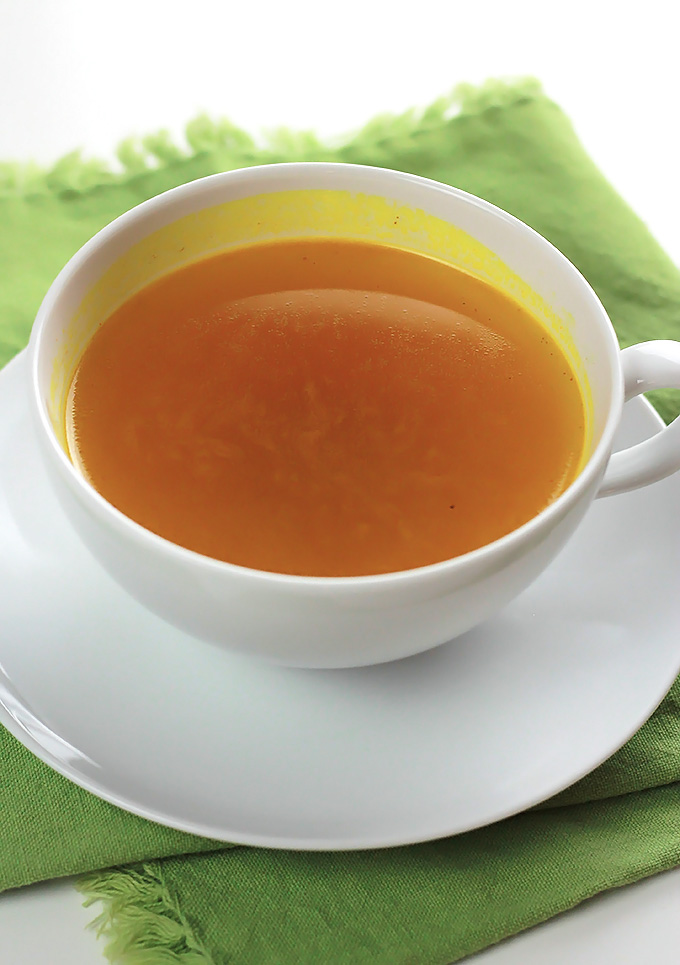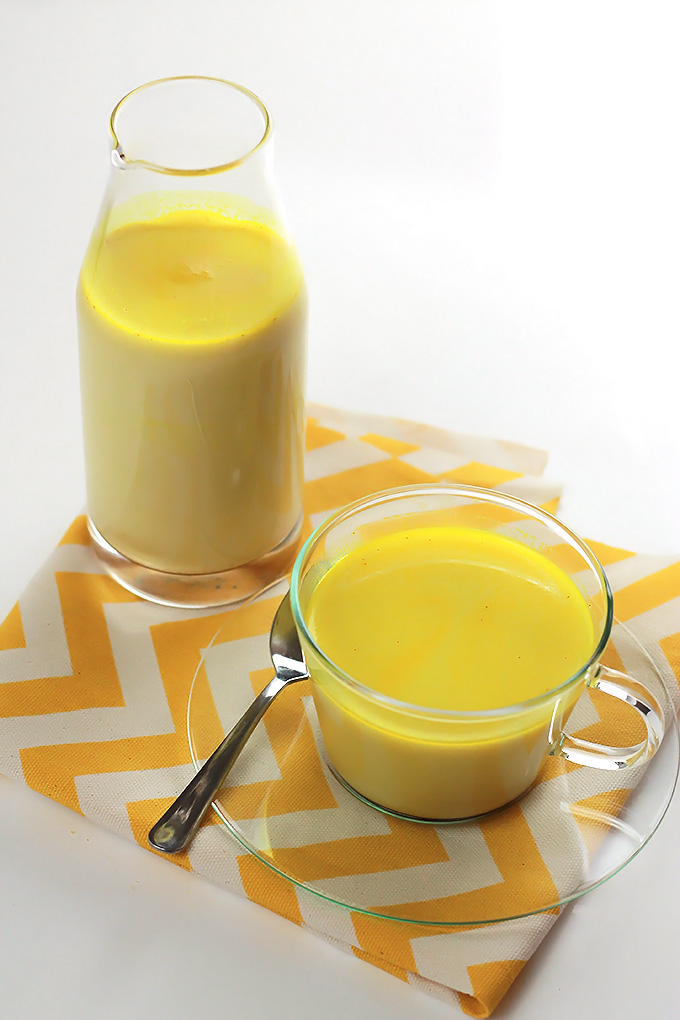 I noticed that I can now lift my left arm extended past my shoulder. To test it, I stopped consuming the turmeric for while and the nagging pain came back. Started the Turmeric again and the pain improved. I'm going to continue to consume Turmeric everyday and I'll let you know what happens. I'm not saying that this will work for everyone, I am not a trained medical professional or  nutritionist. I'm only sharing what has worked for me.  Always check with a healthcare professional before making any changes to your diet or exercise program.
There are many healthy benefits to including Turmeric to your daily diet, a few are getting rid of a headache, indigestion, arthritis pain and heart health, For more information check out Dr Weil.com or Health Beckon. There are some that include their pets in the daily ritual of consuming turmeric.
Print
---
½

cup

organic turmeric powder

1

cup

filtered water

1 teaspoon

cracked black pepper

⅓

cup

organic coconut oil
---
Instructions
Mix the water and turmeric powder in a saucepan over medium low heat.
Stir until a paste forms. If it gets too thick add in more water, if too thin add in more powder. Should take about 7 to 10 minutes.
Add in the pepper and coconut oil and continue to mix until everything is well mixed.
Transfer to a storage container with a tight seal, I prefer glass. Store in your fridge and use within two weeks. If you will not be using within two weeks you can freeze.
---
Print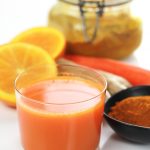 Healing Turmeric Golden Juice
---
about

2

cups

fresh orange juice

2

medium carrots

1

thumb of ginger

1 teaspoon

turmeric paste
---
Instructions
After juicing the orange, carrots and ginger, mix all the ingredients together until well mixed and drink up.
Or you can place the fresh orange juice, carrots and ginger(peeled), and turmeric paste in a high speed blender and blend until smooth.
Serve immediately.
---
If you make this recipe or a version of it, take a picture and share with me on Instagram, tag it #thewholeserving or leave a comment below. I'd love to see or hear about how the Healing Turmeric Golden Juice or adding Turmeric to your diet works for you.