Sweet, tender, filled with fresh fruit, Classic Breakfast Muffins, one of the many recipes you will find in "Dining At The Ravens" cookbook, no one will guess they're egg free!
Imaging you are atop an ocean buff, the bay on one side, the ocean on the other, taking long leisurely walks along the trails, browsing shops and galleries, tasting the salty air and feasting on beautiful food.
You can experience all of this at the Stanford Inn by the Sea, a Mendocino Resort which overlooks Mendocino Bay and the Pacific ocean. You can enjoy meals prepared with passion and love at The Ravens Restaurant which is located in the Inn. The restaurant uses produce from the Inn's on-site USDA Certified Organic garden and serves it up in plant-based dishes.
Now the founders, Jeff and Joan Stanford have written a cookbook, "Dining At The Ravens", which brings over 150 of the Ravens Restaurant vegan recipes into our homes.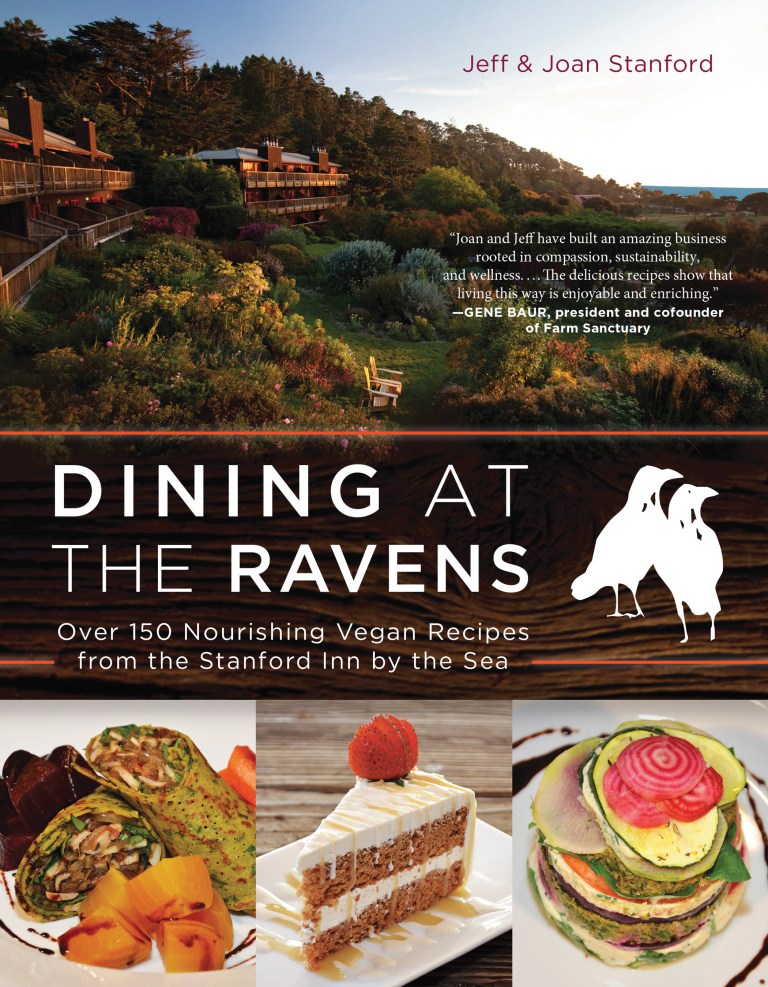 Jeff and Joan Stanford came west to Carmel, California to find careers in education, agreeing to help manage a small inn while looking for work. Jobs were scarce, the United States was in recession, and they found themselves enjoying their guests and rehabilitating the property they managed. Looking to the future, they chose to continue inn-keeping, and by 1980 they were in Mendocino starting a family. Joan ran the front, while Jeff remodeled the inn and created their certified organic farm on the site of what had been known as the China Gardens during Mendocino's logging era.
The Inn allowed both of them to return to their former interests. Passionate about early education, Joan trained as a Montessori teacher which led her to discover the power of art to transform human experience. She enrolled in psychology at Sonoma State University and received an MA, specializing in Art Therapy. Today she is a registered art therapist, collagist, and educator.
Jeff recognized that the "state of realization" that so many sought in the movement of the 1970s and 80s must come from a new relationship with life, beginning in the kitchen, where decisions affect the practitioner and the planet. He became vegetarian as a first step to honor all life, not only the lives of his family, friends, and pets. He and Joan sought to create an inn that sat softly upon the earth. They created one of the first "green" bed and breakfast inns without realizing they were doing so.
Understanding that their Inn was a destination, Jeff and Joan wanted to provide the highest quality food to their guests, which Jeff began cooking in the early 1990s. The restaurant followed their philosophy serving a whole food, plant-based dishes designed to rival the cuisine found at the highest rated restaurants in the San Francisco Bay Area. They discovered that many cooks can create great food, and they created a co-creative kitchen where all are invited to comment and tweak dishes. The final arbiter is Jeff, but the process is dynamic and assures that each person in the kitchen can express their creativity. Learn more at ravensrestaurant.com and stanfordinn.com.
I was gifted a copy from BenBella Books and I have thoroughly enjoyed trying several of the recipes. One of my favorites is "Classic Breakfast Muffins".
This is a very quick and easy recipe, it uses ground flax mixed with water as a binder, however, I got ahead of myself and mixed the ground flax in with the dry ingredients, instead of mixing it with the wet, it didn't change the outcome -- delicious!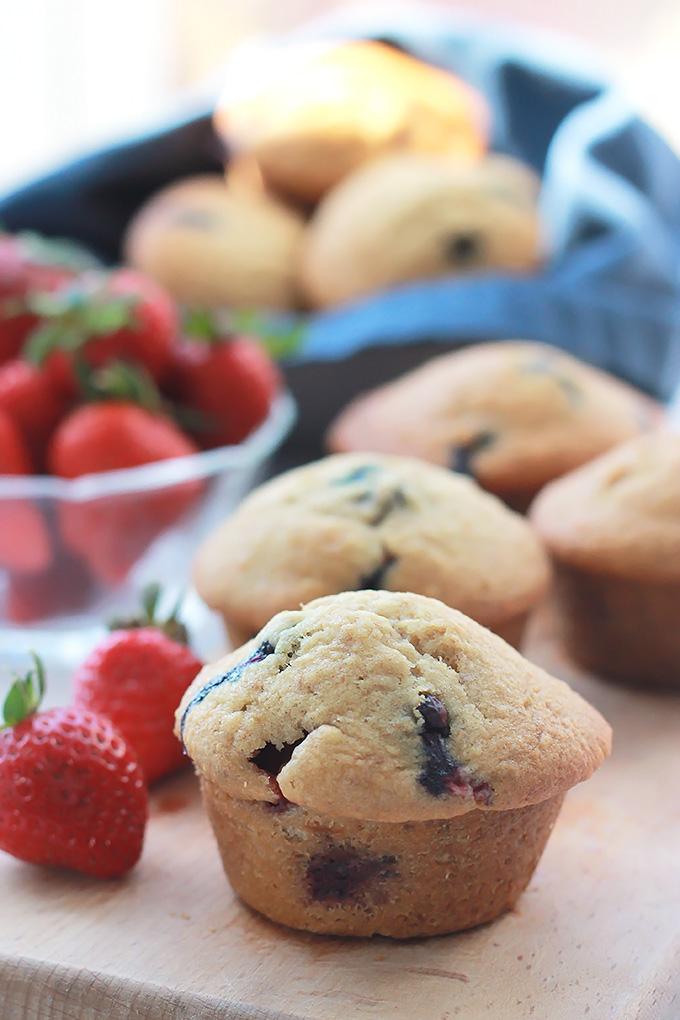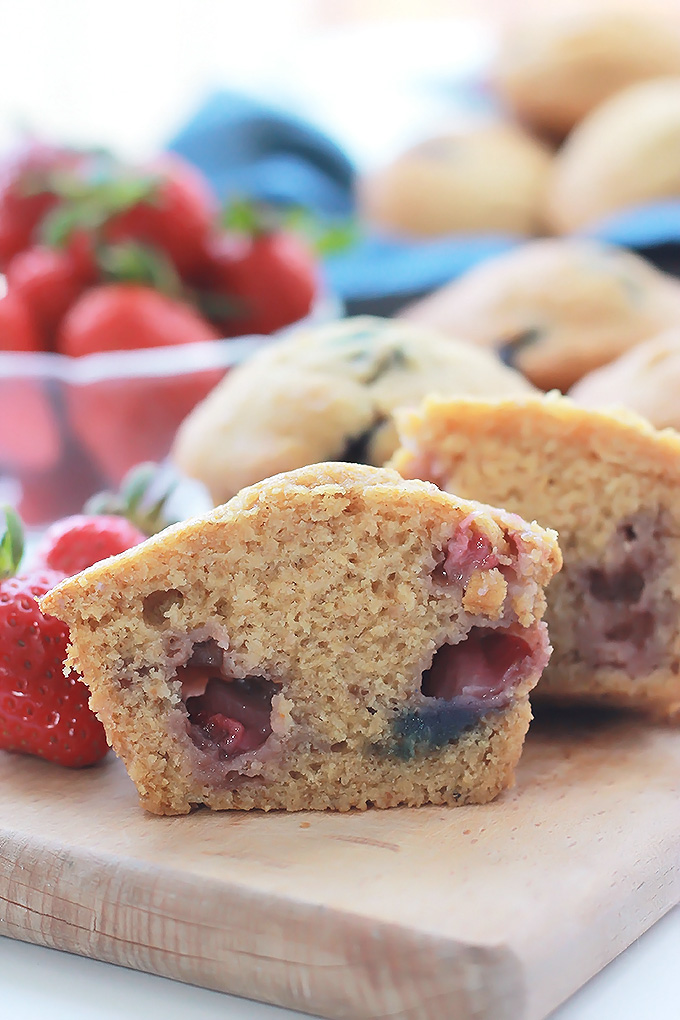 Print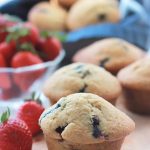 Classic Breakfast Muffins
---
Description
A breakfast treat, these muffins are like desserts--just one serving is fine, and not every day. Guests enjoy these and often ask for the recipe--it's another that causes people to say, "I can't believe there's no egg!"
---
2

cups

all-purpose flour, I used half whole wheat, half all-purpose

1

cup

sugar

1 teaspoon

baking powder

1 teaspoon

baking soda

½ teaspoon

salt

2 tablespoon

golden flaxseed, ground to a fine powder

1

cup

soymilk, I used almond milk

½

cup

water

⅓

cup

coconut oil, melted

2 tablespoons

organic applesauce

1 tablespoon

fresh lemon juice

1 teaspoon

vanilla extract

¼

cup fruit (blueberries, chopped strawberries, bananas, etc.; optional) I used ⅔

cups

of fruit
---
Instructions
Preheat oven to 350 degrees. Grease muffin tin or line with muffin cups.
Whisk

(Affiliate Link)

together flour, sugar, baking powder, baking soda, and salt in a large bowl.
In a separate mixing bowl, whisk

(Affiliate Link)

together flaxseed, soy or almond milk, water, coconut oil, applesauce, lemon juice and vanilla extract.
Add the wet mixture to the dry, and stir until just combined. Fold in the fruit.
Spoon batter into the muffin tin, dividing among muffin cups.
Bake for 15 -25 minutes, or until toothpick inserted into middle of muffin comes out clean.
---
To experience more of Dining at The Ravens and some of their delicious recipes, check out the #RAVENSBLOGTOUR, see the list below. If you would like to have a copy of "Dining at the Ravens", you can purchase it at BenBellaBooks or you can enter my giveaway below.