How to Make Homemade Everything Bagels - Making bagels is a boil and bake process that's simple and easy. These bagels are crisp on the outside, tender on the inside, and so delicious. 
I can't tell you the number of times I have tried and failed at making bagels, but I finally got it right, with a little help from Mark Bittman's How To Cook Everything Cookbook. This book is an awesome reference it covers just about everything whether you're a beginner or a very experienced cook it has something for everyone. It gives you the basics and once you have the basics you can experiment and make each recipe your own.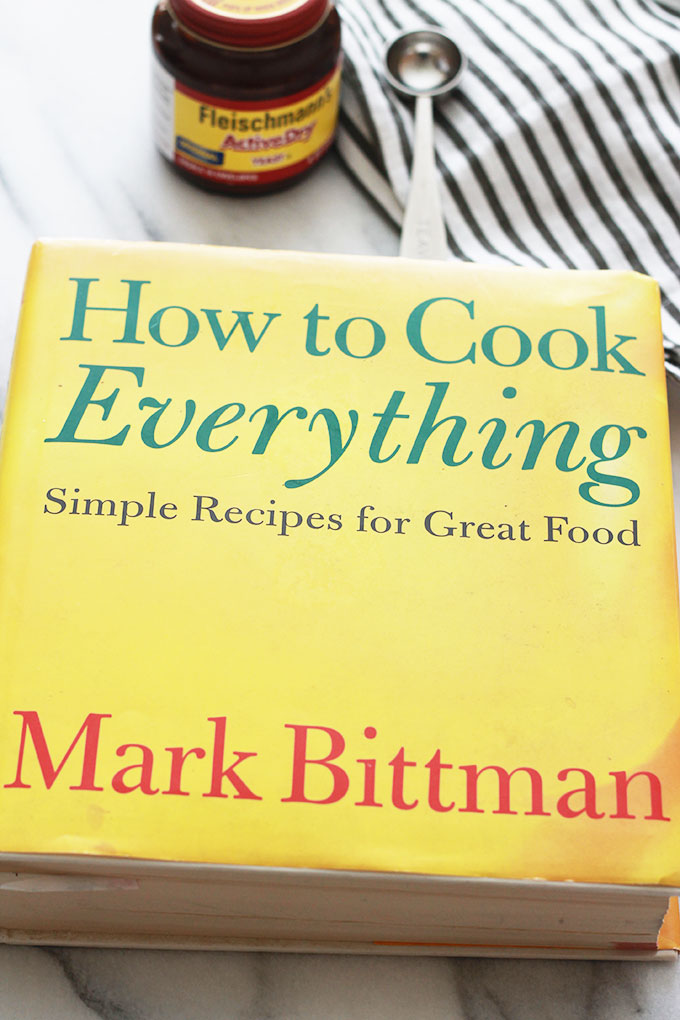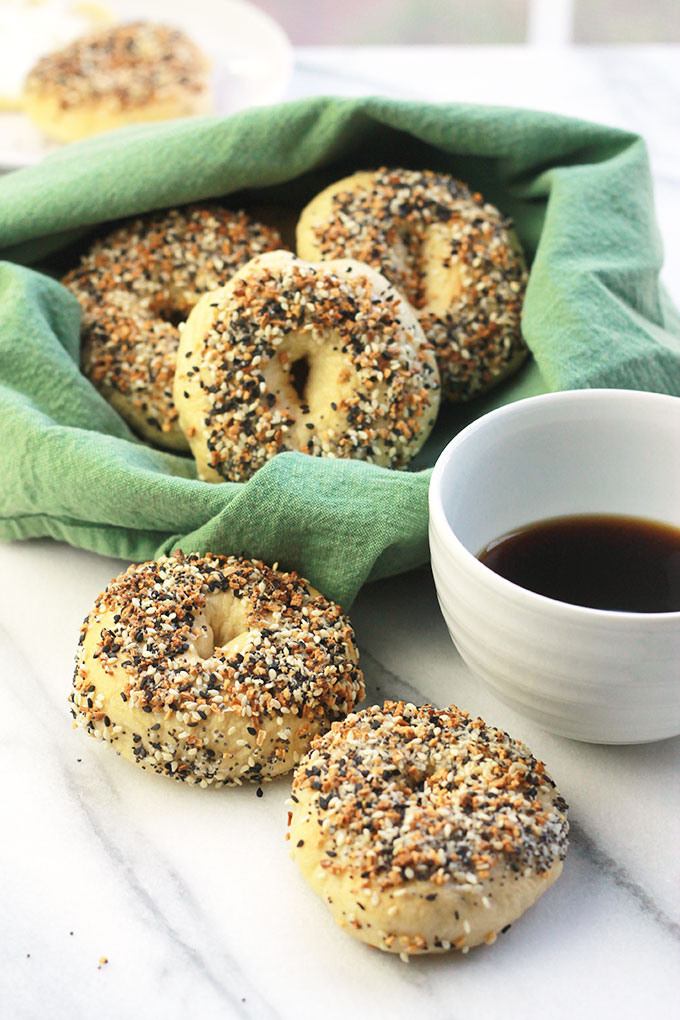 The inspiration to give bagel making another try was finding this Everything but the Bagel seasoning blend at Trader Joe's. We love everything bagels in my home and now it's so nice to make my own and not purchase them all the time.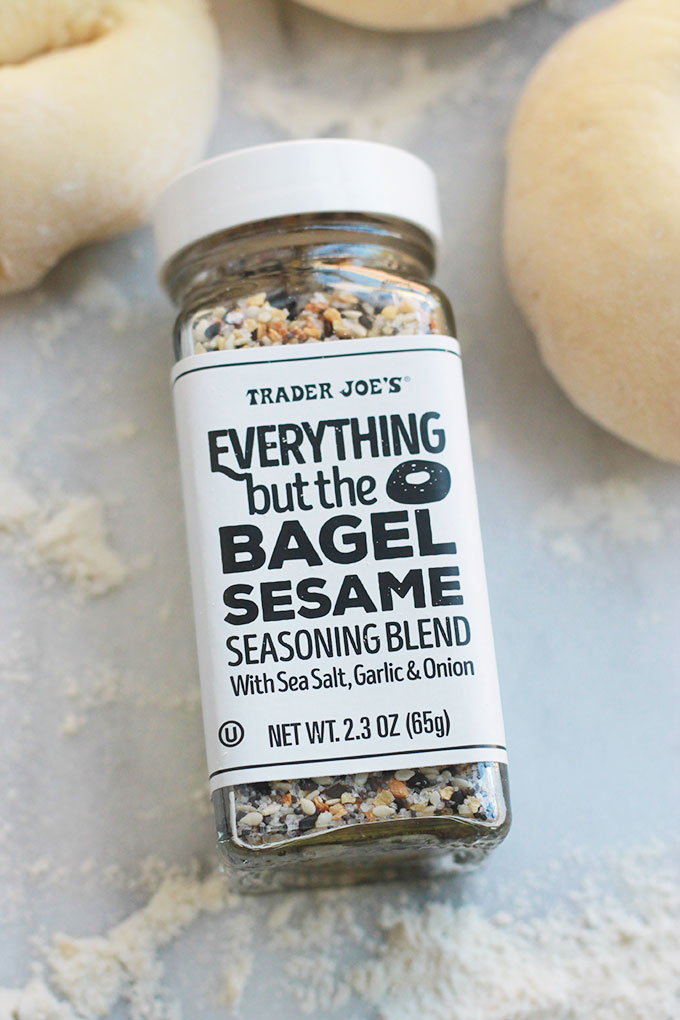 What I like about basic recipes like this one is that it can be tweaked to meet your families needs, I used less salt, more yeast and a different sweetener. With this basic recipe I am able to make everything, cinnamon and cranberry bagels and I can make them the size I prefer, larger than a mini and smaller than a regular.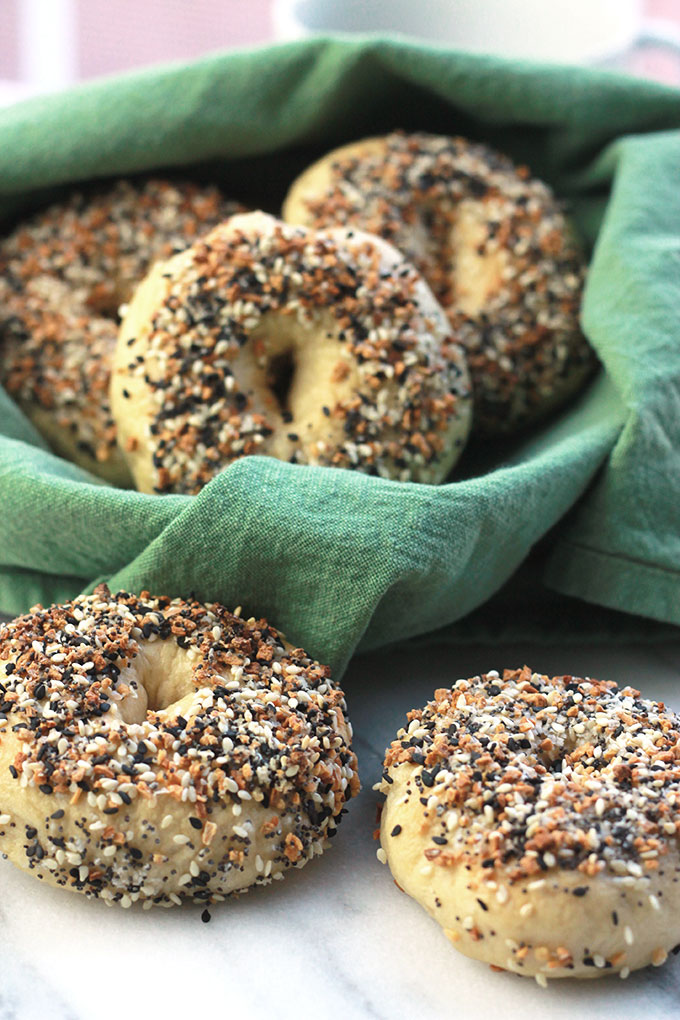 Using the food processor is the fastest way to make the dough, when it comes together it should be a tough and elastic dough. If you don't have a food processor, no problem, you can use your hands.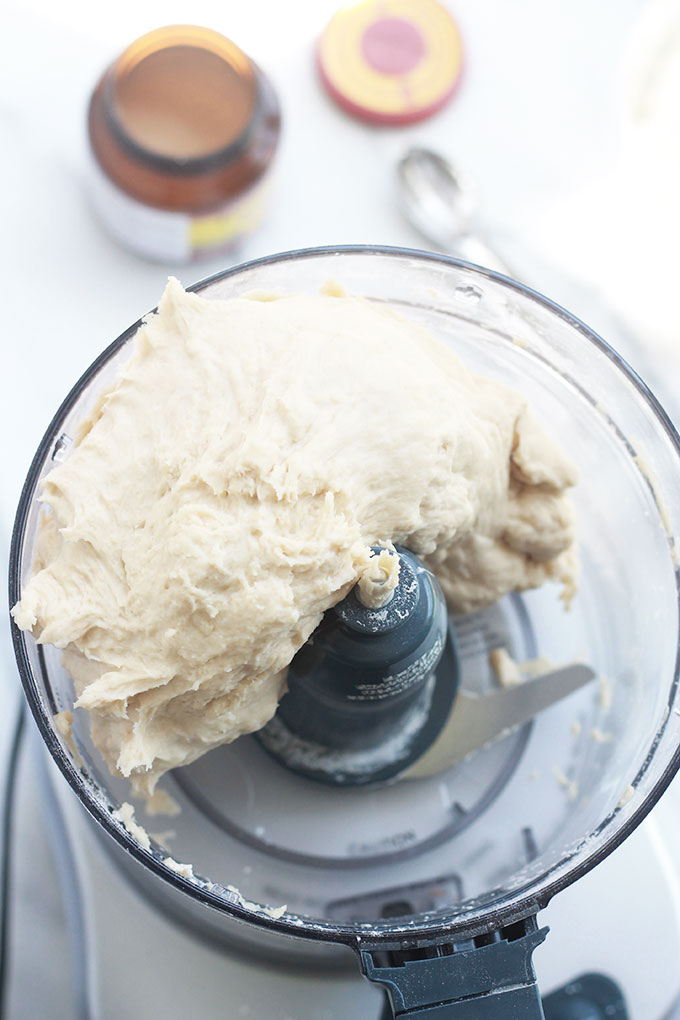 Allow dough to rise for 2 hours, deflate and let dough rest for 10 minutes, then divided into eight or 12 pieces.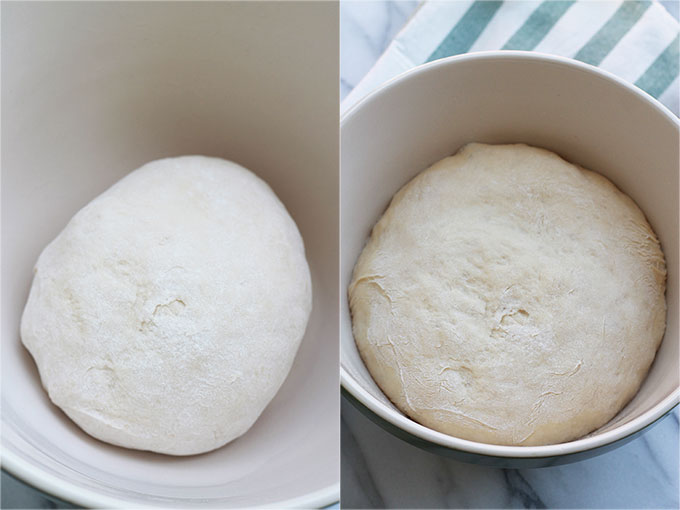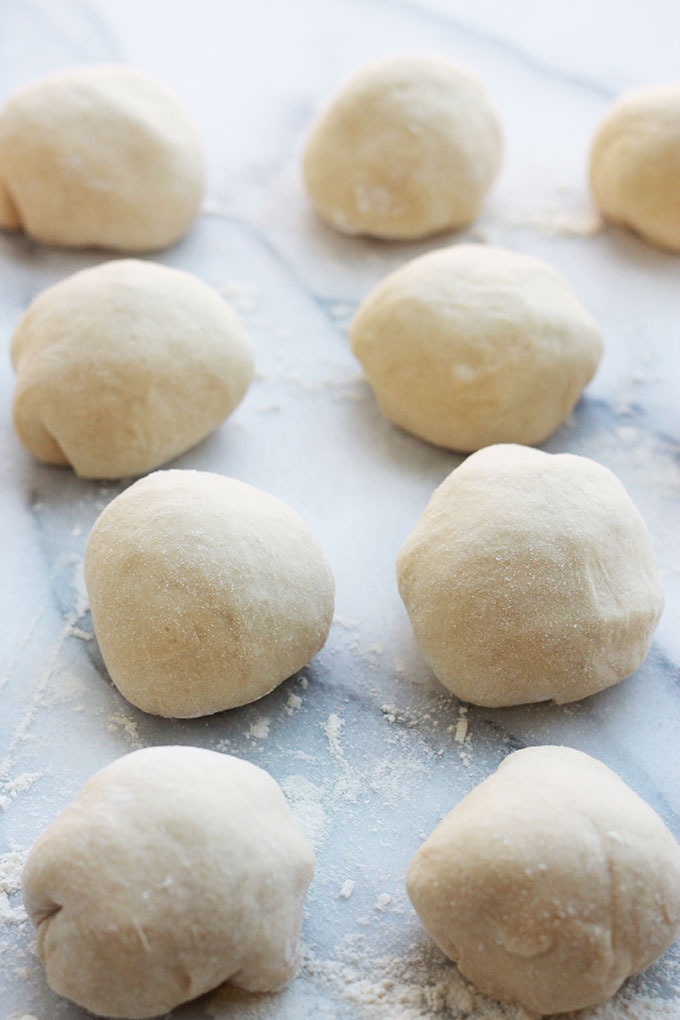 Shape holes, cover and allow dough to rise for 30 minutes.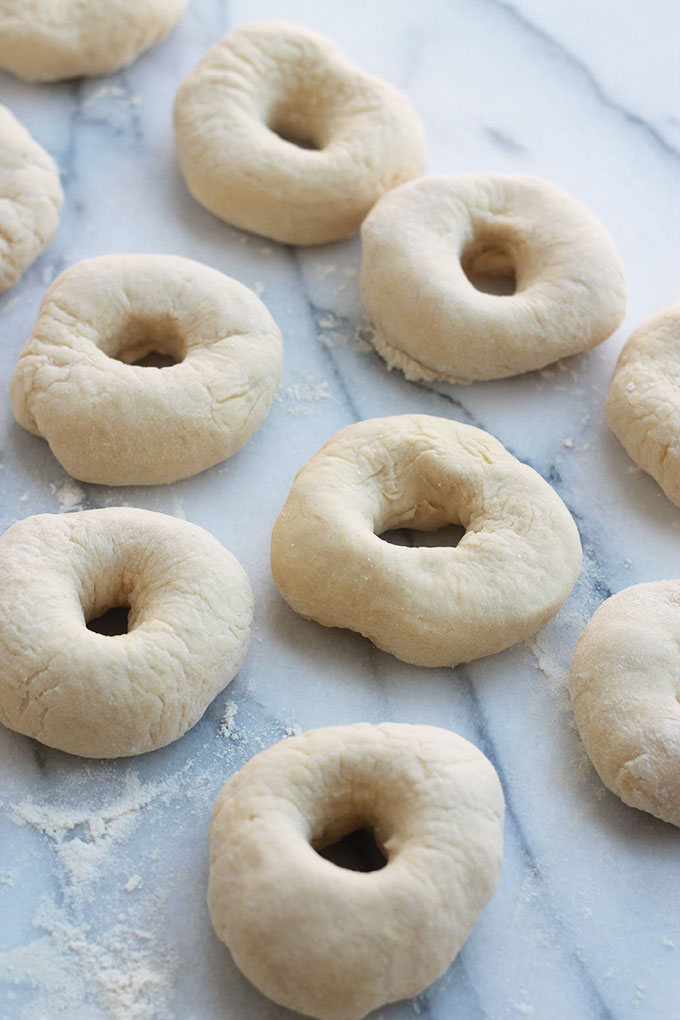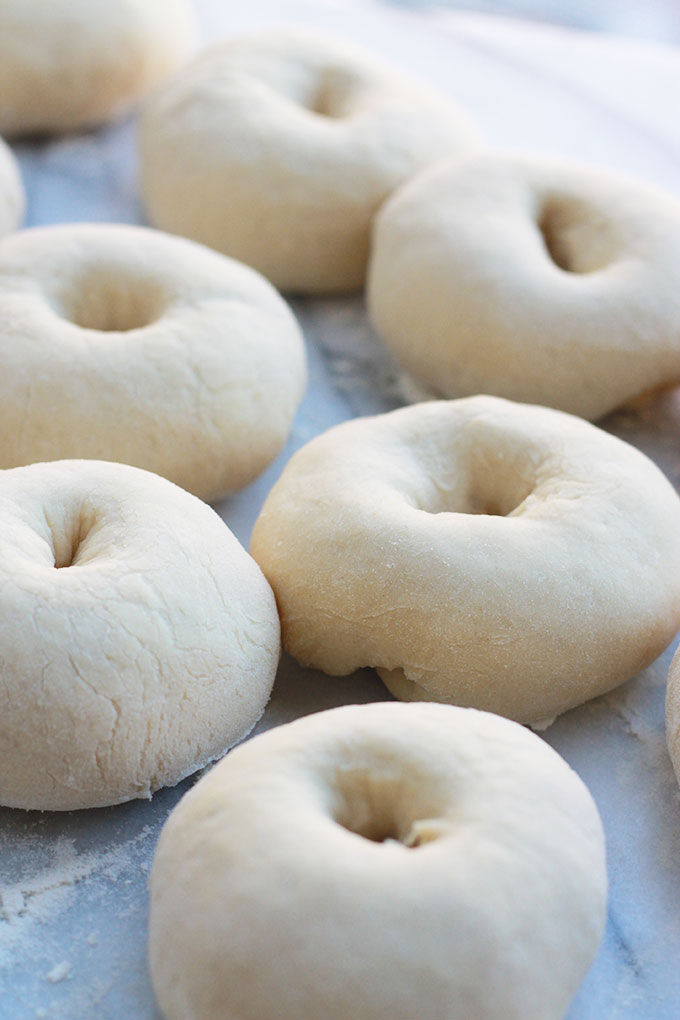 For the water bath I kept it simple and used water only. In some recipes honey or barley malt syrup is added to the water to aid in the caramelization of the bagels. When water comes to a boil, reduce to a soft simmer and boil bagels 2 to 3 at a time for 1 minute on each side.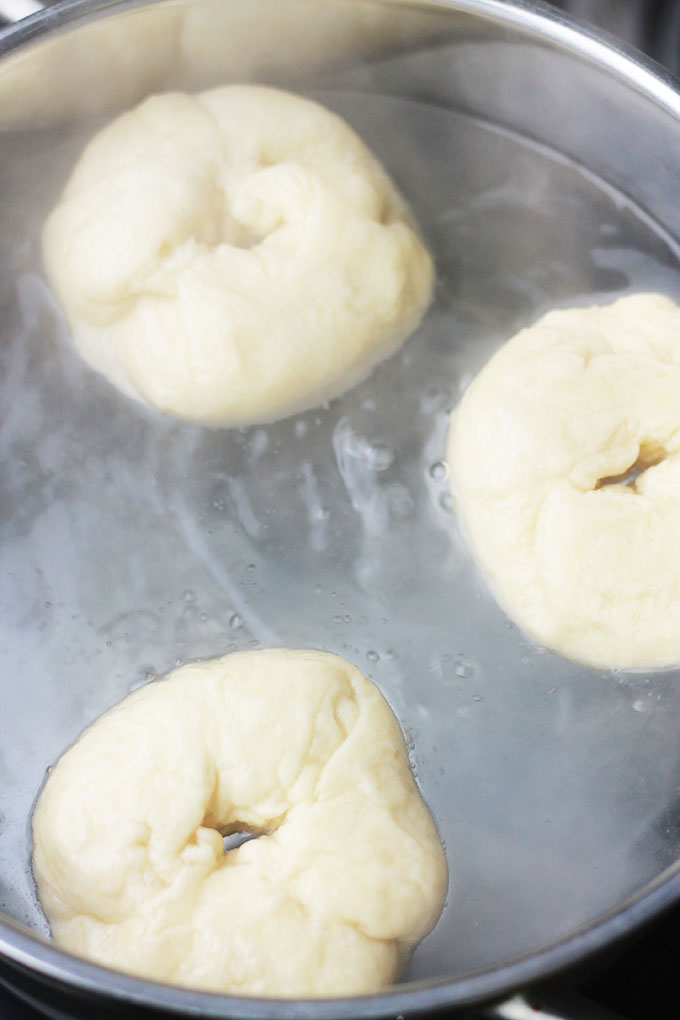 Coat with toppings and bake 20 to 25 minutes.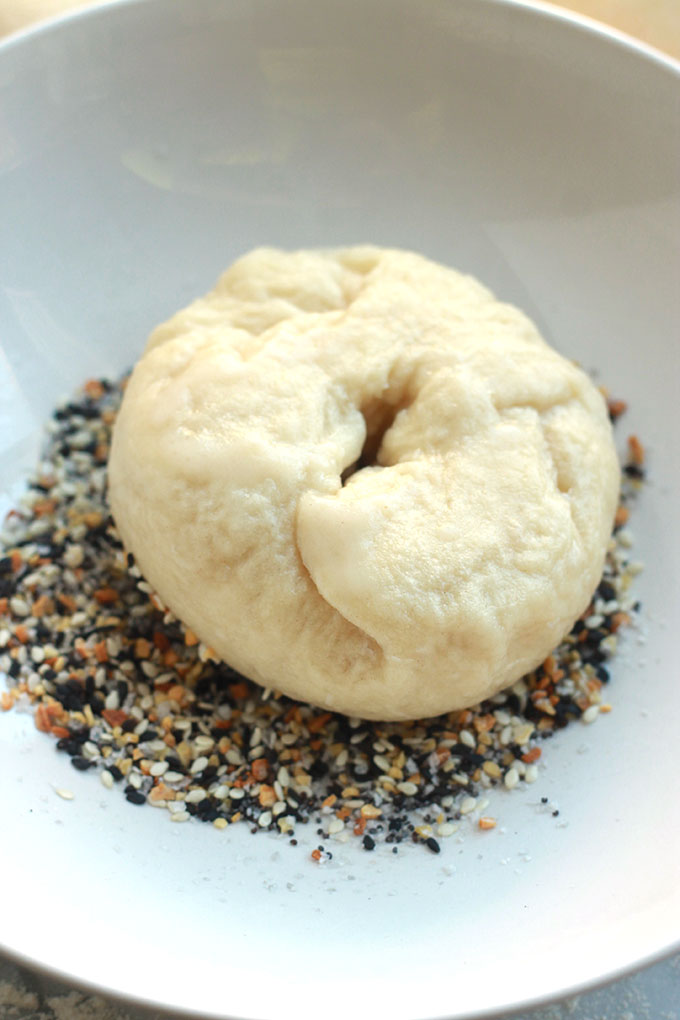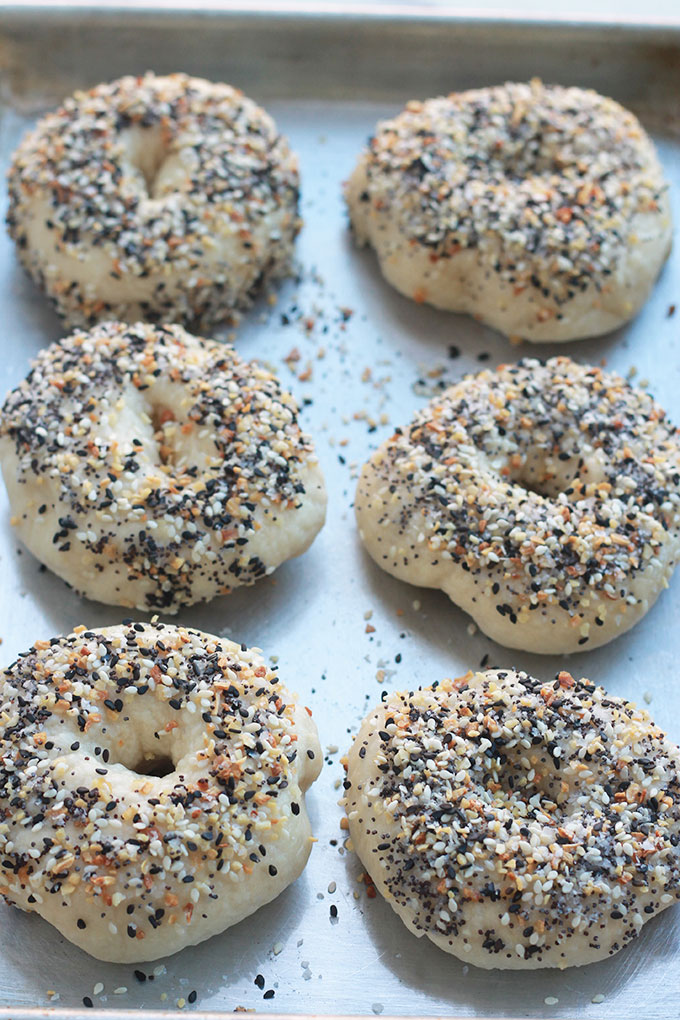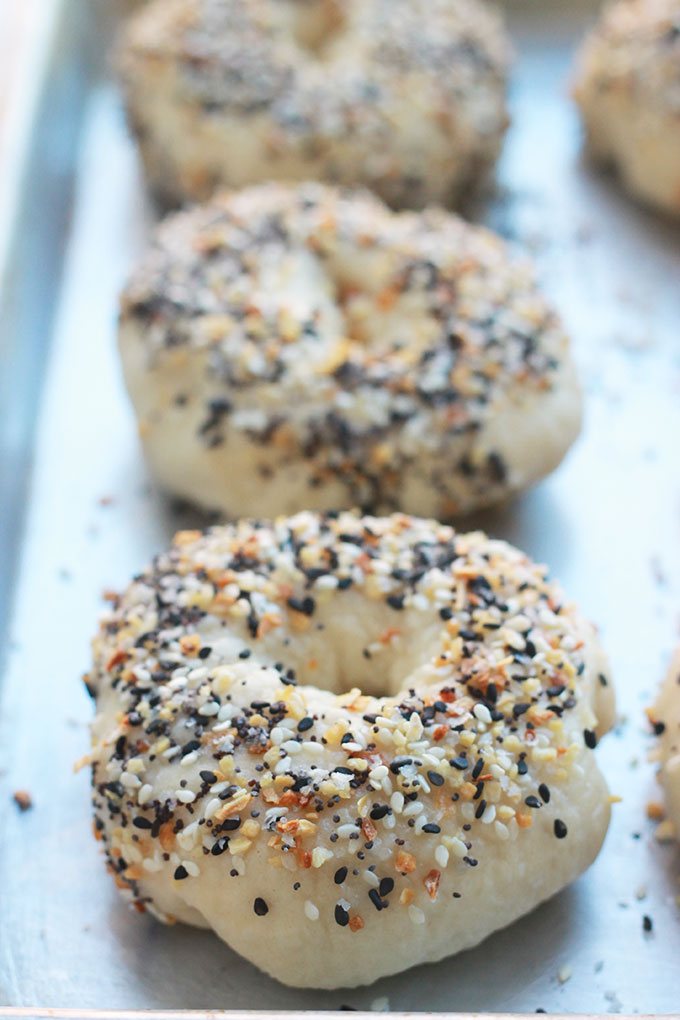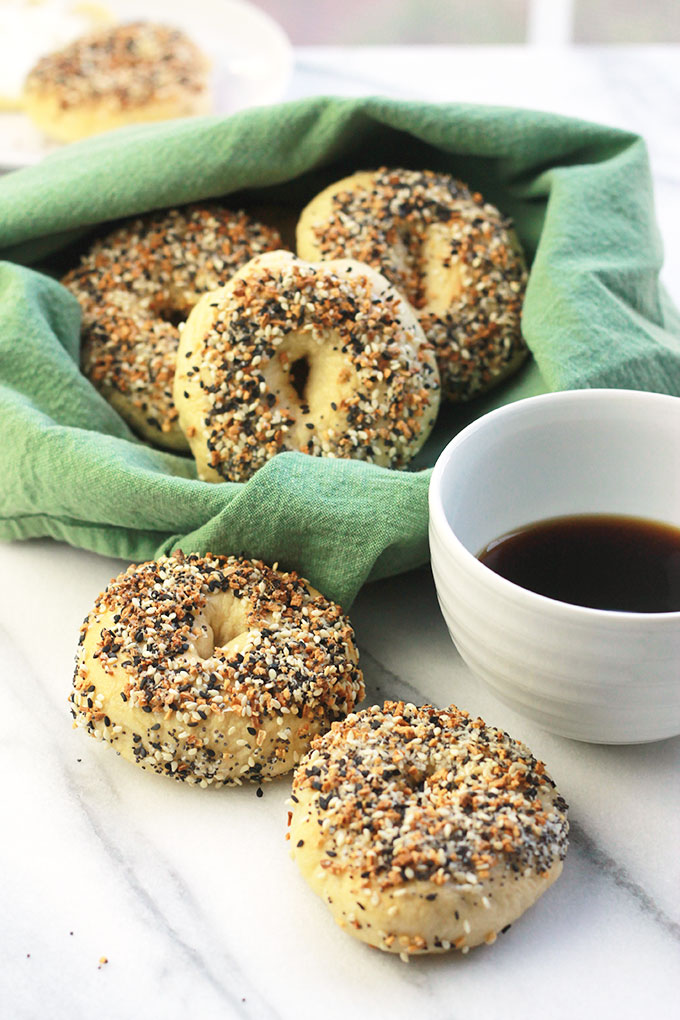 This is a basic recipe for everything bagels, but you can easily change the toppings, add cranberries or raisins, simply make it your own. Be creative.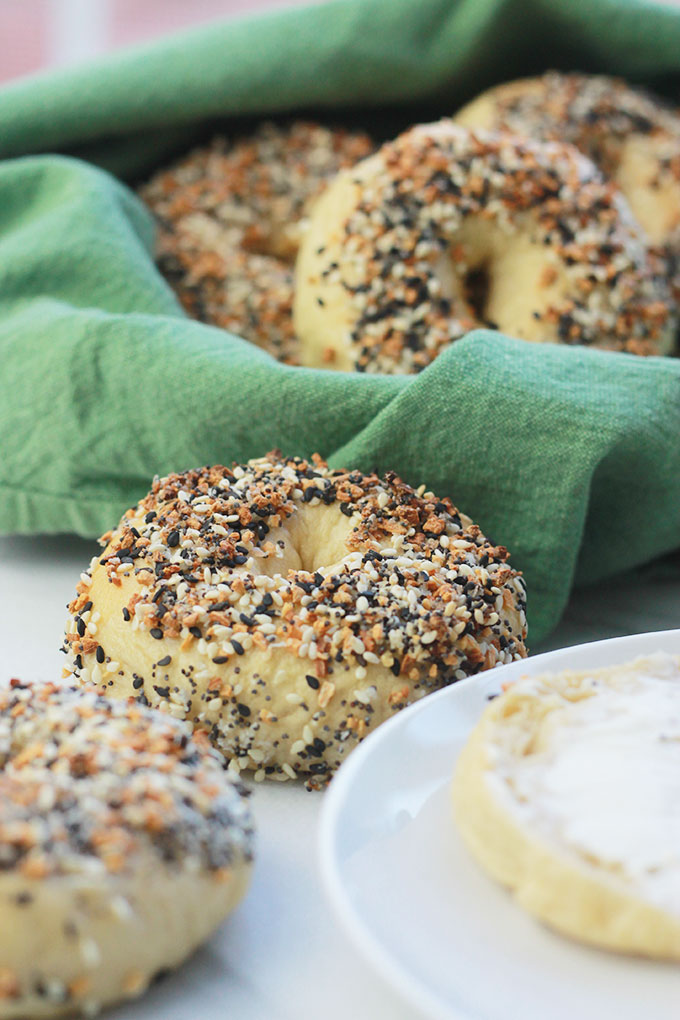 Print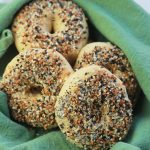 How To Make Homemade Everything Bagels
---
1 ¼

cups

lukewarm water

1 ½ teaspoons

active dry yeast

2 tablespoons

brown rice syrup

3 ½

cups

all-purpose flour, plus more if needed

1 ½ teaspoons

salt
Oil as needed
Everything but the Bagel Sesame seasoning blend from Trade Joe's
or make your own seasoning, mix together
plain sesame seeds
black sesame seeds
poppy seeds
dried minced garlic
dried minced onion
sea salt
---
Instructions
Pour water into a large bowl or measuring cup, sprinkle yeast into the water and allow to dissolve, stir to mix completely. Add brown rice syrup and stir, set aside for 10 -15 minutes and allow yeast to proof.
Place flour and salt into bowl of food processor, with machine running, pour water through the feed tube. Process until dough forms a ball and slightly sticky, If dough is too wet, add a tablespoon or two of flour. If too dry, add water one tablespoon of water at a time.
Turn dough onto a lightly floured surface and knead for a minute or two by hand. Dough should be smooth, tough and very elastic.
Brush some oil in a large bowl, place dough into bowl, cover loosely with a damp towel. Allow dough to rise for about 2 hours, at room temperature, or until dough has doubled in bulk.
Deflate dough and allow to rest on a lightly floured surface, covered for 10 minutes.
Cut dough into 8 or 12 pieces, depending on how large or small you like your bagels.
Press your finger through the center of each ball to make a hole. Rotate bagel around your finger in a circular motion, making a hole about 2 inches.
Place shaped bagels back on lightly floured surface and cover with damp towel, allow to rise 30 minutes.
Bring a large pot of water to a boil and preheat the oven to 400. Pour the everything toppings into a shallow bowl and set aside. Lightly grease a baking sheet and set aside for later.
Drop the bagels one at a time into the boiling water, making sure not to crowd, I boiled 3 at a time. Boil 1 minute at a time on each side, remove from water with a slotted spoon, drain briefly, dip top of bagels into topping, place on a lightly greased rack to drain.
Place bagels on prepared baking sheet, bake 20 to 25 minutes, or until bagels are browned.
---
If you make this recipe tag @thewholeserving on Instagram and hashtag it #thewholeserving, I want to see your creations.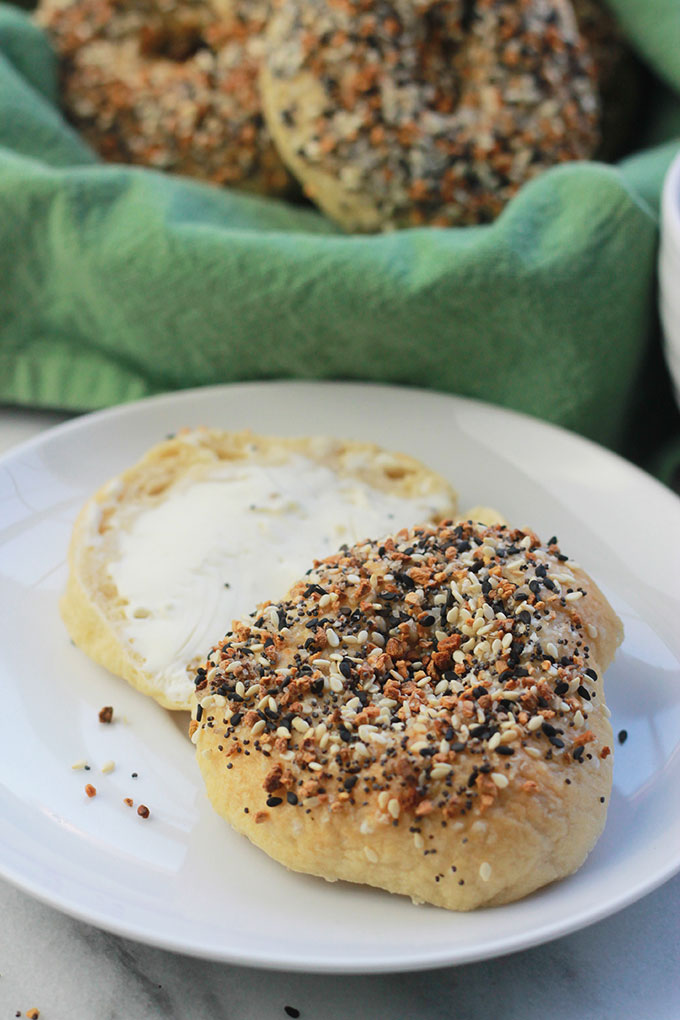 Must have cookbooks.