🌵 This Citrus Cactus Juice is like sipping sunshine! Tangy citrus meets prickly pear coolness for a desert dance of flavors! Refreshment, one sip at a time! 🍹🍊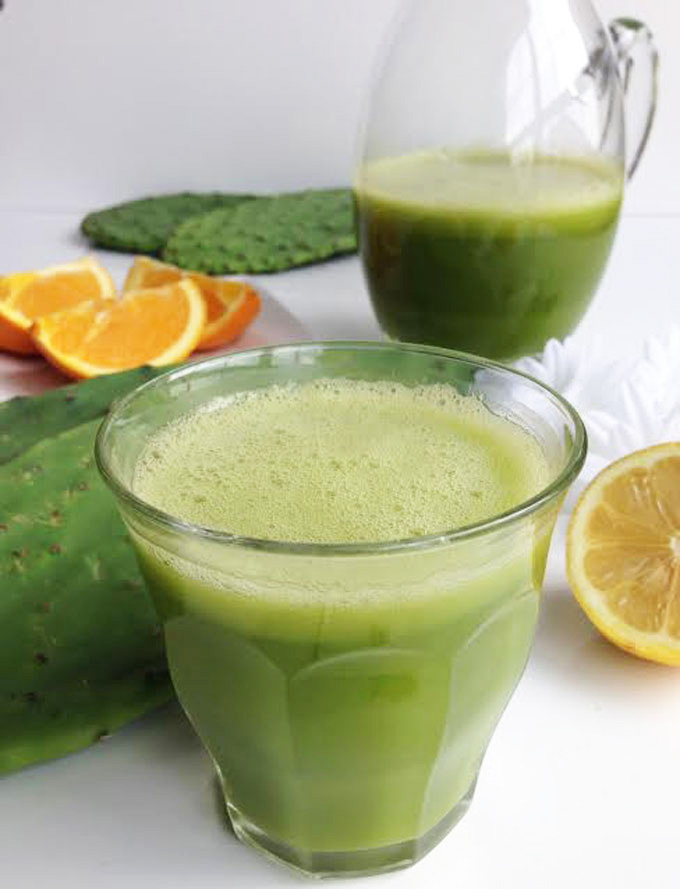 One of my co-workers who has family from Mexico, shared a cactus soup with me a few weeks ago, and I liked it. She shared with me the many ways the cactus plant could be used, so after doing a bit more reading about this amazing plant, I was convinced I needed to add it to my grocery list.
This prickly plant, also known as nopales, is one of the healthiest foods you can eat. When combined with citrus, the benefits are amazing. Here are some benefits of each:
Citrus Benefits
Citrus Juice (like oranges, lemons, limes, and grapefruits):
Rich in Vitamin C: Helps in collagen synthesis and acts as an antioxidant, boosting the immune system.
Promotes Hydration: High water content helps in staying hydrated.
Aids Digestion: Citric acid can help with the breakdown of food, leading to better digestion.
Contains Essential Minerals: Such as potassium which is good for heart health.
Promotes Skin Health: Vitamin C is crucial for healthy skin.
Cactus (Prickly Pear) Juice Benefits:
Anti-Inflammatory Properties: The juice can help reduce inflammation in the body.
Rich in Antioxidants: Contains compounds that help in neutralizing harmful free radicals.
Blood Sugar Regulation: Studies suggest that prickly pear can help lower blood sugar in people with type 2 diabetes.
Rich in Fiber: Helps in digestion and can promote a feeling of fullness, potentially aiding in weight management.
May help in Reducing Cholesterol: Some studies indicate that it can help lower bad LDL cholesterol levels.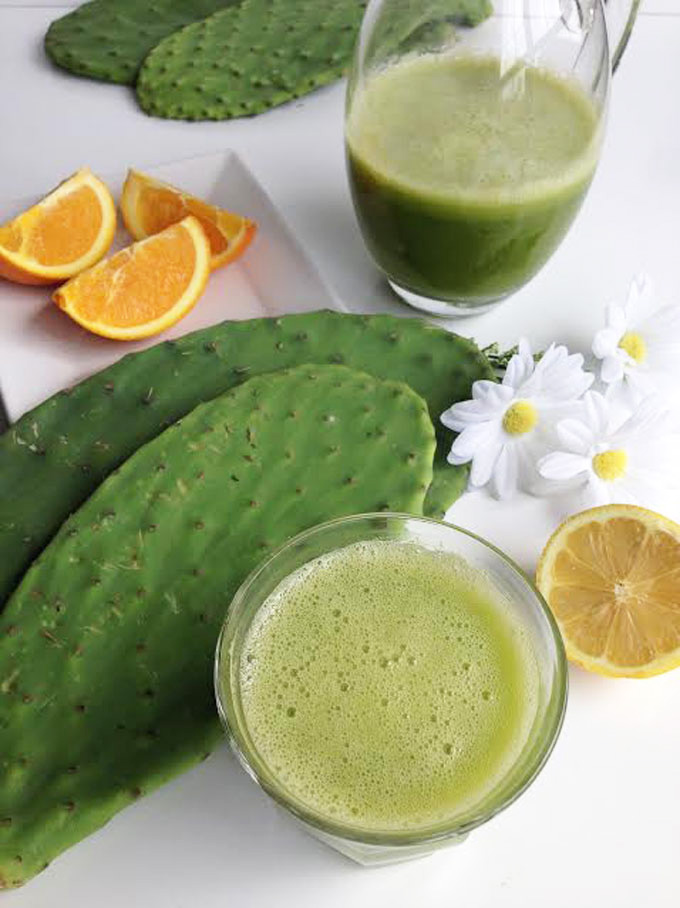 Benefits of Combining Citrus and Cactus Juice:
Enhanced Nutrient Intake: By combining the juices, you can benefit from a broader range of vitamins, minerals, and antioxidants.
Loaded with Flavor: The tangy taste of citrus can complement the more neutral or slightly tart flavor of cactus, making for a refreshing beverage.
Versatile: This combination can also be used in smoothies and cocktails.
Boosted Hydration: Both juices are hydrating on their own, so combined they can provide a significant source of hydration, especially in hot climates or after physical activity.
Always remember that while these juices can be beneficial, moderation is key. Consuming large quantities can introduce excess sugars into your diet.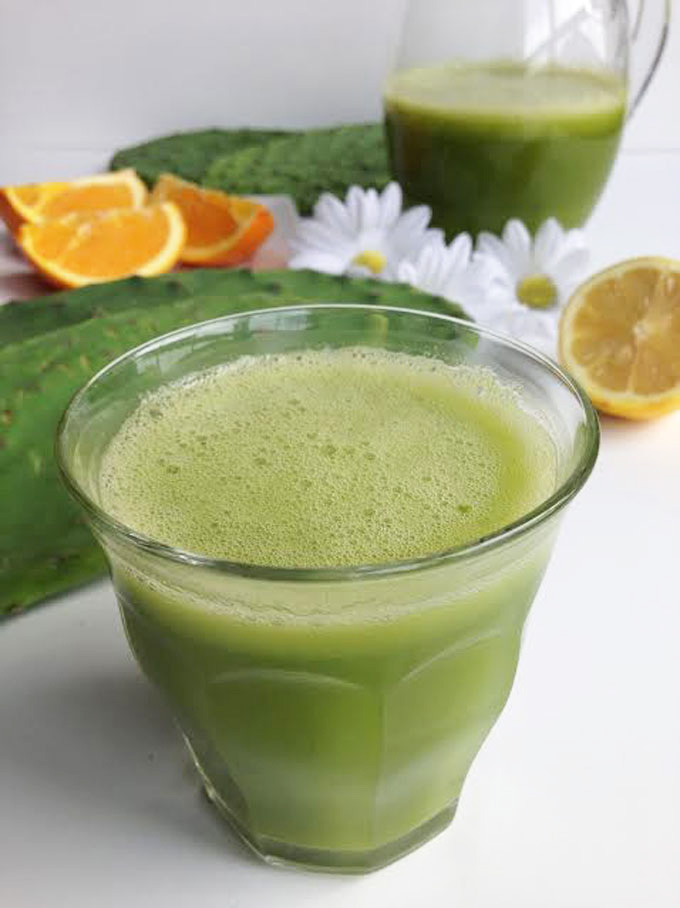 Variations
Cactus juice is great in smoothies, cocktails, dressings, or frozen as popsicles for a summer treat. Have fun experimenting with this delightful fusion – the possibilities are endless! 🌵🍊🍹
How to Store Leftover Citrus Cactus Juice
Ideally this juice is best consumed after making for the best taste and nutritional benefits. If you do have leftovers store in your fridge in an airtight container and consume within 24-48 hours for the best taste and nutrient preservation.
FAQ
Where can I find prickly pear cactus?
Many grocery stores or specialty markets in the southwestern U.S., Mexico, or Mediterranean regions carry prickly pears. They're also found in health food stores.
Do I need a special juicer?
No, a regular juicer or blender will do. If using a blender, you may want to strain the juice afterward for a smoother texture.
If you like this nutritious drink you may want to give my Healing Turmeric Golden Drink a try!
Print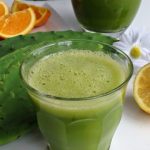 Citrus Cactus Juice
Author:

Celeste Meredith

Prep Time:

10 mins

Total Time:

10 mins

Category:

Beverage

Method:

Blend
---
Description
🌵 This Citrus Cactus Juice is like sipping sunshine! Tangy citrus meets prickly pear coolness for a desert dance of flavors! Refreshment, one sip at a time! 🍹🍊
---
2

large cactus pads, cleaned

4

to

5

oranges

1

lemon

1

cup

coconut water
---
Instructions
Prepare Cactus - Carefully remove the thorns and spines wearing gloves to protect your hands. Rices well, and slice into smaller pieces. Process cactus through juicer, if you do not have a juicer you can blend and strain through a fine mesh strainer.
Juice oranges and lemons - Juice oranges and lemons using a citrus juicer.
Combine juice - Combine the cactus, orange and lemon juice with the coconut water in a blender and process until well combined.
Serve - Pour into glasses and enjoy!
---
Notes
If you do not have coconut water you can use filtered water.