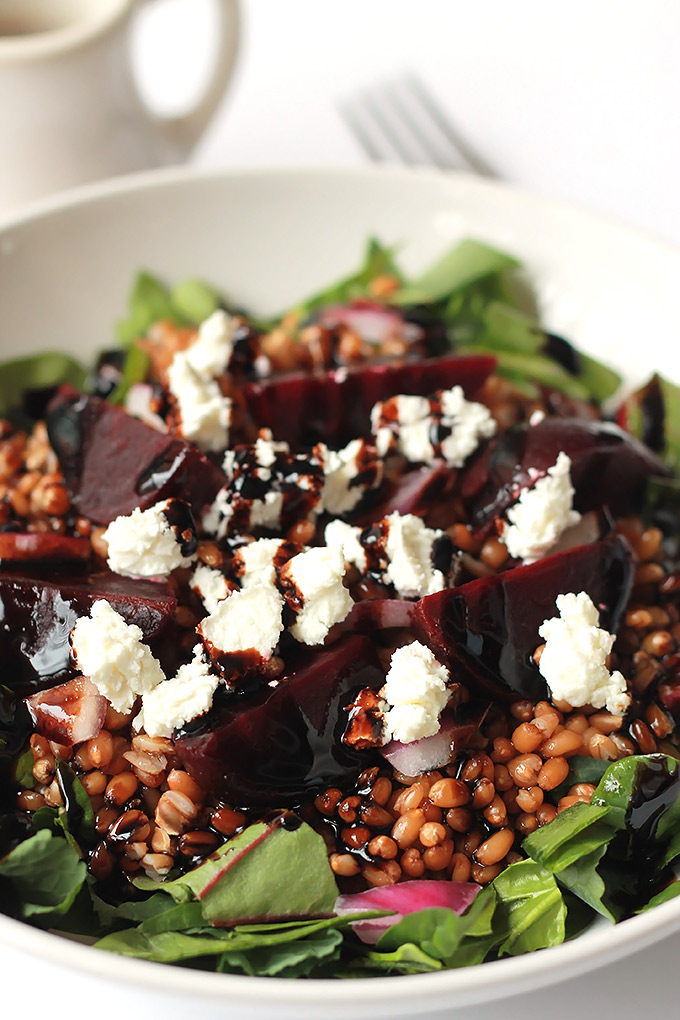 Need to power-up, this Wheat Berry Beet salad loaded with nutrients, is sure to give you power!
There are times when life gets busy, instead of planning, I sometimes just go for what's convenient and that's not always good. When I was in Marathon training mode I would eat Wheat Berry salads fairly often, it's loaded with energy producing carbs, but lately there has been an energy crisis, so it's time to put Wheat Berries back on my energy food list.
WHEAT BERRIES
Wheat Berries are not berries, but actually seeds, and a great addition to a healthy diet. Because Wheat Berries are unprocessed, they retain their nutrients and fiber, making it one of the best kind of carbohydrate, unlike their refined wheat product cousins.
Wheat Berries helps to maintain energy levels without negative effects on blood sugar levels.
Good source of magnesium, potassium, B vitamins, and vitamin E.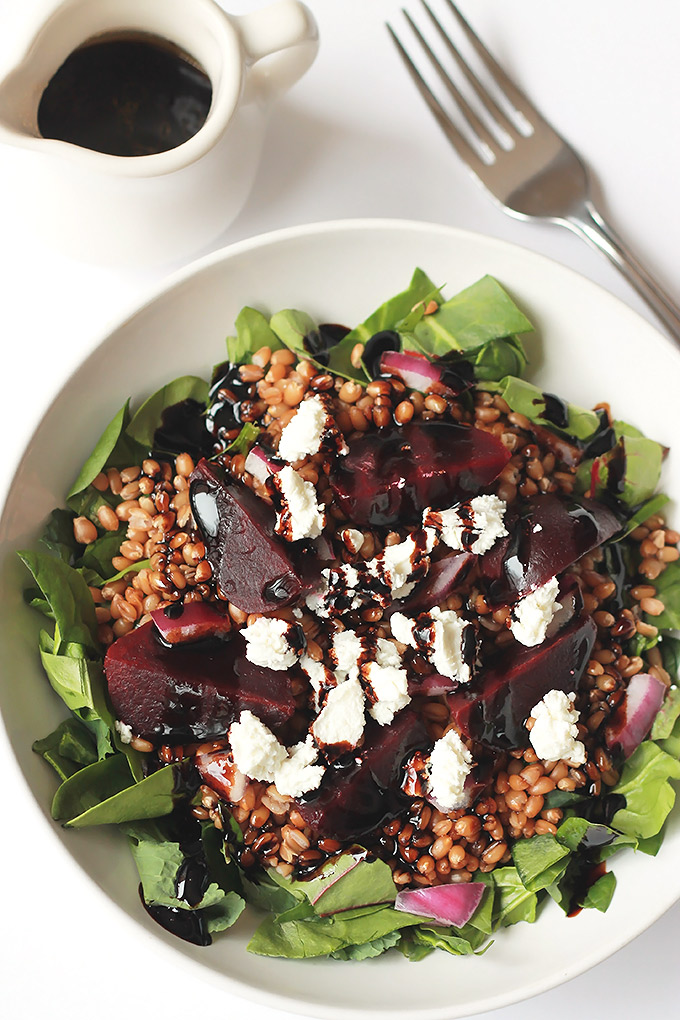 BEETS
Beets are a heart healthy vegetable loaded with fiber, iron, vitamins A, B, C, potassium, magnesium, folic acid and beta-carotene.
Help cleanse the body.
High energy food.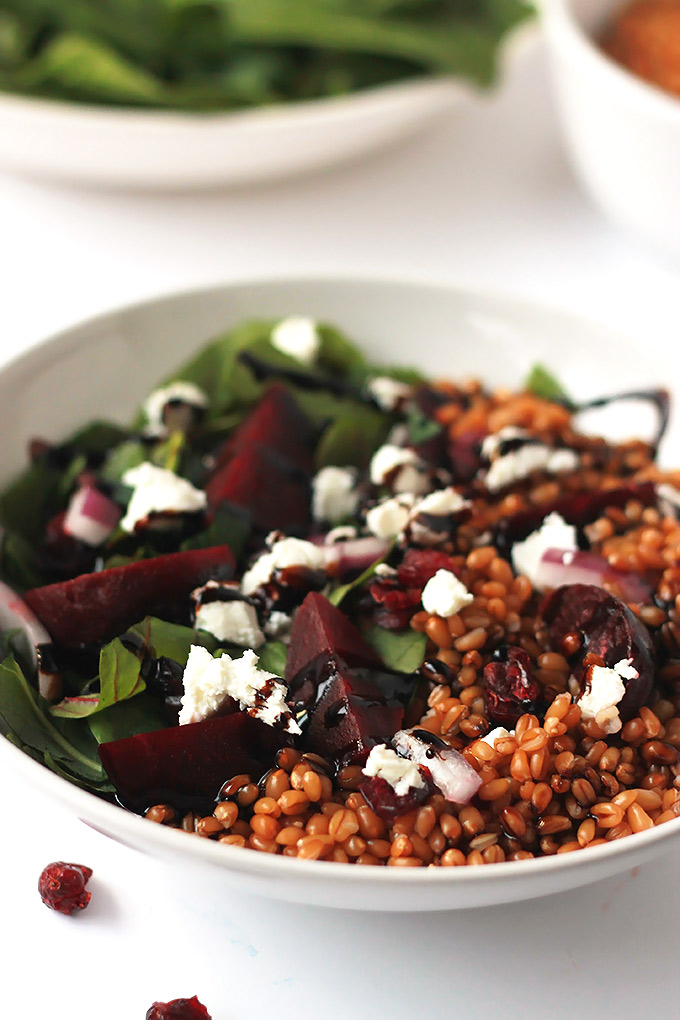 GREEN POWER - SPINACH-KALE-CHARD
Nutrient dense, high in calcium, iron, magnesium, potassium, zinc, vitamins A, C, E and K, fiber and chlorophyll and micro-nutrients.
High in alkaline which helps to balance the bodies acid/alkaline balance. For optimal health the blood should be more on the alkaline side, pH of 7.3 to 7.4 is best. The ugly cancer cells can't survive in this alkaline state.
Reduces inflammation, which is the cause of most health problems.
It's nice when healthy and tasty come together, and that's what happens with this salad. The addition of the dried cranberries, goat cheese and balsamic glaze gives this salad WOW factor.
Savory - Chewy - Tart - Sweet - Creamy, that's this salad.
Makes a great on-the-go meal, sure to fuel you.
Print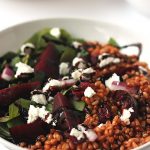 ---
1

cup

uncooked wheat berries

10

to

12

oz. bag of baby spinach, kale and chard mix

1

8oz. package of Trader Joe's steamed and peeled baby beets

½

of medium red onion, chopped

⅔

cups

dried cranberries

2

ozs. of goat cheese
DRESSING

1 tablespoon

olive oil

2 tablespoons

fresh squeezed lemon juice

1 ½ tablespoons

balsamic glaze (I used Trader Joe's brand)

¼ teaspoon

sea salt
extra glaze for garnishing
---
Instructions
Place wheat berries, four cups of water in small stock pot. Bring to a boil, reduce heat to simmer, and cover with top. Stirring occasionally.
When berries have cooked for about 35 minutes, start checking for doneness. Berries should be chewy not tough or hard. Check every 5 to 10 minutes until done. Should take about 40 minutes.
Drain berries and transfer to large bowl.
While wheat berries are cooking wash and spin the greens.
Slice baby beets into quarters and chop red onion.
In a glass jar, mason jars are great for this, place dressing ingredients and shake to mix.
Toss the wheat berries with 2 tablespoons of dressing.
Time to build the salad
Place handful of greens on serving dish, spoon ½ cup or more wheat berries onto greens, top wheat berries with a few beets, onions, cranberries and a bit of crumbled goat cheese.
Drizzle on a bit more balsamic glaze.
Serve and Enjoy
---
---
Nutrition
Calories:

338

Sugar:

19.7

Sodium:

286.4

Fat:

8.1

Saturated Fat:

2.8

Carbohydrates:

61.8

Fiber:

11.1

Protein:

11.4

Cholesterol:

6.5