Make things easy, skip the shell and just use the Avocado to hold all of the taco goodness in these Vegan Stuffed Avocados, and let me tell you, they are so stinking delicious!
First lets talk about TVP, what is it and how do you use it?  TVP is short for Textured Vegetable Protein and it's what I used as a meat alternative in these Vegan Stuffed Avocados.  TVP is made from defatted soy flour that has been cooked under pressure and then dried. It's high in protein, gluten-free and fairly inexpensive, however, it is a processed food.
I don't use it very often, which is why when I do use it I purchase it from the bulk section so I only get what I need. It's not very flavorful but it takes on the flavor of whatever it's paired with. In this recipe it is seasoned with taco seasoning, you can find my DIY recipe here.
When preparing TVP it has to be reconstituted with a hot liquid in a 1:1 ratio or you can simply add it to soups or sauces that contain plenty of liquid.
Here I used ½ cup TVP to ½ cup hot water and it yielded me 1 ½ cups after absorption. If you want you can replace the TVC with quinoa. Unfortunately for me, I'm sensitive to the protein in quinoa. You could also try using farro or sorghum.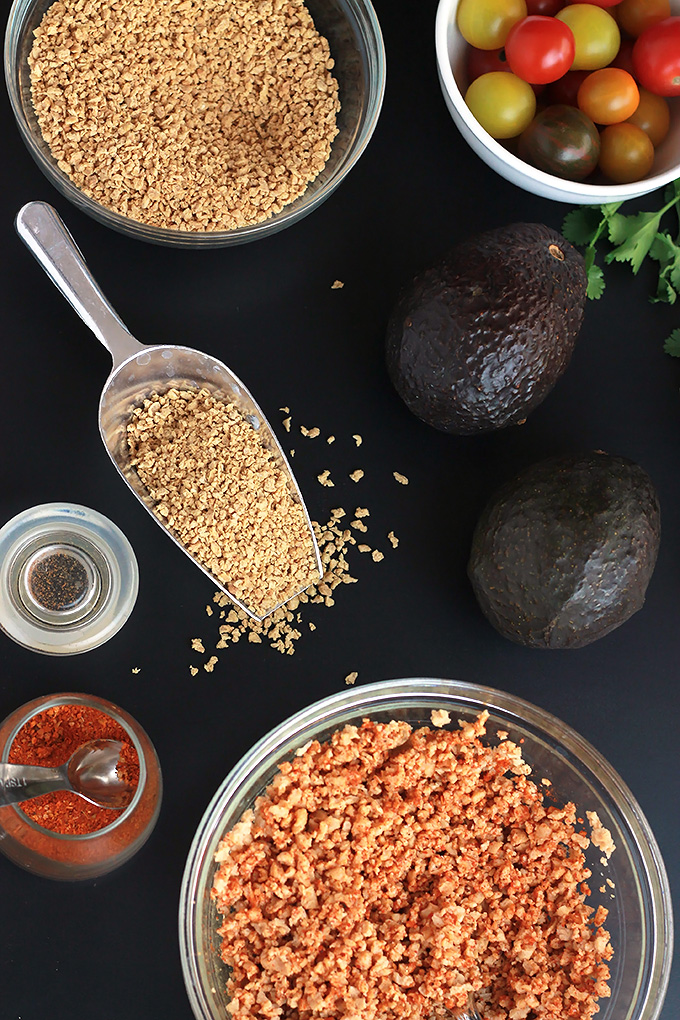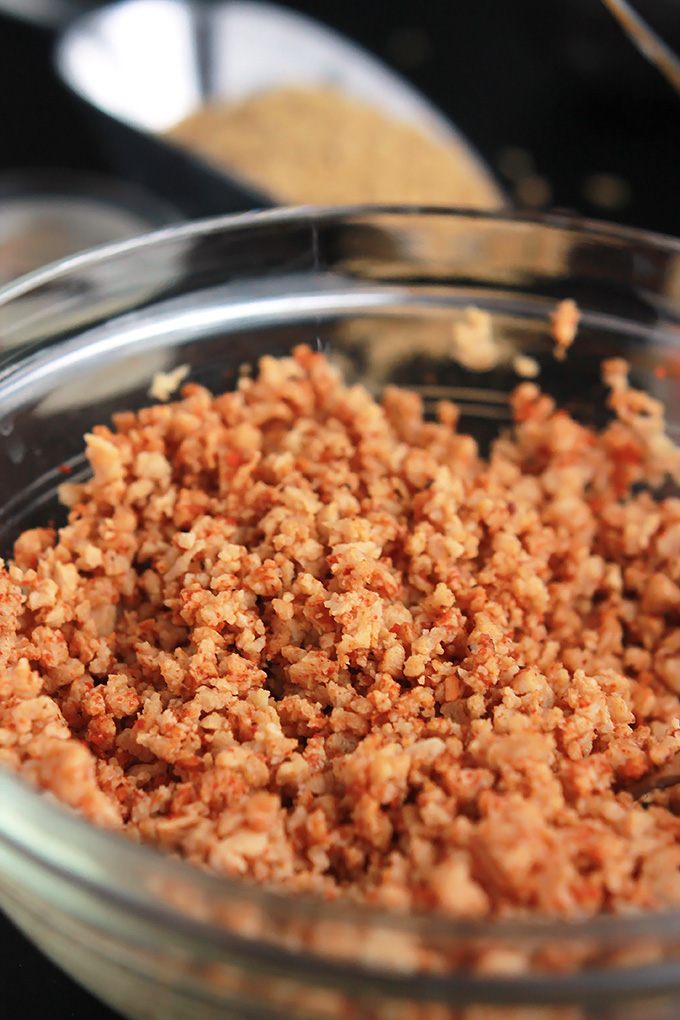 This dish comes together in 20 minutes or less.  While waiting on the TVP make the salsa. I removed the seeds from the jalapeños so it wouldn't be too hot if you like it hot leave in the seeds. The avocado cream sauce is just as easy, everything goes into the blender and blend until smooth.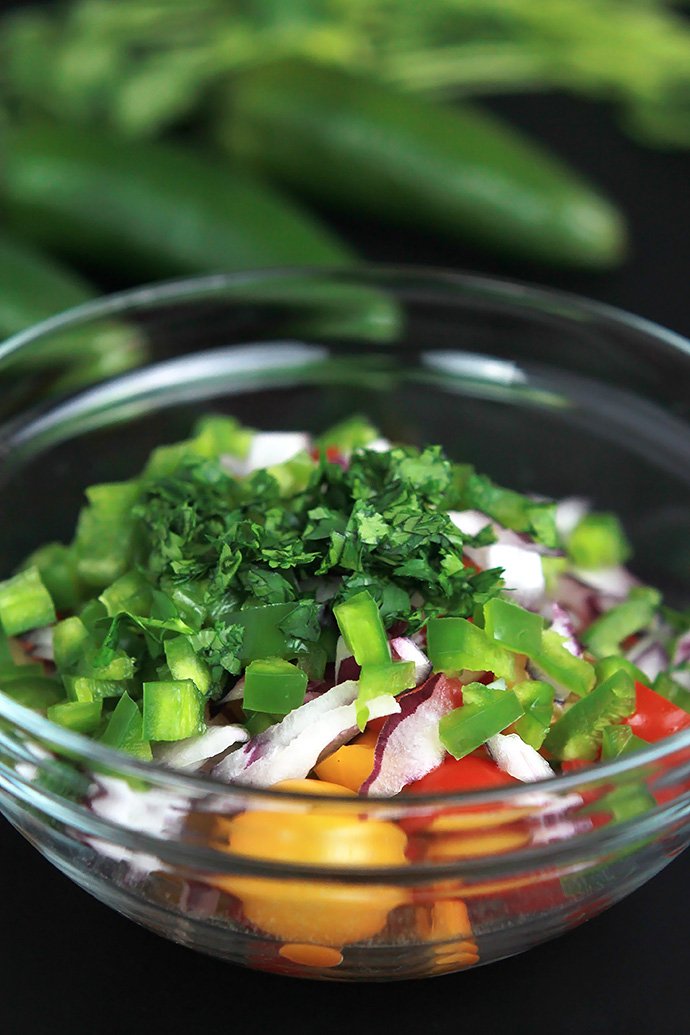 See how easy it is, just fill the avocado and serve. The skin of the avocado serve as a bowl, scoop and eat. They're so delicious and a great food to serve at get-togethers.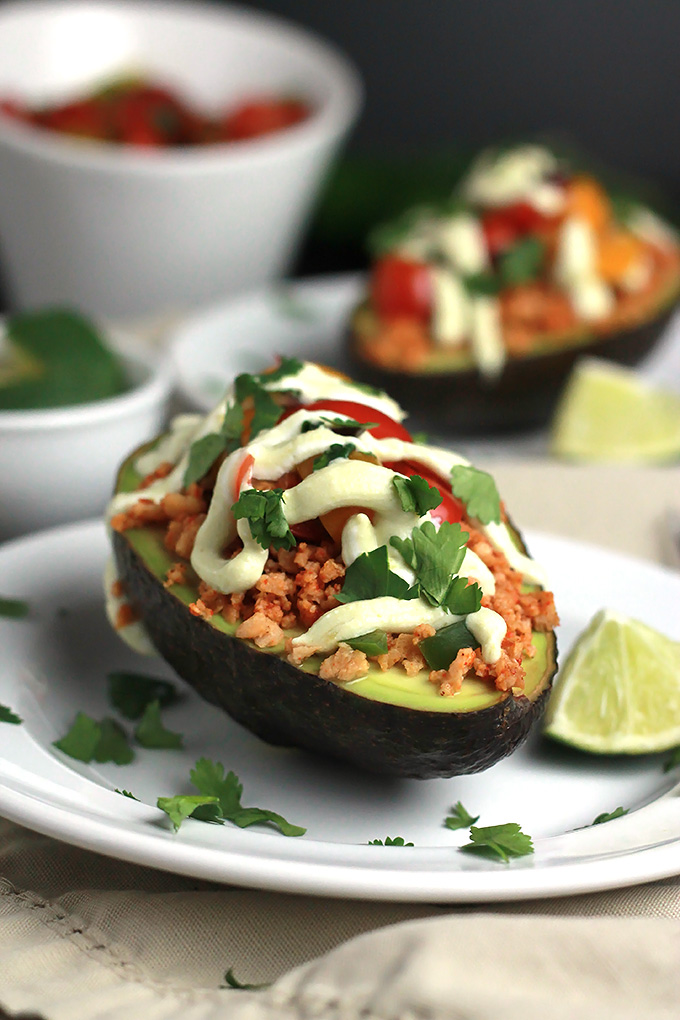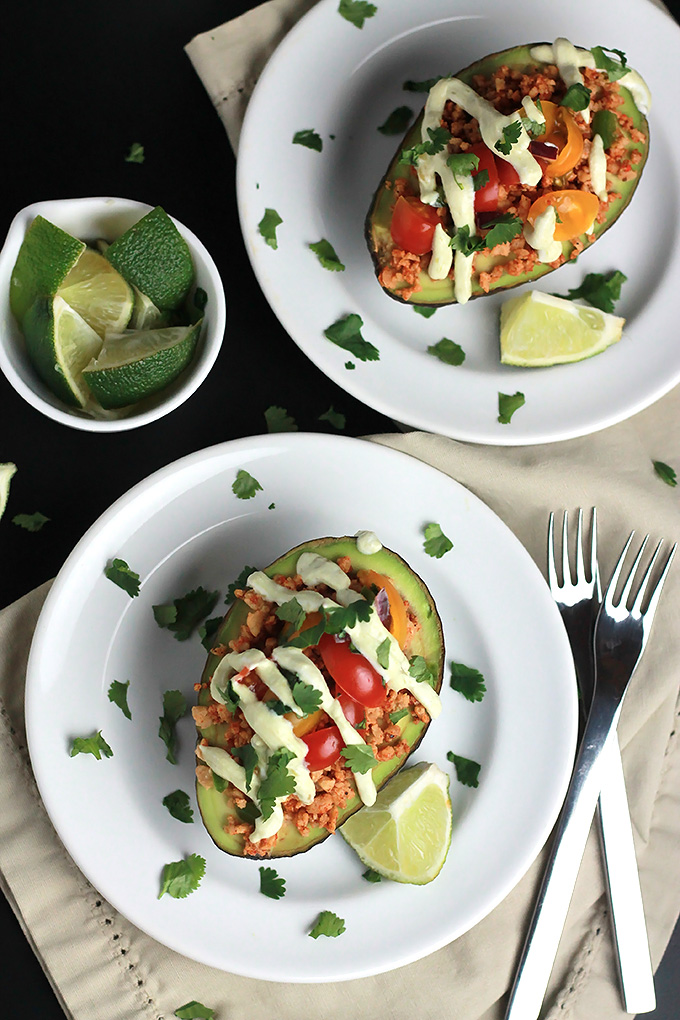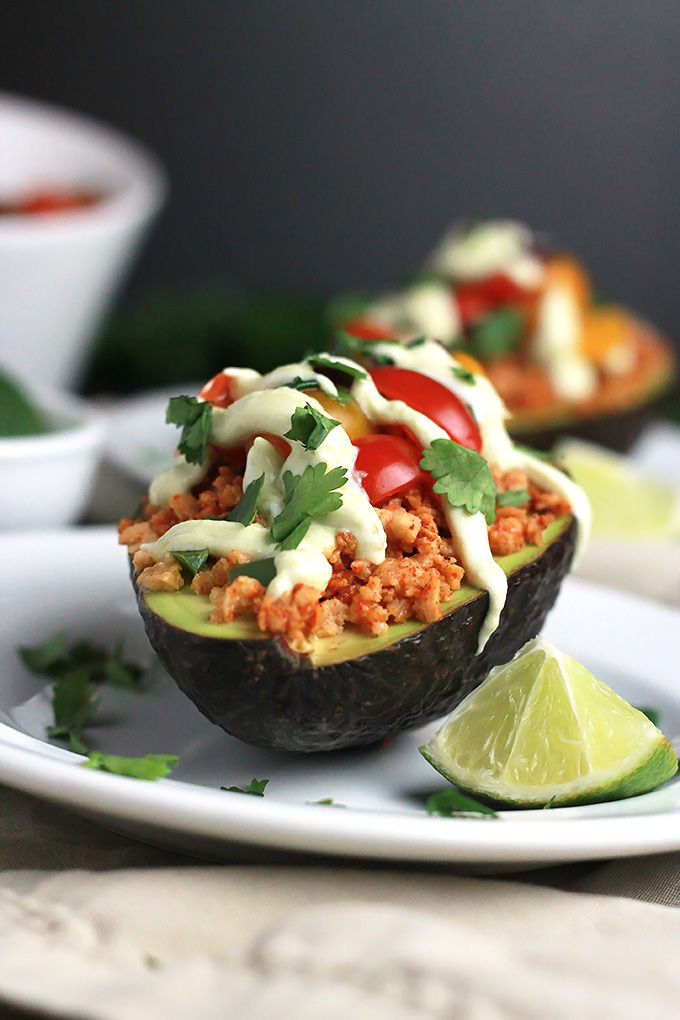 Print
"RECIPE"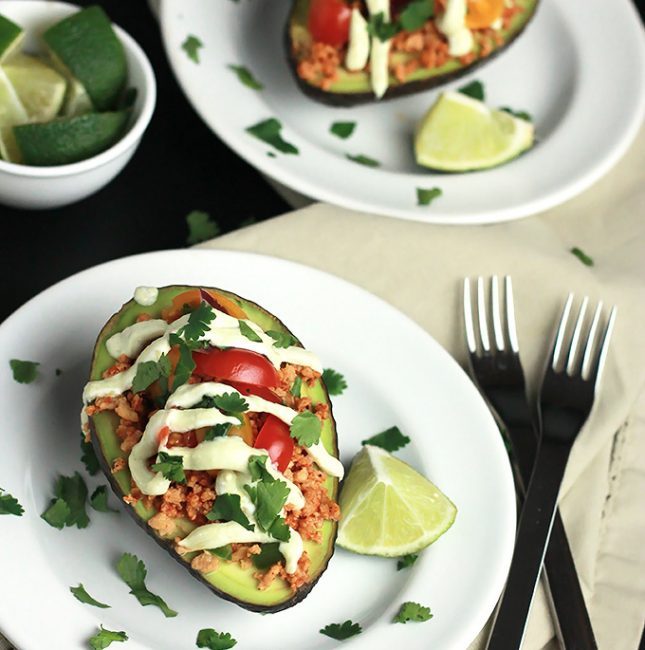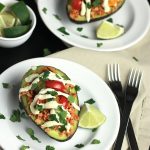 ---
Description
Since making this recipe I have made some modifications to the recipe. I use farro or sorghum instead of textured vegetable protein because I always have these two on hand. You could also use quinoa.
---
½

cup dry textured vegetable protein or( 2

cups

of prepared farro, quinoa or sorghum)

½

cup

hot water

2 ½ teaspoons

taco seasoning

1

cup

chopped cherry tomatoes

3 tablespoons

chopped jalapeno

3 tablespoons

chopped red onions

1 tablespoon

chopped cilantro
salt and pepper to taste
juice of

one

fresh lime

4

avocados
AVOCADO CREAM SAUCE

2

avocados, sliced and seeded

¾

cup

non-dairy milk

1 tablespoon

fresh lime juice

2

finely minced garlic cloves or

½ teaspoon

garlic powder
GARNISHES
lime wedges
chopped cilantro
---
Instructions
Place textured vegetable protein in a medium bowl, pour hot water over the protein, add the taco seasoning, stir and allow to set until water is absorbed completely.
If you use farro, quinoa or sorghum add the taco seasoning to the grain the last 10 minutes of the cook time.
While protein is absorbing the water, mix together the tomatoes, jalapeño, red onions and cilantro. Season to taste with salt and pepper, cover and set aside.
Slice and juice the lime, slice and pit the 4 avocados and pour the lime juice over them to prevent browning.
Place the ingredients for the avocado cream in a blender and process until smooth, taste and season to taste with sea salt. Transfer to a serving dish.
Scoop two heaping tablespoons full of the textured vegetable protein into each avocado, spoon some of the tomatoes and avocado cream over the vegetable protein, garnish with cilantro and serve with a wedge of lime.
Have fun and enjoy!!!
---
---
Nutrition
Serving Size:

½ avocado

Calories:

338

Sugar:

4.8

Sodium:

378.5

Fat:

25.7

Saturated Fat:

3.8

Carbohydrates:

20.9

Fiber:

13.2

Protein:

11.1
If you make this recipe or a version of it, take a picture and share with me on Instagram, tag it #thewholeserving. You can also leave me a comment below to let me know how these Vegan Stuffed Avocados works for you.