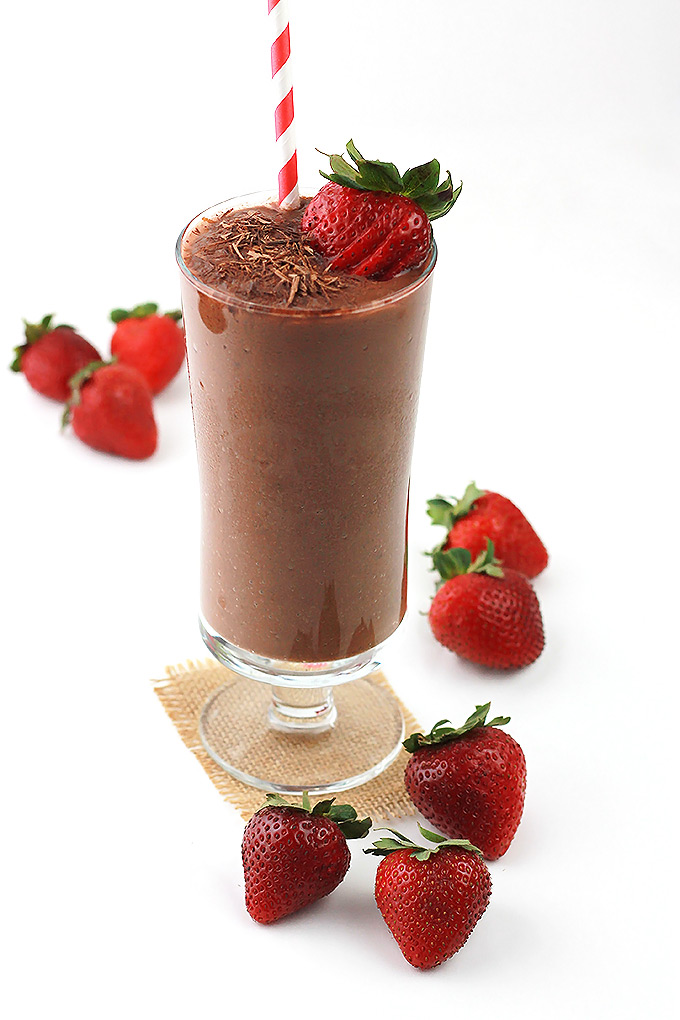 Chocolate for breakfast, yum.
What, you don't eat chocolate for breakfast?  Well, after trying this Strawberry & Chocolate Chia smoothie, you may want to have it for breakfast everyday, it's quick, simple and "Easy as Breeze" to make.
I was first introduced to chia seeds about 5 years ago while training for my first half-marathon. Athletes, especially runners use Chia seeds to help prolong hydration and help retain electrolytes as well as endurance.  While training I included them in my morning and after workout smoothies. My half-marathon was a fall event so most of my training was during the hot Texas summer, so I really needed to stay hydrated.
I wanted to learn more about the small but mighty chia seed and here's a bit of what I found.
15 to 20 grams (2 to 3 tablespoons) of Chia a day will provide you with all the omega-3 your body needs. Reference:Dr. Wayne Coates-AZChia.com
Increased and sustained energy levels, mental clarity, stable blood sugar levels, bone health, increased fiber intake, weight management and healthy hair, skin and nails, these are just a few of the benefits you may have if you include Chia seeds to your daily diet.
Chia seeds are tiny black & white seeds that used to be a staple food in Aztec and Mayan times. Chia's are nutrient dense, 20% omega-3, high in vitamins and minerals (calcium, potassium & magnesium), 20% protein, high in antioxidants, 37% dietary fiber and it's a gluten-free whole grain, which has little flavor.
You can eat them dry, which is the way my daughter likes them or they can be soaked before consuming. Chia seeds can absorb up to 10 -12 times it's weight in liquid. One teaspoon of Chia seeds will make approximately ten teaspoons of Chia gel. There is no other grain that compares to the Chia seed.
Because chia is easy to digest and digest slowly they are great in stabilizing blood sugar levels, which is helpful for people with type-2 diabetes.
Chia may be a benefit in improving cardiovascular health because of is omega-3 to omega-6 ratio. It benefits brain, neurological function and arthritic conditions.
They also have high levels of calcium, making it great for bone health. One tablespoon of Chia seeds contain as much calcium as two glasses of milk.
There you have it, a boat load of information about chia seeds, now on to the recipe.
I usually start with plain unsweetened almond milk, but with this recipe I started with chocolate Blue Diamond Almond Breeze, smooth and creamy perfection!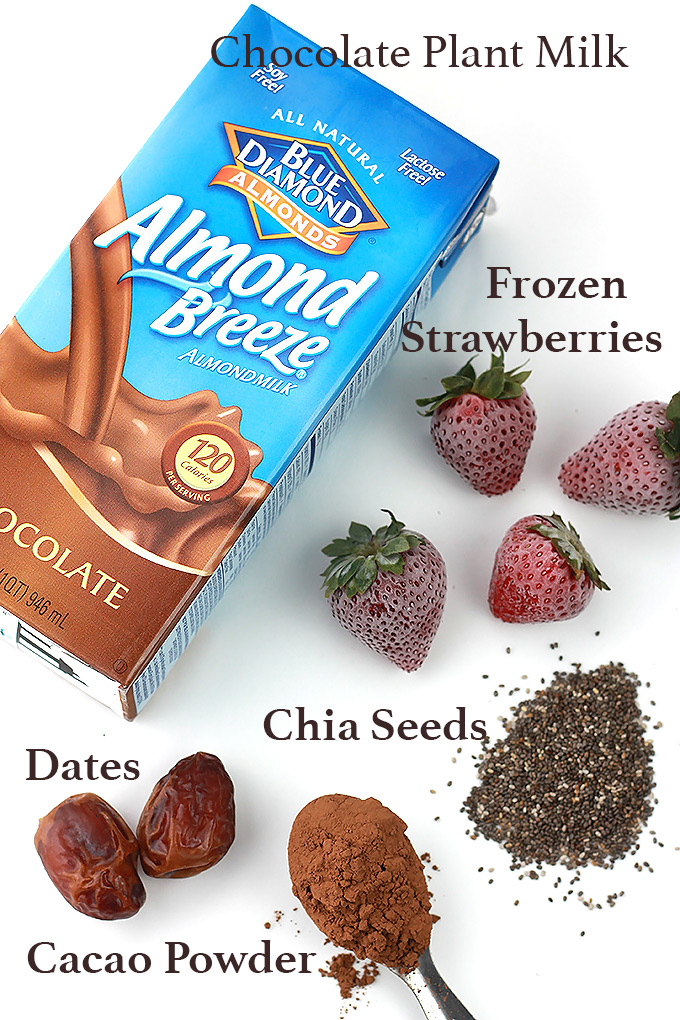 I've been loving strawberries lately, and since I think chocolate and strawberries are great together, I put them together in this smoothie. During the hot summer months I freeze fresh fruits for quick cool me down, "Easy as Breeze"  smoothies.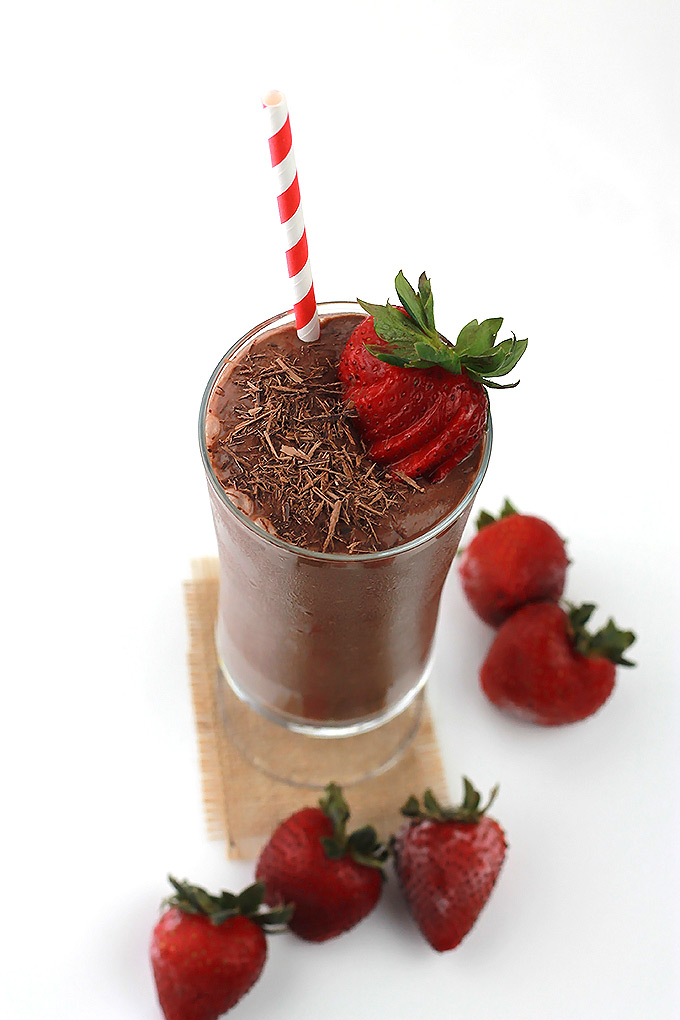 Guilt-free delectable goodness!!!!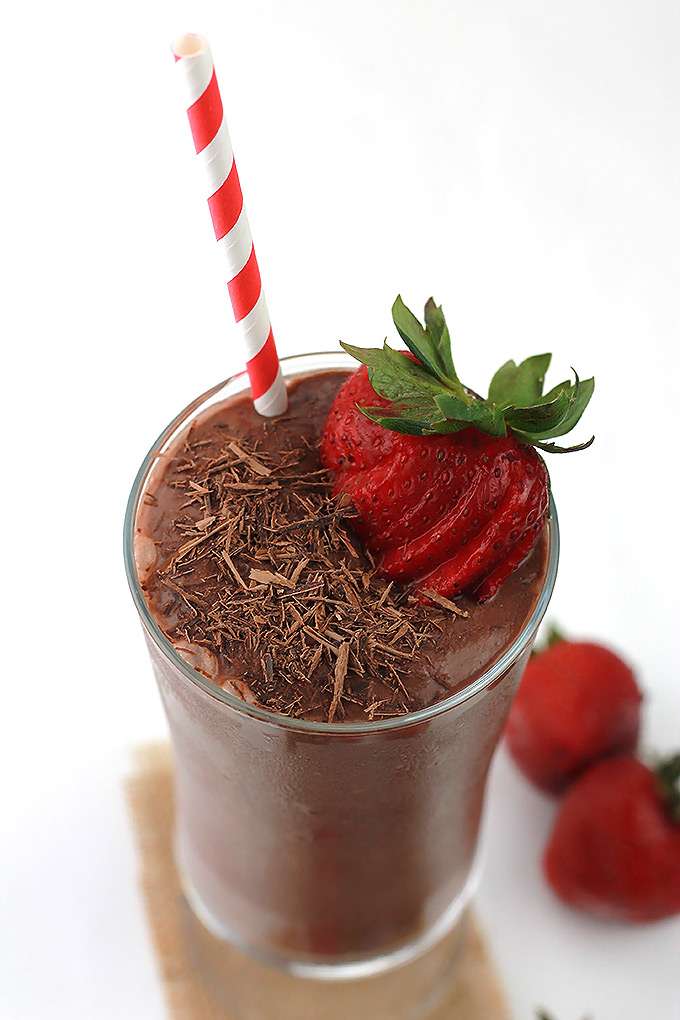 Print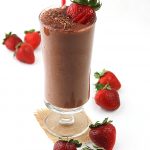 Strawberry & Chocolate Chia Smoothie
---
1 ½

cups

Blue Diamond Almond Breeze chocolate milk

3 tablespoons

chia seeds

2 tablespoons

cacao powder

20

or more frozen strawberies

3

to

5

pitted dates
---
Instructions
Place all ingredients into bowl of blender, blend until smooth.
Taste, if you prefer a sweeter smoothie add in more dates, blend until smooth.
Pour into serving glasses.
Serve and enjoy!
---
---
Nutrition
Serving Size:

16 oz

Calories:

402

Sugar:

55

Sodium:

117.5

Fat:

11.7

Saturated Fat:

4.8

Carbohydrates:

72.5

Fiber:

13.7

Protein:

10.9

Cholesterol:

0