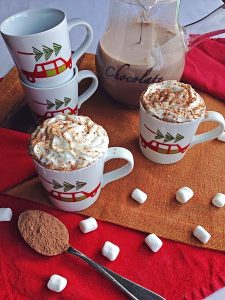 With winter in full swing my daughter has been asking for hot chocolate a lot lately, (she's not a coffee drinker).
Instead of buying the prepackaged kind, I decided to make my own. Adding the chips gives it a rich, smooth, creamy taste.
If you give this recipe a try, let me know what you think and share some of your flavor variations.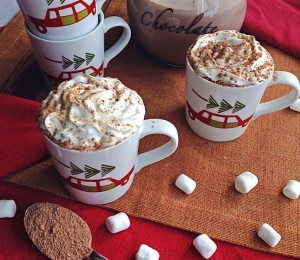 Smooth & Creamy Hot Chocolate Mix
½ cup semi-sweet chocolate chips
½ cup white chocolate chips
1 cup natural turbinado sugar
1 cup natural unsweetened cacao powder
1 cup non-fat instant dry milk powder
miniature marshmallows (optional)
whipped topping (optional)
Instructions
Process chips in food processor until they are fine shreds, be careful not to over process or the chips will melt.

Remove shredded chips to a medium mixing bowl.

Process turbinado sugar in processor until it forms into a powder.

Place in mixing bowl with chips.

Add cacao powder and non-fat dry milk to bowl and stir to combine.

Return mix to processor and pulse until ingredients are well combined and becomes a fine powder.

Store in air-tight container in cool dry place, I store mine in the fridge.
When you are ready for a smooth cup of hot chocolate,
Mix 2 to 3 heaping tablespoons of mix into 8 ounces of hot milk, dairy or non-dairy, adjust to your taste.
Add topping of your choice.
Flavor Options
You can add ½ cup flavored non-dairy powdered creamers to mix, or add dry or wet creamer to taste when preparing.