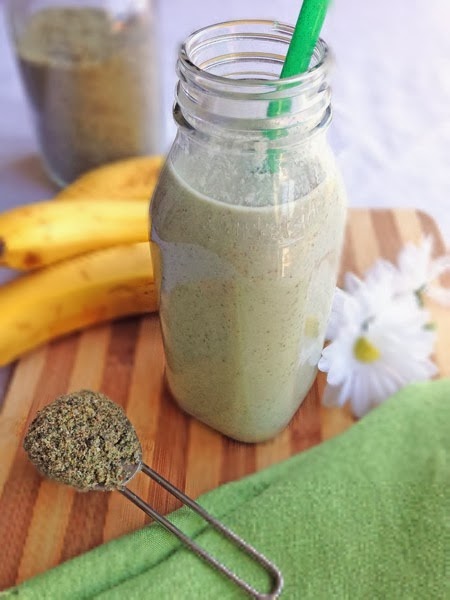 Protein powders, I love that they help refuel me after a hard workout, but I hate the price. I guess you could say, there's a love/hate relationship between me and most protein powders.
Cruising the aisle for protein powders can be confusing, read the ingredients and you get more confused.
I choose to use plant-based protein powders because my tummy can't handle the other milk based  powders.  I've tried so many, I've lost count, those that are natural, taste like grass, who wants to drink grass.  Vega and Amazing Meal are my favorites, but lets face it, those beautifully designed tubs can get expensive.
So I took a look in my fridge and cabinets to see what I could put together. I am currently on a raw food challenge, so I tried to keep the ingredients raw. After mixing and blending I had myself a tasty, smooth protein smoothie.
Here is what I used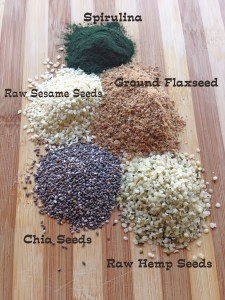 Raw Hemp Seeds - Complete source of protein and good source of calcium and iron.
Raw Sesame Seeds - Rich in mono-unsaturated fatty acid, oleic acid which helps to lower LDL the bad cholesterol and increases HDL the good cholesterol, great source of protein, b-vitamins and minerals
Chia Seeds - A super food great for protein and fiber
Ground Flaxseed - High in omega-3, protein and fiber
Spirulina - Great source of protein, vitamins, minerals and antioxidants
Vanilla Extract Powder - Adds flavor
I'm sure that there are many more combinations, and as I give them a try I'll share.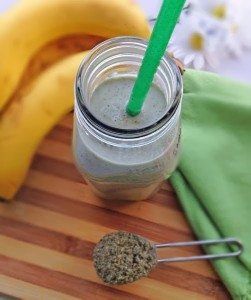 DIY Protein Powder
Ingredients
1 cup raw shelled hemp seeds
1 cup raw white sesame seeds
1 cup chia seeds
1 cup ground flaxseed
½ cup spirulina powder
2 teaspoons vanilla extract powder
Instructions
1. Mix all ingredients in a bowl.
2. Grind in small batches using a coffee grinder or small food grinder, pulsing 3 to 5 seconds or until ingredients are fine.
3. Remove to a bowl.
4. When all have been processed, rub mixture between fingertips to remove any lumps.
5. Store in airtight glass container. (I used a mason jar).
Each tablespoon of mix have the following nutritional breakdown, Calories 58, Carbs 3, Fat 4 Protein 3 Sodium 15, Sugars 0. (I used MyFitnessPal for calculations). When making my smoothies, I use 3 leveled tablespoons, that's a total of 9 grams of protein, and I added two bananas, because I love bananas.
6. Use 8 ounces of water, almond milk or liquid of your choice. (using milk will add more protein).
7. Add your desired amount to liquid, and blend until smooth. To sweeten I suggest adding stevia, so you don't add in too many empty calories.
8. Drink up and Enjoy!
 Additions-for Variety
Raw Cocoa powder
cinnamon
raw fruits and vegetables
cayenne
If you are counting calories, don't forget to add in calories for any add-ins.