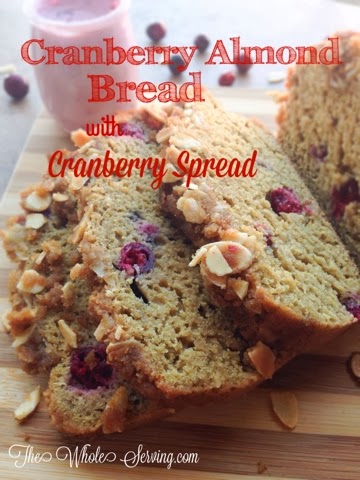 As I was mixing the batter for this bread I wasn't sure it would come out the way I was picturing in my mind.  After pouring the batter in the loaf pan, I thought maybe I should have used a cupcake pan, I was afraid the middle would sink, but it turned out there was no sinking, just a beautiful moist and delicious bread.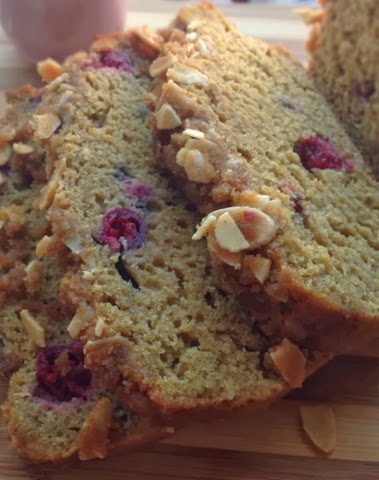 To soften this bread I used one cup of whole wheat pastry flour to one cup plain whole wheat flour, and just so it wouldn't be to soft I added ⅓ cup of fine grain corn meal.
There are so many options when making this bread, you can use almost any kind of fruit. I chose cranberries, because it's that time of the year and cranberries seem to make anything it's added to more festive.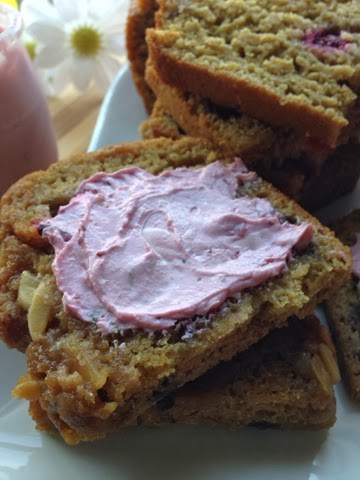 The tartness of the cranberries along with the sweet crunchy streusel topping work beautifully together. However, the next time I bake this I think I will put the streusel mixture in the middle and on the top.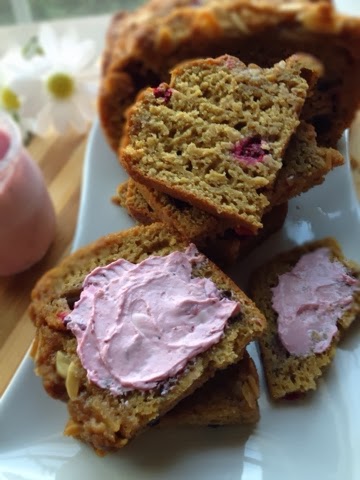 Perfect bread to share with family and friends with a cup of coffee or tea.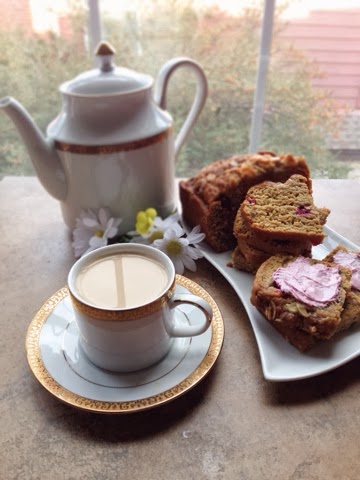 Cranberry Almond Bread with Cranberry Spread
Ingredients
Batter
1 cup whole wheat pastry flour
1 cup whole wheat flour
⅓ cup fine corn meal
¾ cup turbinado sugar
1 teaspoon sea salt
1 teaspoon baking soda
1 cup plain greek yogurt
1 egg, beaten
1 ½ cup almond milk
1 teaspoon vanilla
1 cup fresh whole cranberries
Streusel Topping
½ cup light brown sugar
½ cup sliced almonds
1 tablespoon whole wheat or all-purpose flour
1 tablespoon coconut oil
1 teaspoon cinnamon (optional)
Cranberry Spread
½ cup fresh cranberries
½ cup water
2 ½ tablespoons turbinado sugar
8 .oz softened cream cheese
Instructions
1. Preheat the oven to 325 degrees and prepare loaf pan using cooking spray.
2. Mix together the streusel ingredients using your fingers until mixture is crumbly.
3. In a large bowl mix together the flours, corn meal, sugar, salt, and baking soda.
4. In another bowl mix the yogurt, egg, almond milk and vanilla.
5. Pour yogurt mixture into flour and stir until all combined.
6. Fold in cranberries.
7. Pour into prepared pan and sprinkle streusel topping over batter.
8. Bake for 35 to 40 minutes or until knife inserted in middle comes out clean.
9. Allow bread to cool slightly before slicing.
10. While bread is cooling, put cranberry spread ingredients in small saucepan and bring to a boil.
11. Reduce heat and allow to simmer, stirring occasionally until the mixture thickens.
12. Place cream cheese in a microwave safe bowl and heat 20 to 30 seconds to soften.
13. Mix together the cranberries and cream cheese.
14. Transfer to serving container.