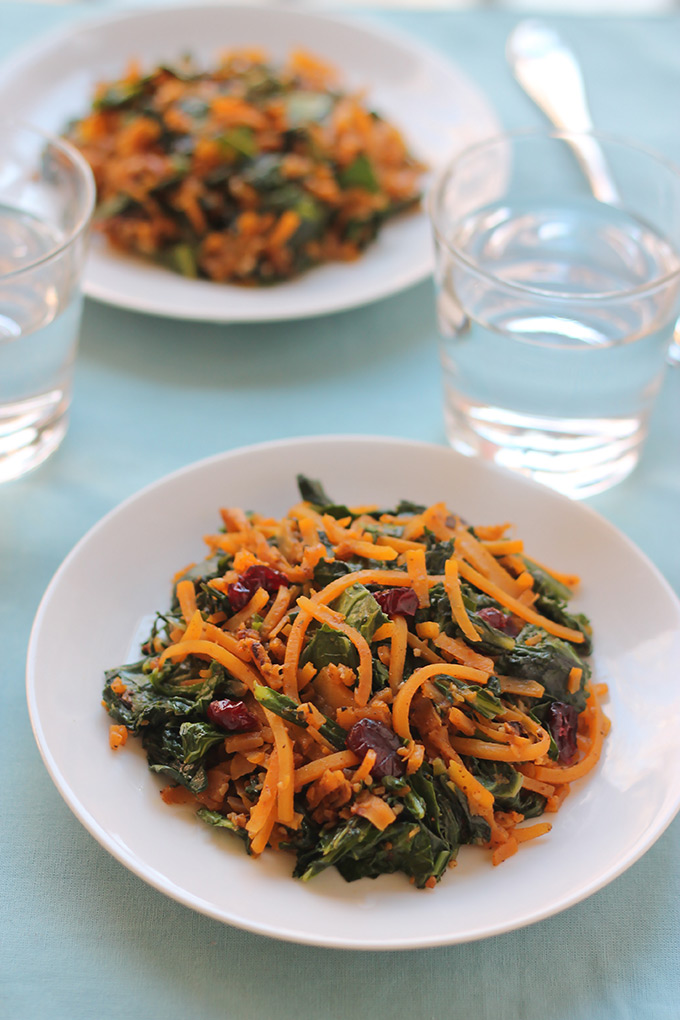 Happy Friday!
Well, have you taken all of your Christmas decorations down and put them away? I've been a bit lazy when it comes to the task of putting away my Christmas decor, my daughter says we should leave it up until February. I was talking to someone at work the other day and she has an idea of leaving the tree up and decorating it throughout the year, hearts for Valentine's Day, shamrocks for St. Patrick's Day, eggs for Easter and so on, and so on until it's Christmas again. Quite the idea, but I think I'll be taking mine down this weekend. Oh well, enough about Christmas decorations, how about I share a recipe with you.
Who like cutting into hard squash skins?
I like butternut squash, but I don't like the struggle I have when cutting into the squash. Vegetable peeler to the rescue! It was so much easier and quicker with a vegetable peeler and several months ago I found a handy-dandy julienne peeler, the quickest way to make vegetable noodles. Something else I'm glad I found, Roasted Garlic and Herb seasoning from Weber. This stuff is good on almost anything, eggs, salads, soups, toast, burgers, (veggie burgers for me), you name it, almost anything. I used it as a finishing seasoning in this dish.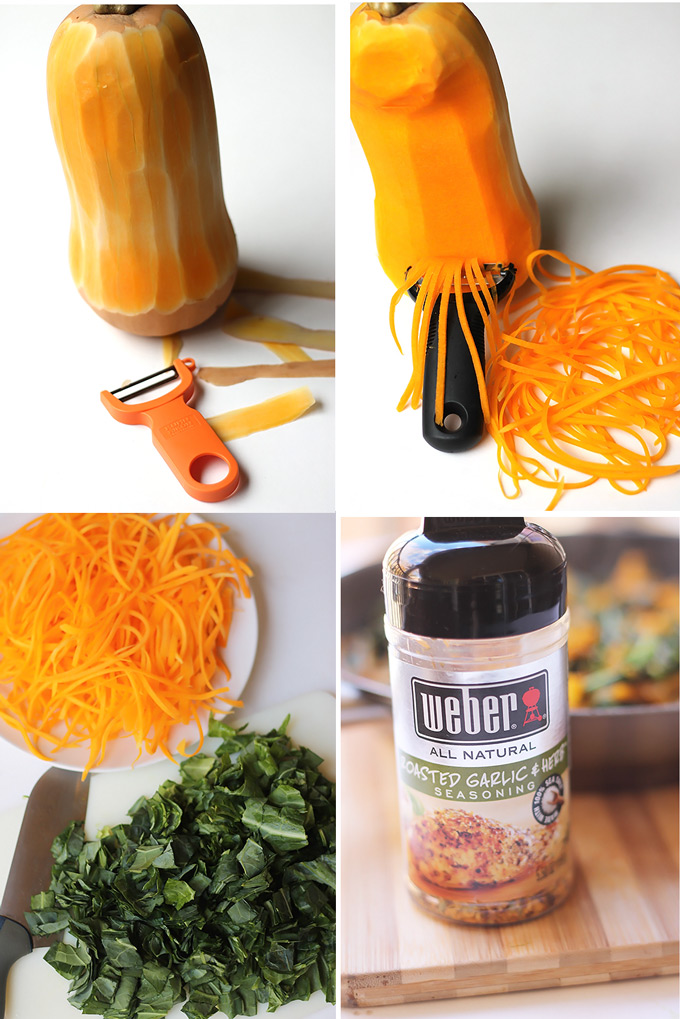 If only there were scratch and sniff screen, you could smell the aroma of spices coming from the steam in the skillet below.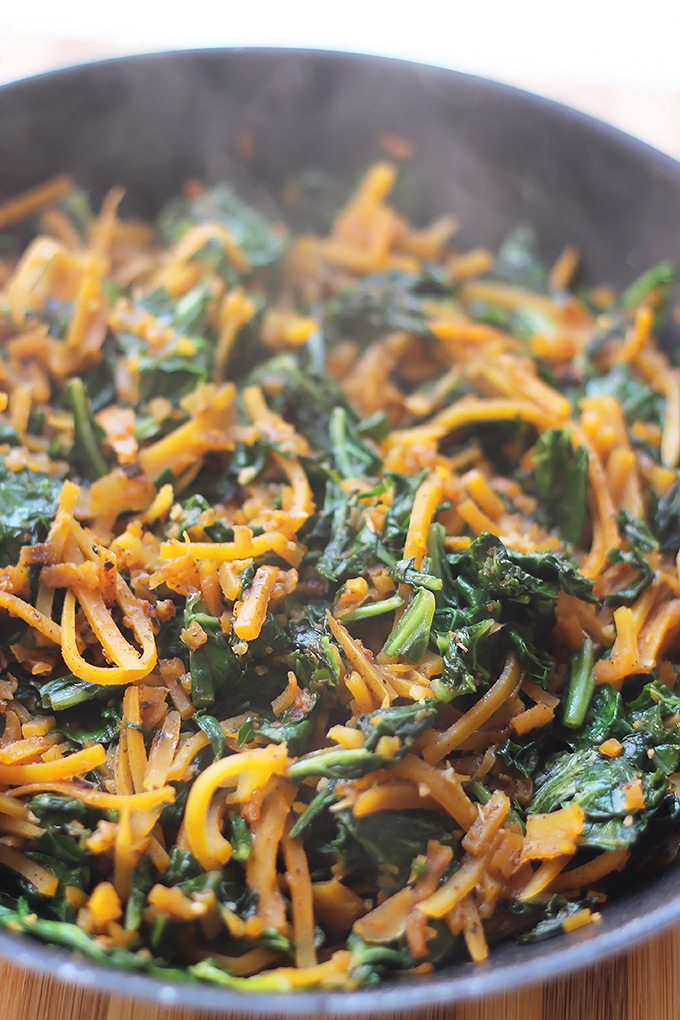 Look how beautiful it is, don't you think?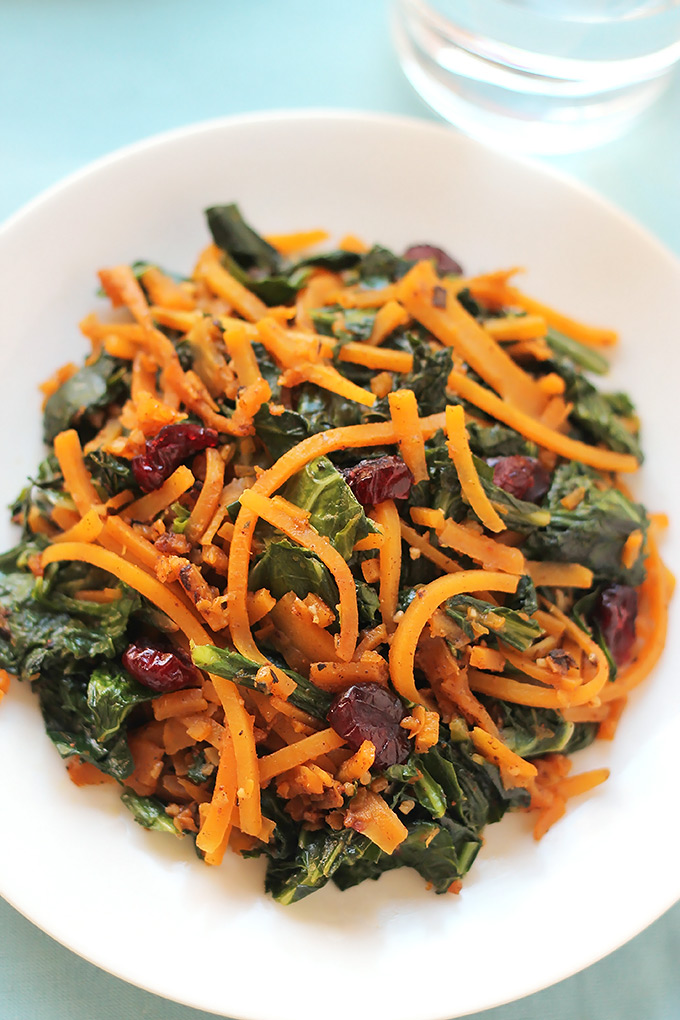 Print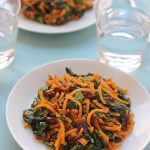 Butternut Squash with Greens
---
4

cups

julienne butternut squash

2

bundles of collards or greens of your choice

2 tablespoons

extra virgin olive oil

½ teaspoon

ground nutmeg

½ teaspoon

ground clove
dash of sea salt and fresh cracked black pepper
water as needed

½

to

1

teaspoon of Weber Roasted Garlic Seasoning (optional)

⅓

cup

dried cranberries
---
Instructions
Wash the skin of the squash.
Using a vegetable peeler, peel the outer skin from the squash. Next use a julienne peeler to cut squash into julienne slices. About half of the squash will yield 4 cups, you can save to rest for later use. If you don't have a julienne peeler, peel using vegetable peeler and cut strips into julienne slices or just chop the strips into smaller pieces. Transfer to a bowl and set aside.
Wash greens thoroughly.
Lay greens flat on cutting board, use a sharp knife to cut along the spine of each side of the collard to remove the stem, cutting the collard into two pieces.
Stack leaves and roll stack lengthwise and cut each roll into 1 inch pieces. You will now have long ribbons. If yo like you can cut the strips into smaller pieces. You will have to do several stack at a time.
Place the greens in a large bowl and set aside
Pour 1 tablespoon of the olive oil in a large skillet over medium high heat and saute squash until it starts to soften, about a minute or so.
Season with the nutmeg and clove and continue to saute another 2 to 3 minutes. Add water 1 tablespoon at a time if pan get to dry and it starts to stick. Remove from pan and set aside.
Return skillet to burner and pour the remaining olive oil into skillet and saute greens until they start to soften.
Add squash back to skillet and continue to cook for another 3 minutes or more. If pan gets to dry add in more water one tablespoon at a time.
Season with Weber Roasted Garlic Seasoning or just season with salt and pepper to taste.
Remove from heat and add in the cranberries, transfer to serving dish.
Serve and enjoy!
---
---
Nutrition
Serving Size:

1 cup

Calories:

113

Sugar:

6.6

Sodium:

36.4

Fat:

4.9

Saturated Fat:

0.7

Carbohydrates:

18.4

Fiber:

3.4

Protein:

1.7

Cholesterol:

0