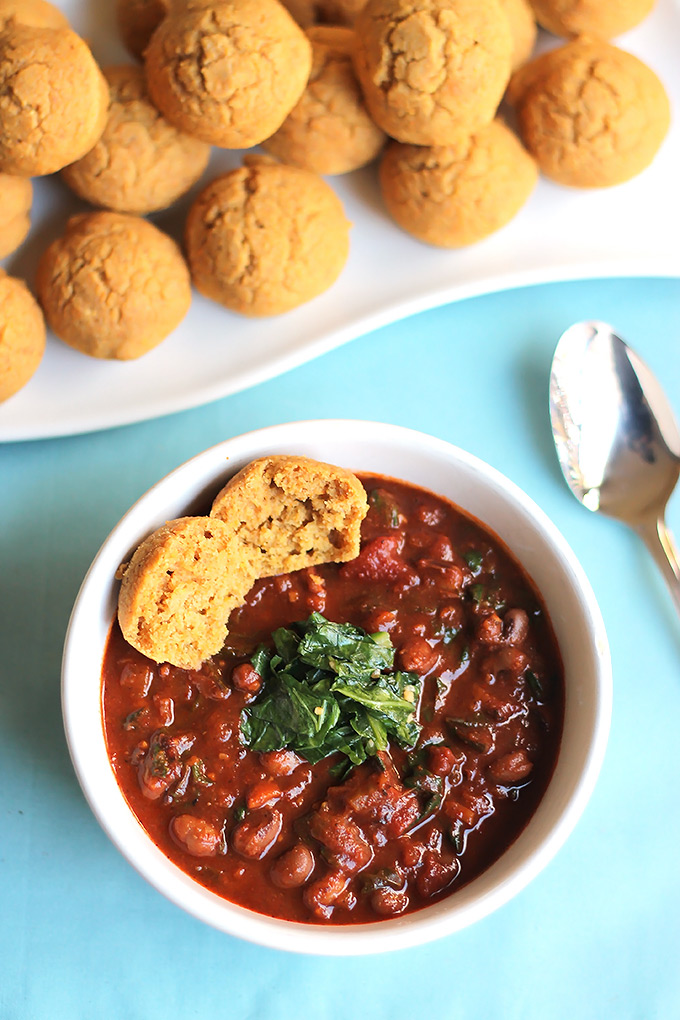 I'm not a very superstitious person, but I still hold on to the New Years traditions from my childhood of eating collard greens and black-eyed peas on New Years Day, but this year I'm changing the way I prepare those greens and black-eyed peas. I'm making Black-eyed Pea Chili and Maple Corn Muffins.
According to tradition, black-eyed peas represent tiny coins and greens being the color of cash, both symbolize wealth and financial rewards in the new year.
I'm not sure if it will bring you wealth, but it will help you hold on to what you have, since they're both fiber rich, filling foods, that are inexpensive to prepare.
In addition to saving you money these foods can keep you healthy. Collards can help lower cholesterol levels and protect against cancer, just be sure not to overcook. They are best steamed or sautéed just until the leaves start to wilt, which is how I prepared them for this dish.
Black-eyed peas are high in fiber, potassium, which aids in lowering blood pressure, and they're a good source of protein.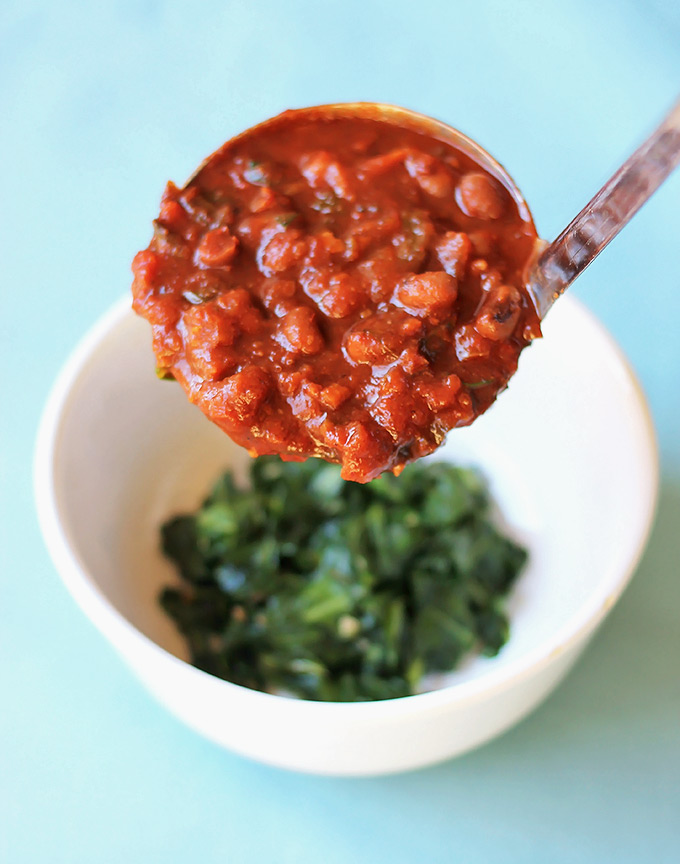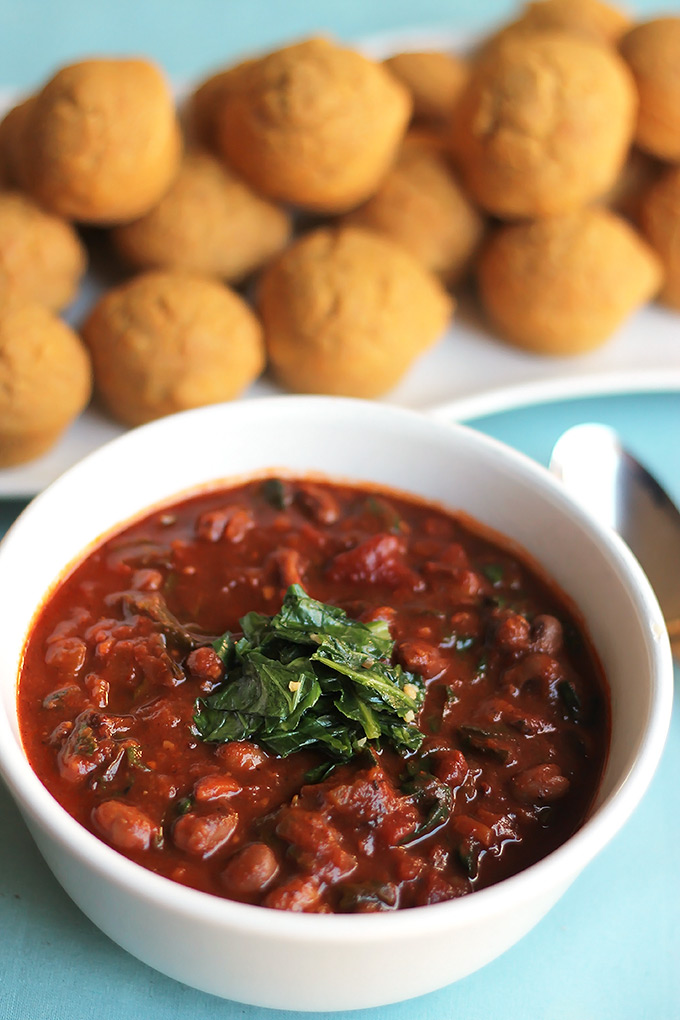 Add a side of these moist, delicious, hard to resist Maple Corn Muffins, and you'll have yourself a magnificent New Year's Day meal.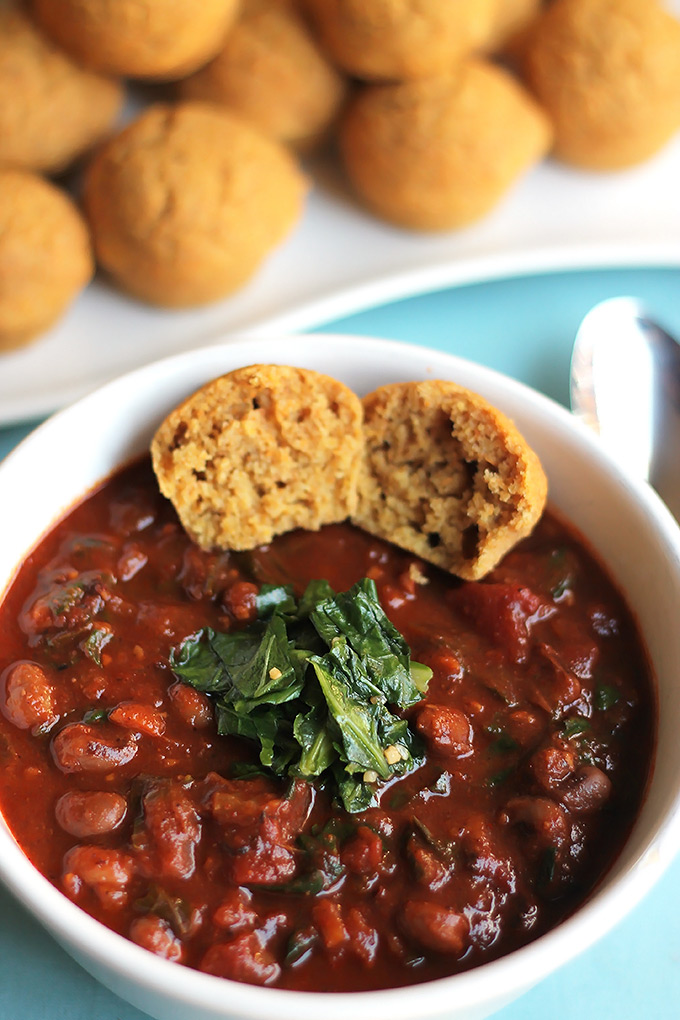 I wish everyone a Happy and Healthy New Year!
Print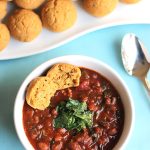 Black-eyed Pea Chili With Collards
---
1 tablespoons

olive oil

1

medium onion, chopped

2

celery stalks, chopped

½

cup

finely chopped carrots

3

cloves of garlic, minced
2

15.8

oz

cans of black-eyed peas
1

15

oz

can tomato sauce
1

14.5

oz

can fire roasted diced tomatoes

12

oz

of water

1 teaspoon

paprika

2 teaspoons

cumin

2 teaspoons

dried oregano

2 tablespoons

ground chili pepper powder

2 teaspoons

red pepper(add more for more heat)
salt to taste

2 tablespoons

corn masa flour or all-purpose flour (optional for thicker chili)

¼

cup

warm water

2

bundles collard greens, cleaned, with hard stems removed and chopped

1 tablespoons

olive oil
---
Instructions
Pour olive oil into large skillet over medium high heat.
Add onions, celery and carrots to pan and saute until onions are translucent.(about 2 minutes)
Add garlic to pan ans saute for 1 minute more.
Transfer to crock-pot bowl and add the peas, sauce, diced tomatoes, water and stir to combine.
Add paprika, cumin, oregano, ground chili powder, red pepper and stir.
Allow to cook on high for 6 hours or on medium high if you are cooking longer, to prevent any burning.
After 5 and ½ hours season with salt to taste.
Whisk

(Affiliate Link)

together masa and ¼ cup warm water and slowly stir into chili to thicken. (this is optional, only if you want a thicker chili).
Allow to cook for another 20 to 25 minutes.
While chili continues to cook, prepare the greens.
Heat large skillet over medium high heat, add olive oil and saute greens until they start to wilt.
Remove to serving dish cover and keep warn until ready to serve.
When ready to serve, spoon greens into bowl and spoon chili over the greens, stir to mix.
Serve with Maple Corn Muffins and Enjoy!
---
---
Nutrition
Calories:

167

Sugar:

5.1

Sodium:

711.9

Fat:

4.5

Saturated Fat:

0.7

Carbohydrates:

26.3

Fiber:

6.6

Protein:

7.7

Cholesterol:

0
Print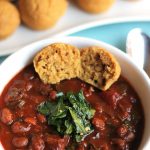 ---
2 tablespoons

ground flax seed

4 tablespoons

warm water

1

cup

corn meal

1

cup

whole wheat flour

2 teaspoons

baking powder

½ teaspoon

baking soda

½ teaspoon

ground sea salt

1 ½

cup

almond milk

¼

cup

maple syrup

¼

cup

vegetable or canola oil
---
Instructions
Preheat oven to 375 degrees.
Prepare mini muffin pan by spraying with cooking spray of lining pan with paper liners.
Whisk

(Affiliate Link)

together ground flax seed with warn water in a medium bowl and set aside.
In a large bowl whisk

(Affiliate Link)

corn meal, flour, baking powder, baking soda, and salt.
Add milk, syrup and oil to the flax seed mixture and whisk

(Affiliate Link)

to combine.
Pour milk mixture into flour and fold until there are no dry spots, batter will be slightly lumpy.
Spoon batter into prepared muffin pan and bake for 10 to 12 minutes or until a toothpick inserted into a muffin comes out clean. If you use a standard muffin pan, bake for 20 to 23 minutes or until toothpick inserted in muffin comes out clean.
Remove from oven, allow to cool slightly and remove from pan.
Store muffins in an airtight container.
---
---
Nutrition
Serving Size:

16

Calories:

133

Sugar:

3.9

Sodium:

173.5

Fat:

4.4

Saturated Fat:

0.3

Carbohydrates:

21.5

Fiber:

1.7

Protein:

2.3

Cholesterol:

0