I didn't really want to eat anything heavy for dinner after having a late lunch, so soup was the answer.
I had some yellow summer squash and zucchini in the fridge, a quick chop, cook and blend and I was in soup heaven.
This soup can be made with just about any veggie or veggies of your liking, and if you like a more chunky soup, blend less and reserve some veggies to stir in before serving. Add a salad and crusty bread and you really have a satisfying meal. For you meat eaters, add chopped chicken.
Creamy Summer Squash Soup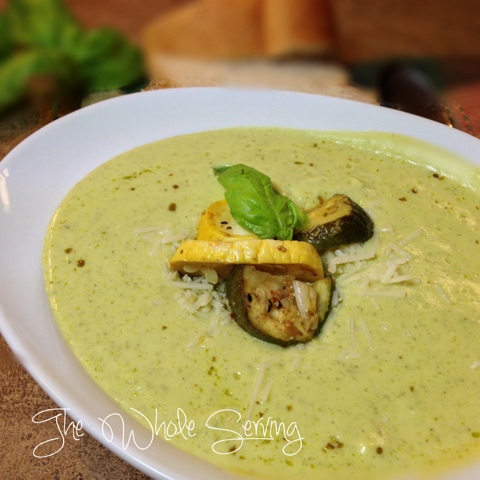 Ingredients
1 tablespoon, extra virgin olive oil
3 to 4 yellow squash
3 to 4 zucchini
1cup, chopped onion
1cup, vegetable broth
1cup water
sea salt and pepper to taste
2 tablespoons, pesto sauce (optional)
1 ⅓ cup, Greek yogurt
¼ cup, grated parmesan cheese for garnishing
Instructions
1. Heat oil in a large saucepan over medium heat. Add squash and onions and cook until tender.
2. Add vegetable broth, water, salt and pepper to taste, bring to a boil.
3. Reduce heat and simmer 20 to 25 minutes.
4. Remove from heat, stir in pesto and greek yogurt.
5. Transfer to blender and blend in batches, or use an immersion blender to blend.
6. Serve topped with grated parmesan and crusty bread.