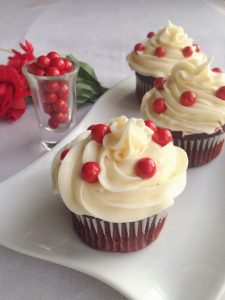 It's my turn to bring dessert to my annual holiday gathering at work, and I've decided on red velvet cupcakes because I think they're pretty, festive and let's not forget delicious.
But there's one thing about red velvet recipes, if not done right, it can be super dry and tasteless, no chance of that with this recipe. I used a recipe from Averie Cooks, however, I switched the granulated sugar for coconut sugar. I was just a little bit concerned when I decided to use coconut sugar instead of granulated, because the texture of the coconut sugar is a bit more grainy it could change the texture of the cupcakes. So I processed the coconut sugar in a mini food processor to bring it close to the same texture of regular sugar, and it worked. This was also my first time using powdered buttermilk, and now I will always keep it on hand, this way I won't have to buy buttermilk for a recipe and have it go bad in my fridge later.
I used a cream cheese frosting recipe from Lizzy Early's cookbook, Your Cup of Cake, an awesome cookbook.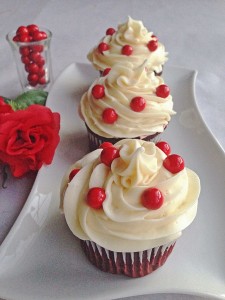 This is the absolutely best red velvet cake recipe I have ever tried.  If you want moist and delicious red velvet cupcakes, this is the recipe.  I love that it is so easy to put together.
Print Recipe
Red Velvet Cupcakes
                      with Cream Cheese Frosting
Ingredients
Cupcakes
1 large egg
1 ⅓ cup coconut sugar, before processing
⅔ cup buttermilk (or Powdered Buttermilk, use 2 ½ tablespoon plus ⅔ cup water)
½ cup canola or vegetable oil
2 rounded tablespoons vanilla Greek yogurt (plain Greek yogurt or sour cream may be substituted, I used plain Greek yogurt)
1 teaspoon vanilla extract
1 ½ cups all-purpose flour
3 tablespoons unsweetened natural cocoa powder
¾ teaspoon baking soda
pinch of salt
1 to 2 tablespoons red food coloring, or as needed
Cream Cheese Frosting
8 ounces softened cream cheese
½ cup softened Earth Balance, butter substitute
1 teaspoon vanilla extract
2 ½ to 4 cups confectioners' sugar, as needed
cupcake topping of your choice
Instructions
Cupcakes
Preheat oven to 350 degrees and line pans with cupcake liners.

Pulse coconut sugar in food processor until it resembles regular sugar, about 30 to 40 seconds.

Transfer processed sugar to bowl and measure out 1 cup.

Whisk egg, sugar, buttermilk, oil, yogurt and vanilla until smooth.

Whisk in the flour, cocoa powder, baking soda, and salt until just combined.

Carefully whisk in food coloring to get a deep red color.

Fill cupcake liners ¾ full and bake for about 20 minutes or until a toothpick inserted near center comes out clean.
Frosting
Beat cream cheese and butter for about 2 minutes.

Add vanilla and blend.

Slowly add powdered sugar until frosting reaches desired consistency.

Transfer frosting to piping bag and frost cooled cupcakes.

Top with desired toppings.