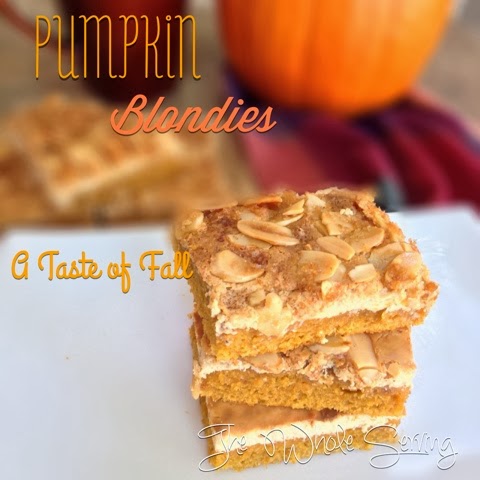 When I think of fall I think of pumpkins!  This weekend the air was much cooler and it put me in the mood to cook with pumpkins, so I whipped up these yummy pumpkin blondies.  Add a hot cup of tea, cider or coffee and you're all set to enjoy a taste of fall.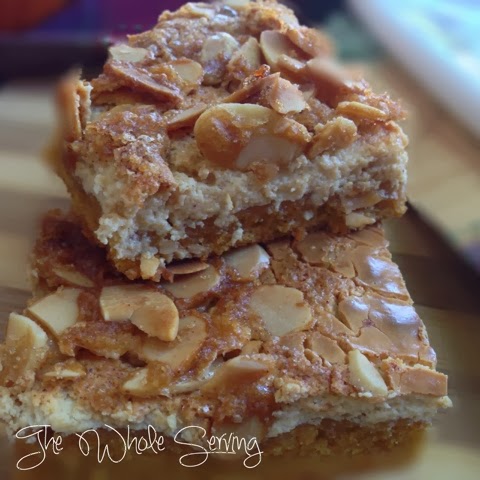 Pumpkin Blondies
Ingredients
3 eggs
1 cup, light brown sugar
⅔ pumpkin puree
1 teaspoon, fresh lemon juice
1 teaspoon, baking powder
1 cup all-purpose flour
2 teaspoon, pumpkin pie spice
Cream cheese mixture
2 8oz. packages of light cream cheese (softened)
2 eggs
½ cup, maple syrup
1 ½ teaspoons, vanilla
Sugar topping
½ cup, light brown sugar
¾ cup, sliced almonds
Instructions
1. Preheat oven to 375 degrees and spray a rectangle baking pan with cooking spray.
2. Combine flour, baking powder and pumpkin pie spice together in small bowl, set aside.
3. Blend the eggs and sugar together in a large bowl until completely combined.
4. Fold in the pumpkin puree and lemon juice, until combined.
5. Slowly add in the flour mixture.
6. Pour into pan, set aside.
7. Combine softened cream cheese, eggs, syrup and vanilla in med. mixing bowl.
8. Beat until smooth using hand held mixer.
9. Spread cream cheese mixture over pumpkin mixture.
10.Mix together sugar topping and sprinkle on top of cream cheese.
11.Bake for 30 to 35 minutes or until toothpick inserted in middle comes out clean.
You can easily make these brownies by adding cocoa powder.