Simple poached eggs over crispy roasted gold and red tiny potatoes and toast. These Poached Eggs Over Crispy Potatoes and Toast are perfect for a lazy Saturday or Sunday morning breakfast or brunch.
If you are an egg lover this post is for you, and if you are a poached egg lover, this post really, really is for you. It's perfect for a lazy Saturday morning or any time of the day you choose.
I'm not a big egg lover, but every now and then I will have one for breakfast and on occasion I have prepared them for dinner. You know those times when you just don't feel like putting any effort into deciding what to have for dinner, so you just go the easy route and have breakfast for dinner.
I generally don't eat poached eggs, except when we go out to Blue Mesa for Sunday brunch, their Eggs Benedict are a must-have. My daughter had been asking for poached eggs so I decided to make poached instead of scrambled.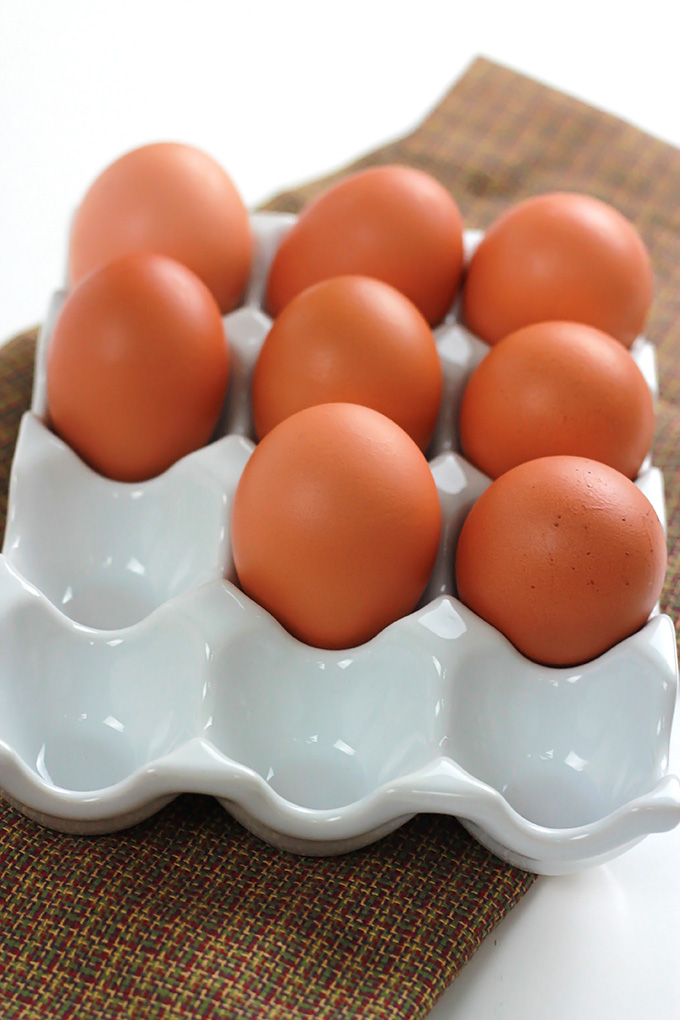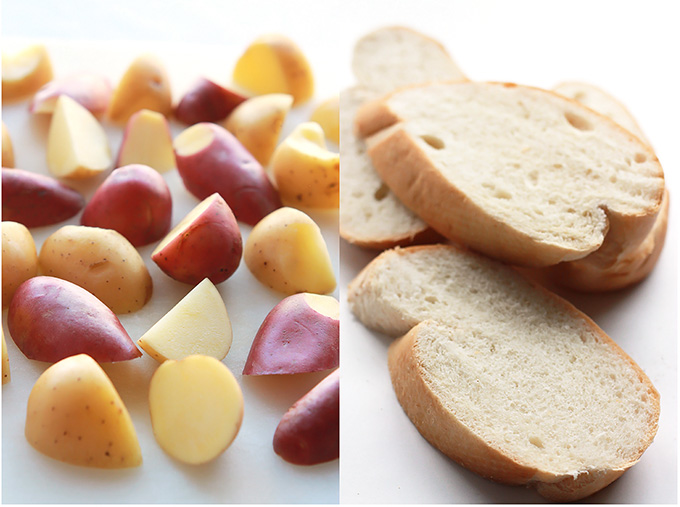 I kept everything simple, just some tiny potatoes roasted in the oven with some  seasoning, I allowed them to crisp a bit on the edges. Leftover french bread was used for toast. Once it was all put together I sprinkled more cracked black pepper, which I love and I must have it on almost every savory food I eat, and a hand full of micro kale greens. So delicious I tell you, I'll have to make it the next time I have guest over, it's one of those dishes that make people feel special. Unless you are one of those egg people who has it all the time.
By the way these eggs would be great over the Roasted Tomatoes and Avocado Toast I shared a few weeks ago.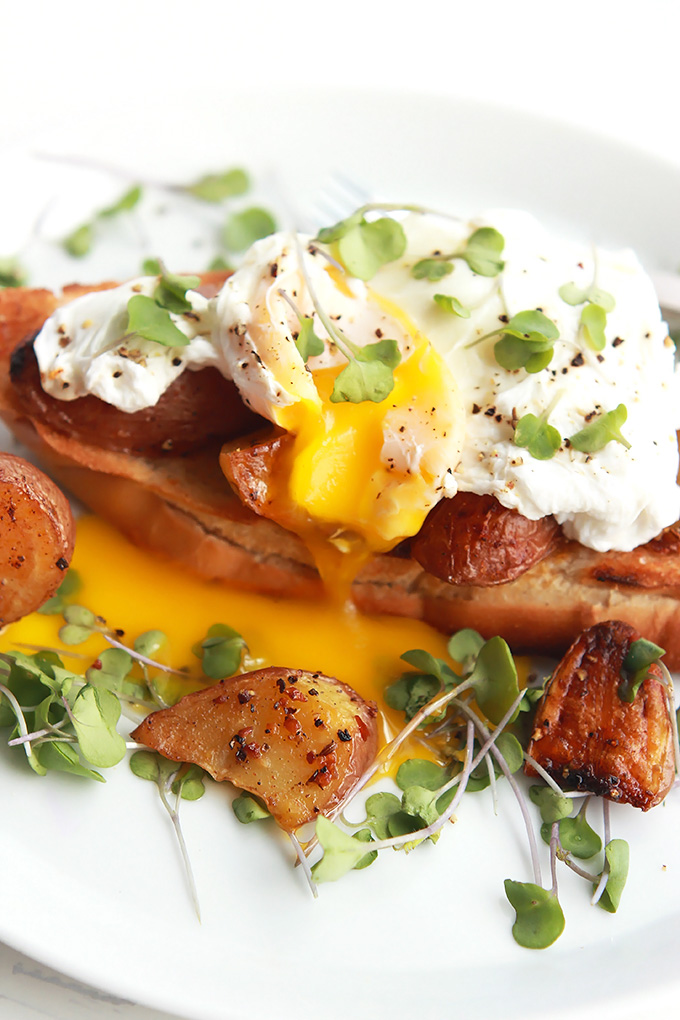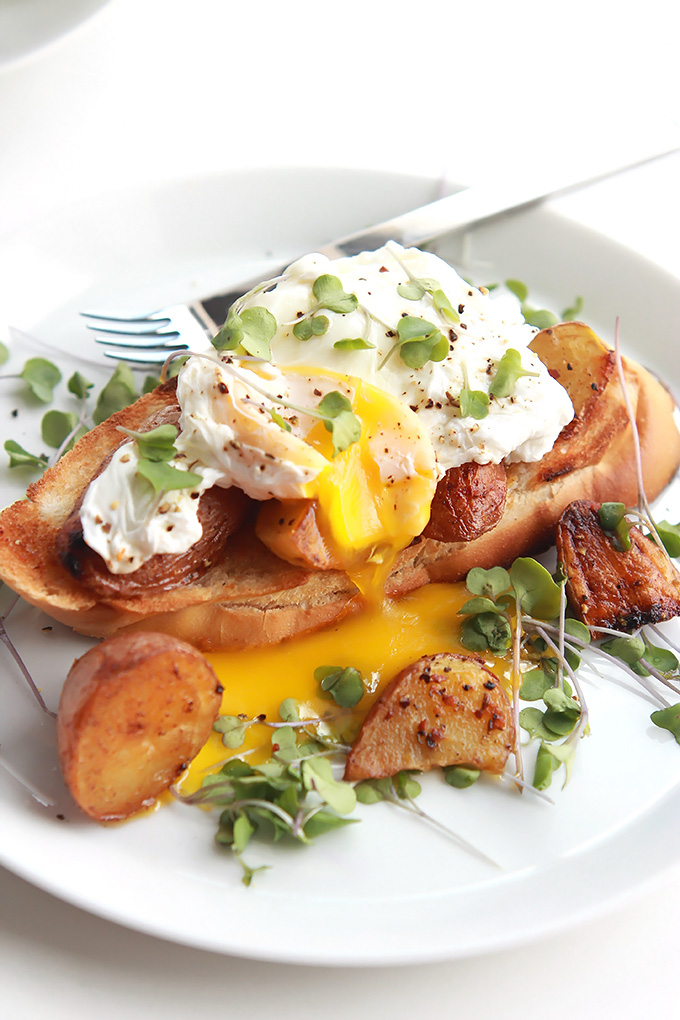 Print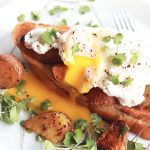 Poached Eggs over Potatoes
---
Description
You will need a small saucepan, small measuring cup with a handle, timer, slotted spoon, and paper towels.
---
1

pound

of mixed golden and red potatoes

2 teaspoons

olive oil

½ teaspoon

salt and pepper

1

to

2

teaspoons garlic powder

4

slices of French bread or bread of your choice

4

large eggs

2 teaspoons

rice vinegar
micro greens for garnish, I used kale micro greens (optional)
---
Instructions
Pre-heat oven to 350 degrees. Wash and cup potatoes into 1 and ½ to 2 inch pieces.
Place potatoes onto a shallow baking pan and drizzle with a small amout of olive oil, about 2 to 3 teaspoons. Season with teaspoon of salt and pepper and 1 to 2 teaspoon of garlic powder, your preference.
Place in the oven and roast for 15 to 18 minutes or until potatoes are fork tender. When done cover with foil to keep warm.
While potatoes are roasting, prepare the bread for toasting with butter spreading on one side or you can leave plain and save yourself the calories.
Prepare small saucepan for poaching by filling about ⅔ full with water and bring to a boil. When water starts to boil, turn down to a simmer. There will be bubbles coming up from the bottom but it will not be rolling.
Crack the first egg into a small mesuring cup with a handle. If you choose, add vinegar to water. The vinegar helps to egg to cook in a more compact shape. Your eggs will not have a vinegar taste.
Carefully lower the measuring cup into the water and tip the egg out into the water.
When you place the egg into the water start toasting you bread using the oven or toaster method.
Cook your eggs 2 to 4 minutes, however it depends on how runny you want your egg yolk. I found the the 4 minutes yielded a less runny yolk. The eggs here are 2 minute eggs.
Remove the egg from the water using a slotted spoon and place on a paper towl to gently pat to remove some of the water.
Place toast on plate and top with some of the potatoes, place the poached egg on to of the potatoes. season with a bit of salt and pepper, sprinkle on some of the micro greens and serve immediately.
Repeat until all eggs are done.
---
---
Nutrition
Calories:

251

Sugar:

3.4

Sodium:

820.3

Fat:

8.1

Saturated Fat:

2.1

Carbohydrates:

33

Fiber:

3.3

Protein:

11.6

Cholesterol:

186
If you make this recipe or a version of it, take a picture and share with me on Instagram, tag it #thewholeserving or leave a comment below. I'd love to see or hear about your version of Poached Eggs Over Potatoes and Toast.