Hearty, wholesome, not overly sweet Nut Butter Oatmeal Cookies drizzled with Chocolate, oh-so-delicious!
As a child peanut butter cookies and oatmeal cookies were two of my favorites, and I can remember learning how to make them both at 4-H camp. There were a few left to take home along with a recipe booklet with hand drawn pictures of step by step instructions of the cookie recipes and a few other kid friendly recipes. I put that little booklet to good use, I made those recipes over and over again.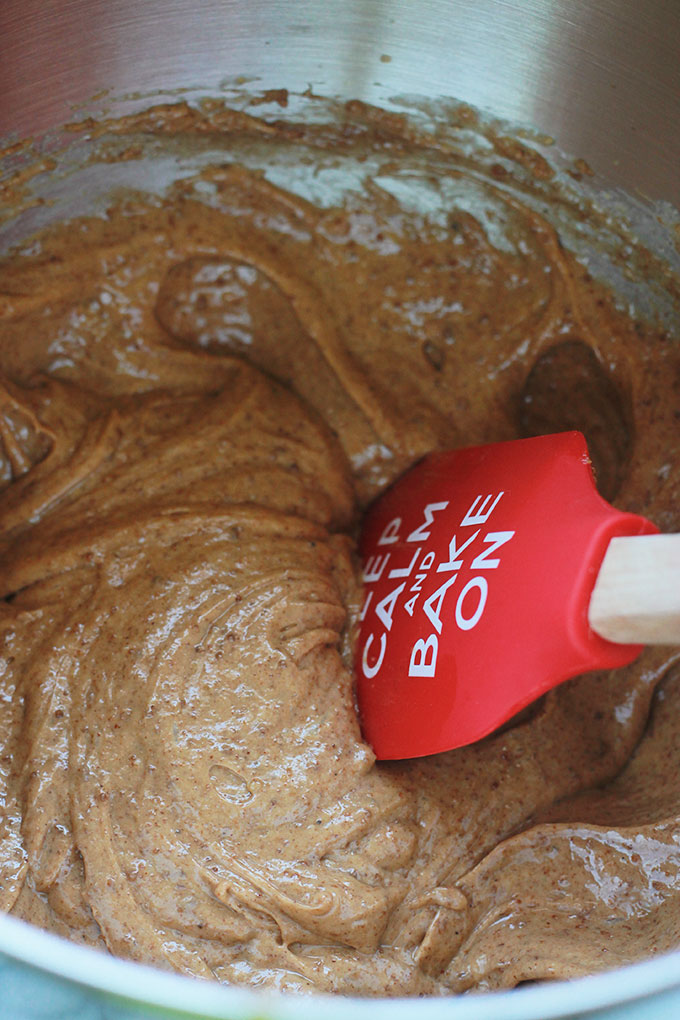 Fast forward to today and I'm still making those cookies with a few exceptions. I use any nut butter except peanut butter due to my daughter's peanut allergy, and sometimes I add oatmeal, to make these oh-so-delicious cookies.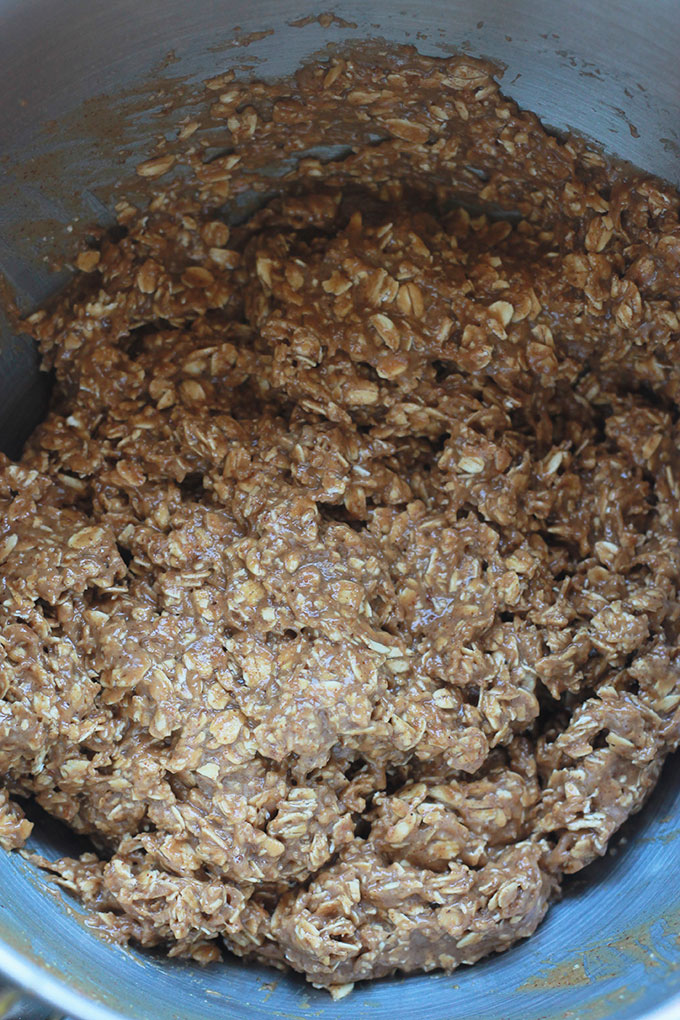 These cookies are a big hit in my home, even my child who will not eat cooked oatmeal, loves these cookies. However, eliminating peanut butter wasn't the only change. Flax egg replaced the egg and coconut sugar and maple syrup was used instead of white and brown sugar.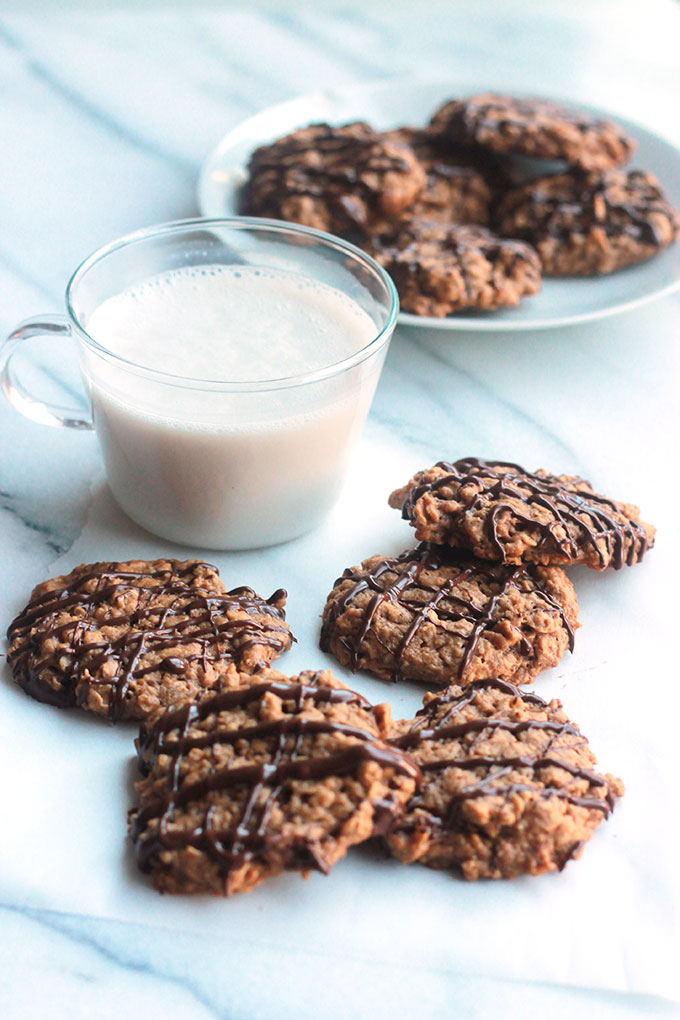 I made these cookies because sometimes I want cookies and I don't want them overly sweet. 
Ok I know there are some of you reading this thinking no way you will make these, but before you make that decision I'll tell you everyone of my friends who tried these cookies, loved them.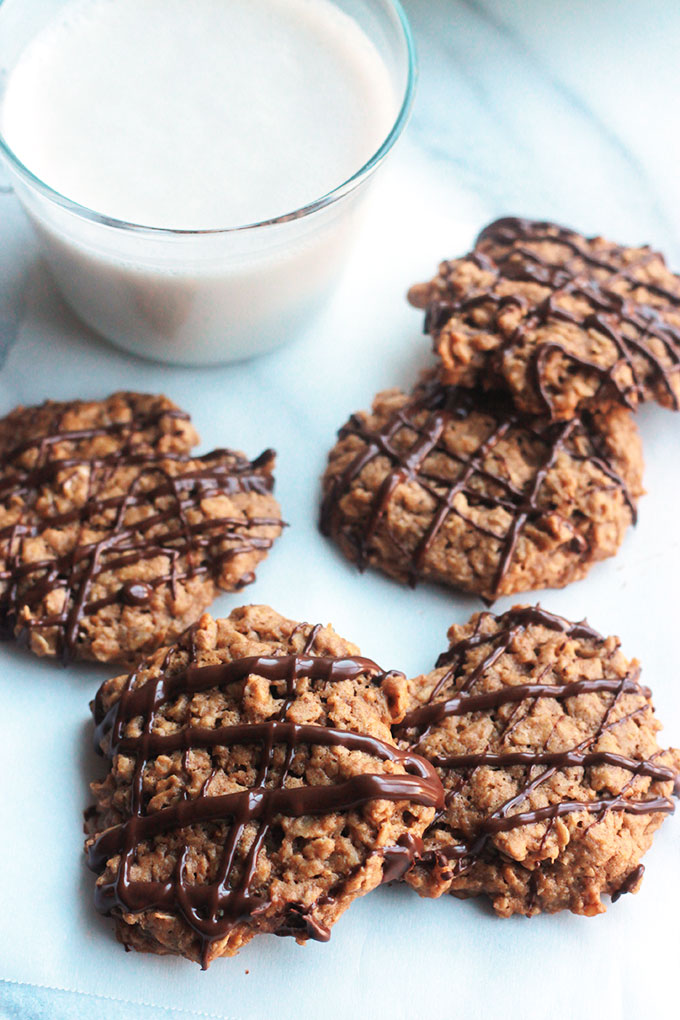 These cookies are hearty, delicious, wholesome, delicious, not overly sweet, delicious. Did I say they are delicious? I'll say it again, these cookies are delicious and they're great before or after a workout.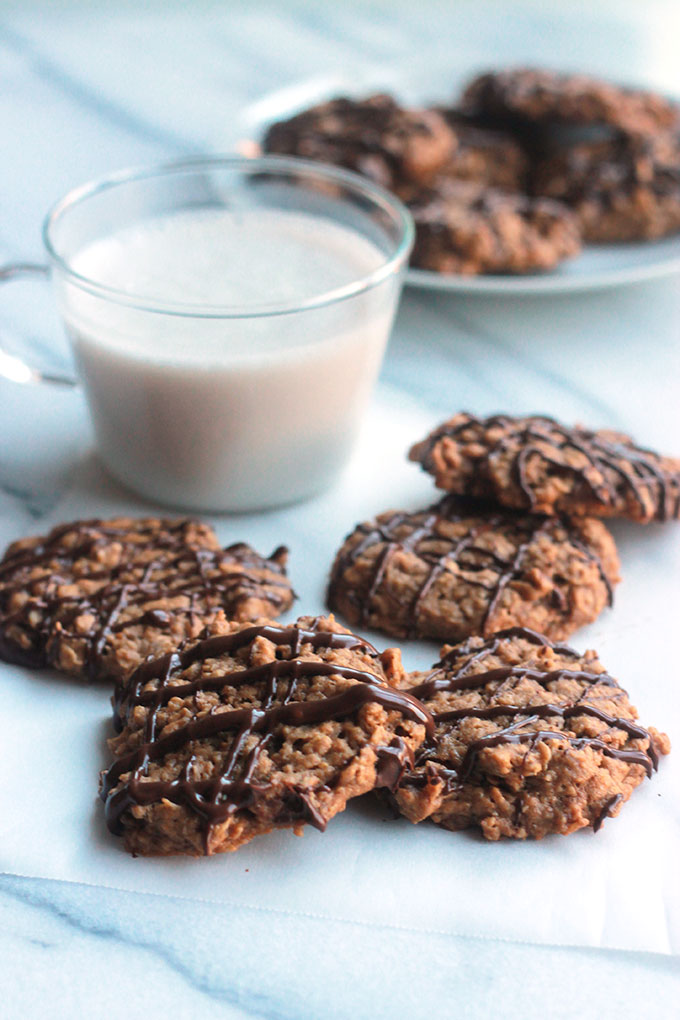 Print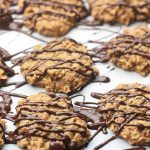 Nut Butter Oatmeal Cookies Drizzled with Chocolate
---
2 tablespoons

ground flax seed

5 tablespoons

warm water

1

cup

all-purpose flour

½ teaspoon

baking powder

½ teaspoon

baking soda

¼ teaspoon

fine grind sea salt

½

cup

room softened Earth Balance vegan butter

1

cup

coconut sugar

¼

cup

maple syrup

½

cup

cashew or almond butter or nut butter of your choice

1 ½ teaspoons

vanilla extract

3

cups

rolled oats

½

cup

dark chocolate chips

½ teaspoon

solid coconut oil
---
Instructions
Pre-heat oven to 350 degrees and line a shallow baking pan with parchment paper leaving enough on the ends to help transfer cookies when done.
In a small bowl mix ground flax seed with the warm water until completely combined, set aside.
In a medium size bowl whisk

(Affiliate Link)

together the flour, baking powder, baking soda and salt, set aside.
With a stand mixer or hand mixer, mix together the Earth Balance, coconut sugar and maple syrup until well combined and no dry ingredients remain.
Add the flax egg, nut butter and vanilla, mix until well combined. Slowly add flour mixture and mix until no dry flour remains.
Gradually fold add in the oats until well combined.
Roll about 1 and ½ tablespoons of into a ball and place on parchment lined baking sheet, 2 inches apart. Or you can use a melon scoop and scoop 1 ½ tablespoons of dough onto baking sheet.
Bake 8 to 10 minutes for a softer cookie, a few minutes longer for harder cookies.
When cookies have cooled slightly use the ends of the parchment paper to pick up the cookies and transfer them to a wire rack to cool.
While cookies are cooling, melt chocolate and coconut oil together using the double boiler method. Stir as chocolate melts to combine.
Transfer melted chocolate to a zip-lock bag, cut a small bit off a corner of the bag. Using a zig-zag motion, pipe the chocolate over the cooled cookies. Allow chocolate to harden or not if you're like me and just can't wait, before sharing or enjoying
---
If you make this recipe or a version of it, take a picture and share with me on Instagram, tag it #thewholeserving or leave a comment below. I'd love to see or hear about your version of these Nut Butter Oatmeal Cookies Drizzled with Chocolate.