Easy Roasted Berry Mint Compote - Super easy, fruity and delicious! It's perfect for breakfast toppings, snacks, desserts and so much more.
Compote, what is it?
According to Merriam Webster compote is a dessert of fruit cooked in syrup. However, for me a compote is so much more than a dessert, it's a condiment with so many possibilities. When making compote you can use one fruit or a combination of fruit. I used a combo of strawberries, blueberries and mint, but you can use whatever fruit combo you like. I didn't want to make it overly sweet with sugar, so I combined the fruit with a small amount of agave and balsamic vinegar glaze instead of sugar. This Blackberry Balsamic Glaze is a great option. I also chose to roast the fruit in the oven over boiling on stove top.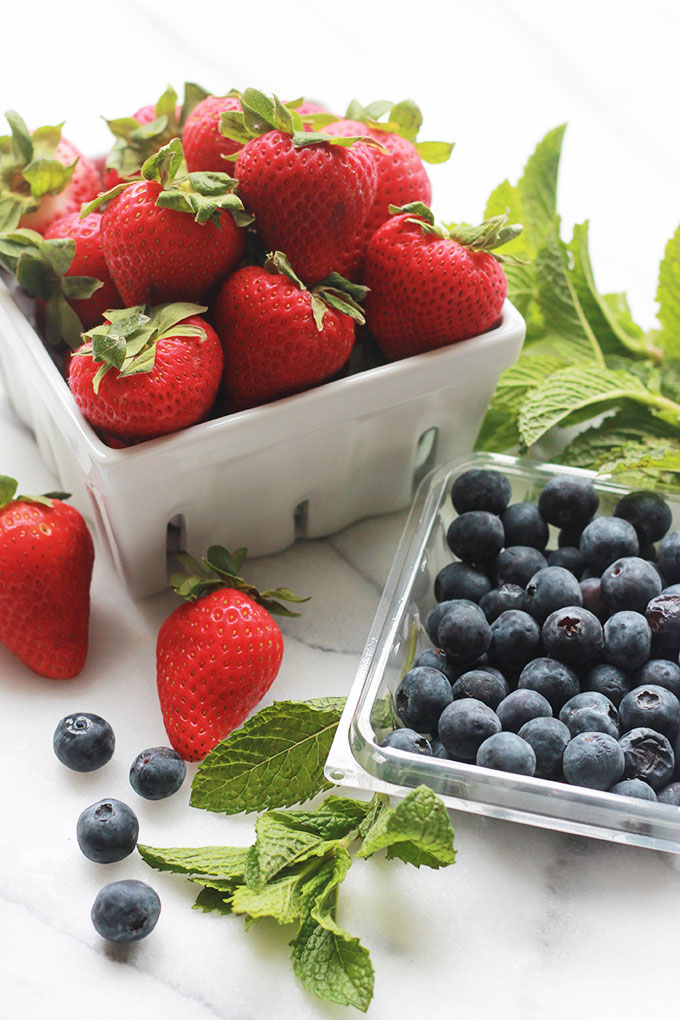 Roasting the fruit gives it bolder flavor in my opinion and it's a lot easier than standing over a boiling pot of fruit.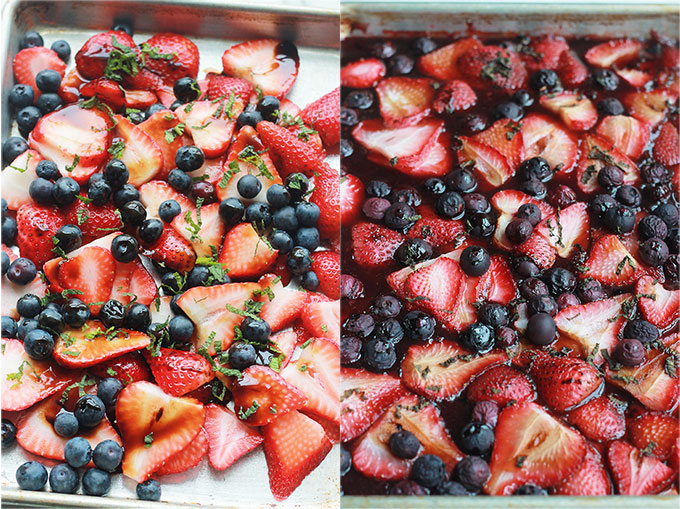 Typically compotes are used over pancakes, yogurt, cake, and ice cream to name a few. But I also like to use it over soft cheeses like Brie or goat cheese, so delicious.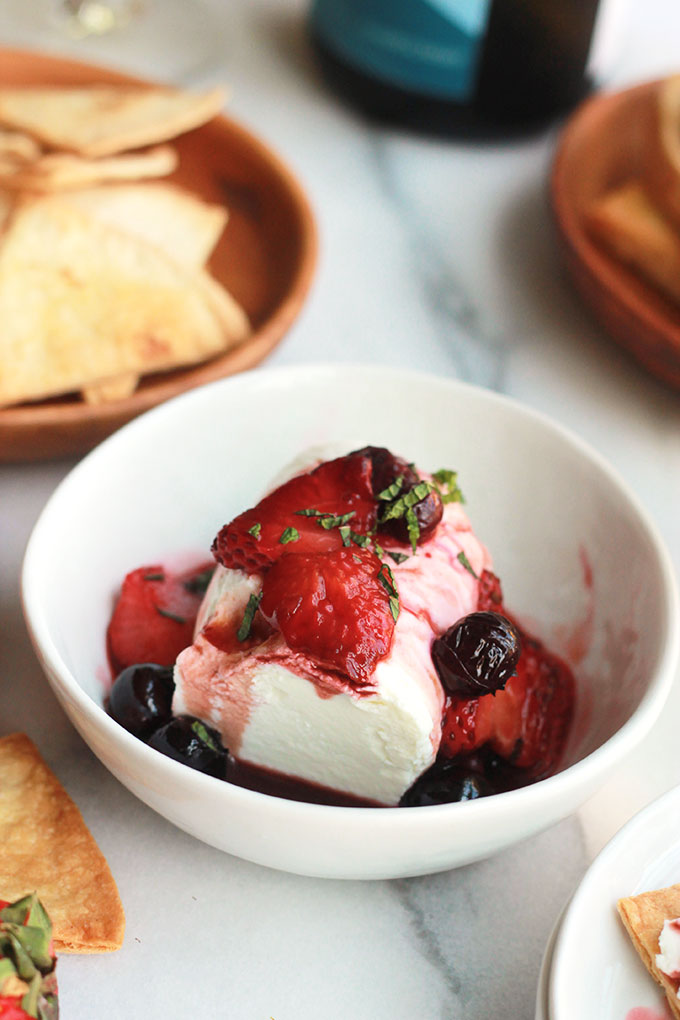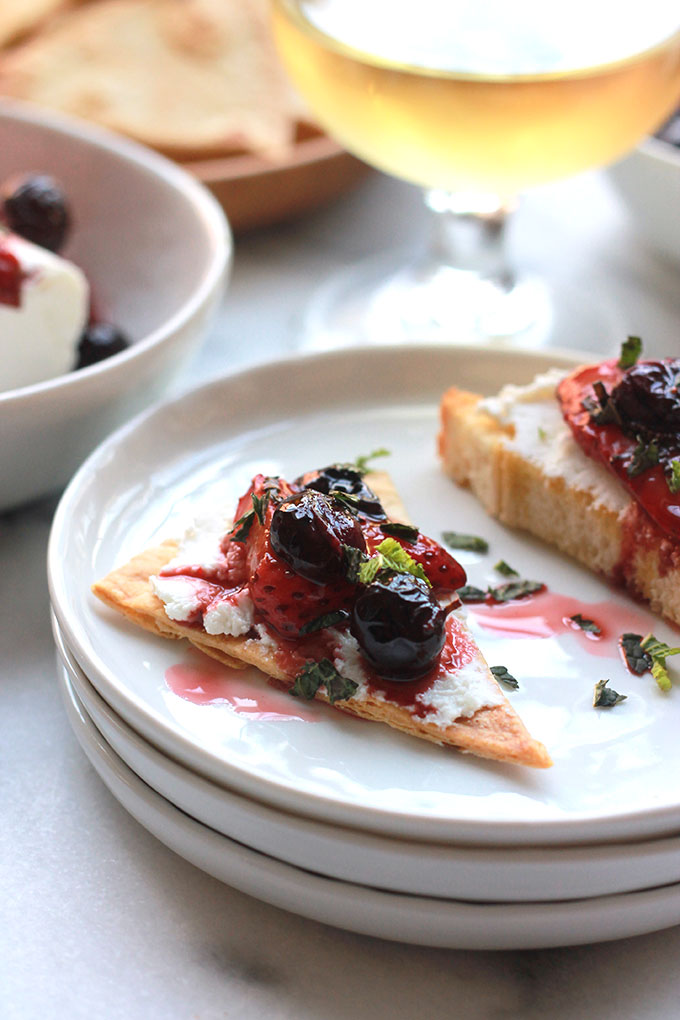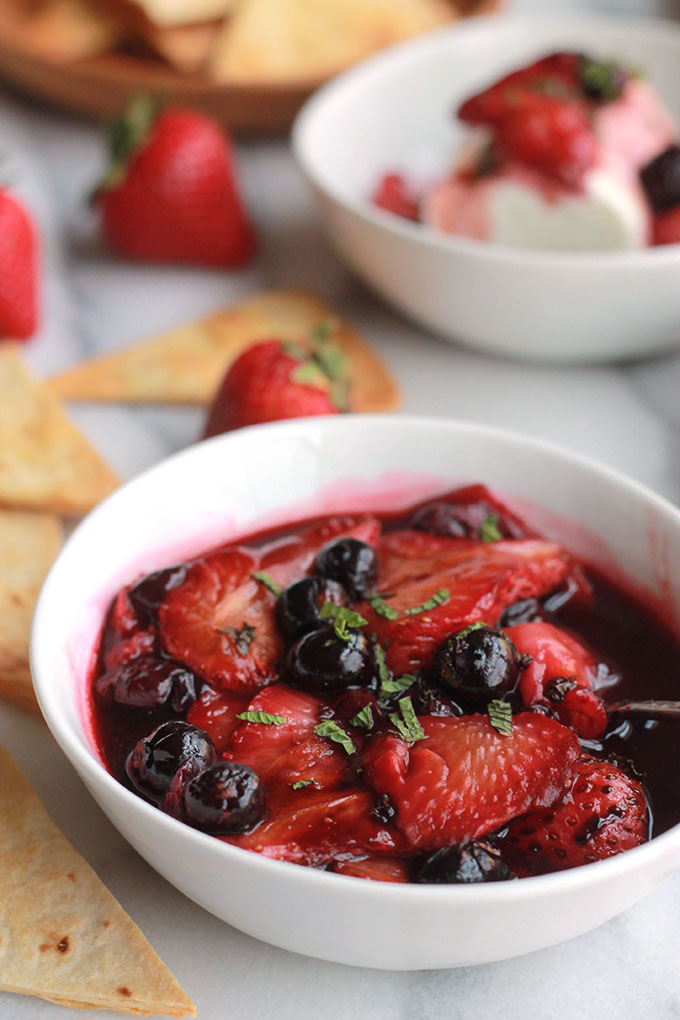 Print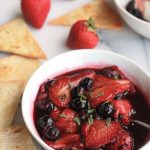 Easy Roasted Berry Mint Compote
---
1

lb

. of fresh strawberries

1

pint

of fresh blueberries

2 tablespoons

balsamic vinegar glaze or Blackberry Balsamic Glaze

2 tablespoons

agave nectar or maple syrup

2 tablespoons

fresh mint, chopped
extra mint for garnish
---
Instructions
Preheat oven to 375 degrees.
After washing the fruit, hull and slice the strawberries.
Place the sliced strawberries and blueberries on a shallow baking pan, drizzle with balsamic glaze and your choice of agave or maple syrup, and sprinkle on mint, toss to coat.
Place in preheated oven and roast for 25 to 30 minutes. Remove from oven and allow to cool.
Transfer to a serving dish or storage container. Store in fridge.When serving garnish with more mint.
Serve over pancakes, waffles, yogurt, toast, soft cheeses and more, be creative and enjoy!
---
How do you like to use compote?
If you make this recipe tag @thewholeserving on Instagram and hashtag it #thewholeserving, I want to see how you use your compote.