Pure deliciousness, this Easy Maple Fig Jam is super easy to make, no need to add pectin. Serve it on toast, over your oatmeal and yogurt or add to your cheese tray.
Growing up I had an aunt who had several fig trees in her yard, once after a visit we came home with big boxes and figs. I wanted nothing to do with them, the only way I ate figs was in fig Newtons.
My mom went crazy making fig jams and preserves and I passed on all of it. I was too young to know what wonderful stuff I was passing up.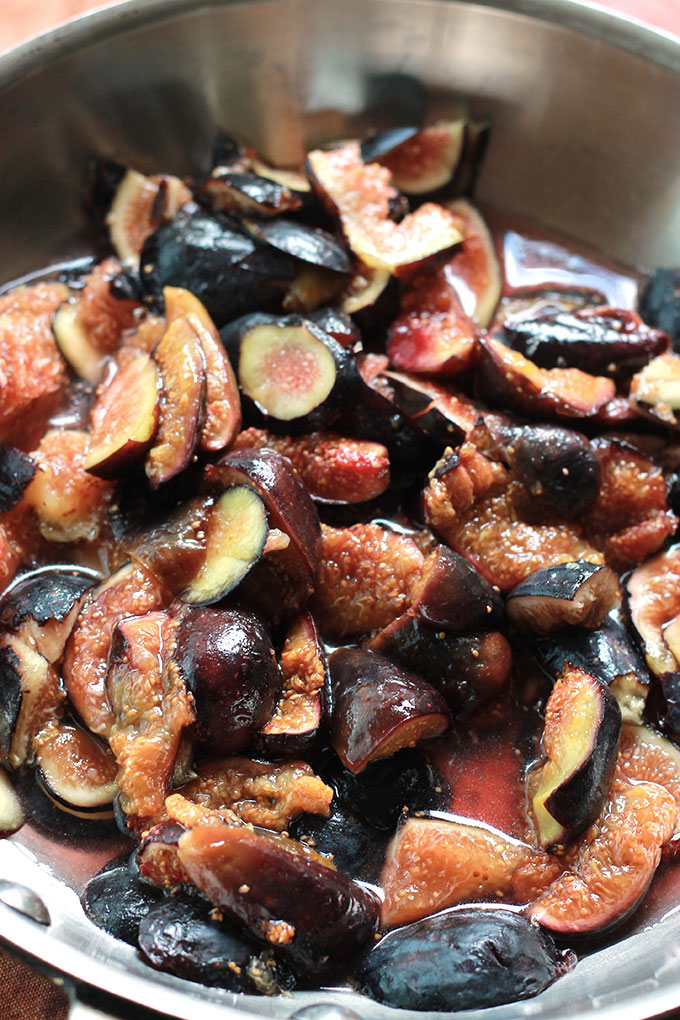 My how times have changed. I not only enjoy them in Fig Newtons, but I enjoy fresh figs in salads, on pizza, over my morning oatmeal, and in this delicious Maple Fig Mint Jam. The shelf life of figs are so short, which is why I decided to make this wonderful, easy no pectin needed jam. As it cooks it thickens and becomes a luxuriously decadent jam.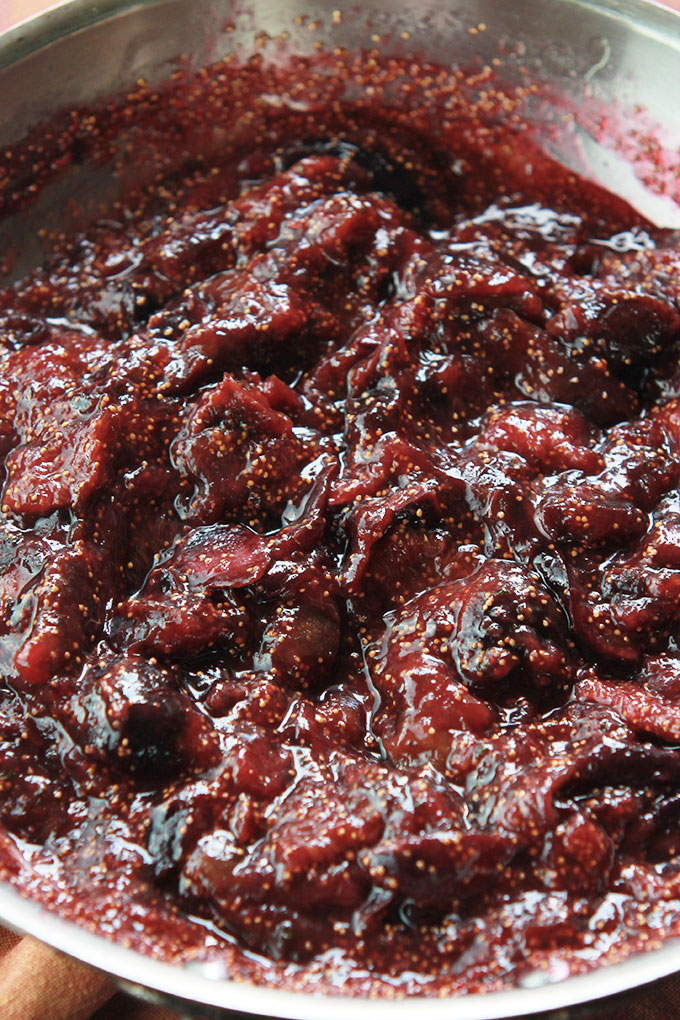 Something that is totally optional is the addition of mint to the jam. I found this freeze-dried mint from Litehouse and I love it. When added to water it instantly rehydrates, it's like using fresh mint. I love using it when I don't have fresh mint on hand.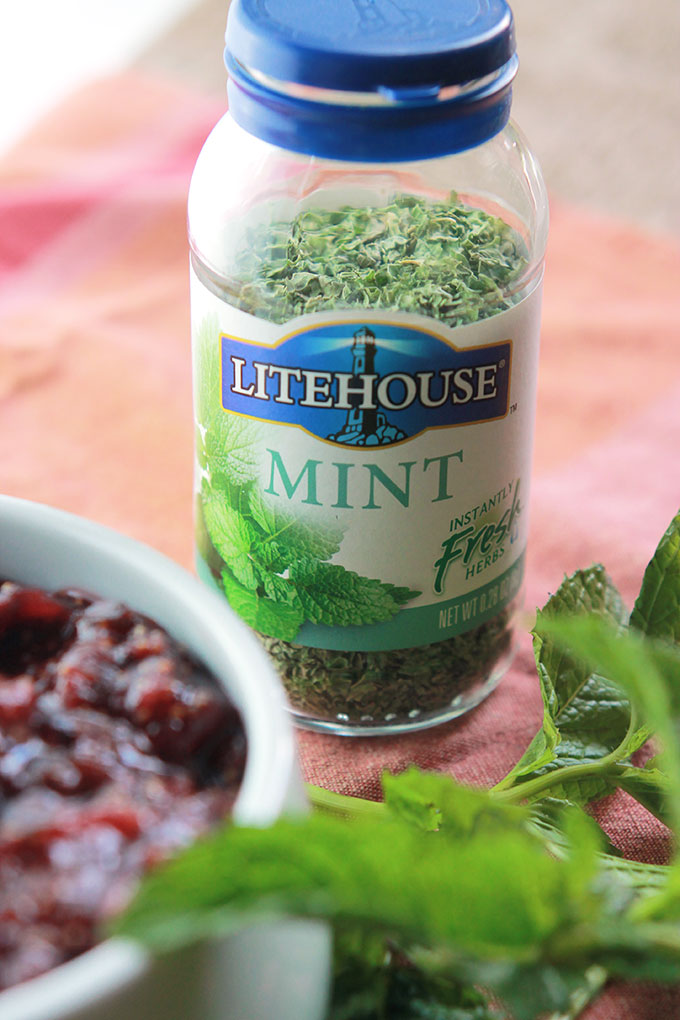 This delicious summer fruit are not only loaded with flavor, they're loaded health benefits. The natural pectin in figs is a soluble fiber and when this fiber moves through your digestive system it acts like a broom sweeping the excess clumps of cholesterol to remove them from your system. That fiber also helps to rid the body of free radicals and other cancer causing substances in the colon. For women who are post-menopausal with fluctuating hormones, which can affect the immune system and this can affect the ability of antioxidants to fight those ugly free radicals, the high fiber content in figs can help protect against breast cancer. There are so many other benefits to eating figs, check out Organic Facts for more benefits.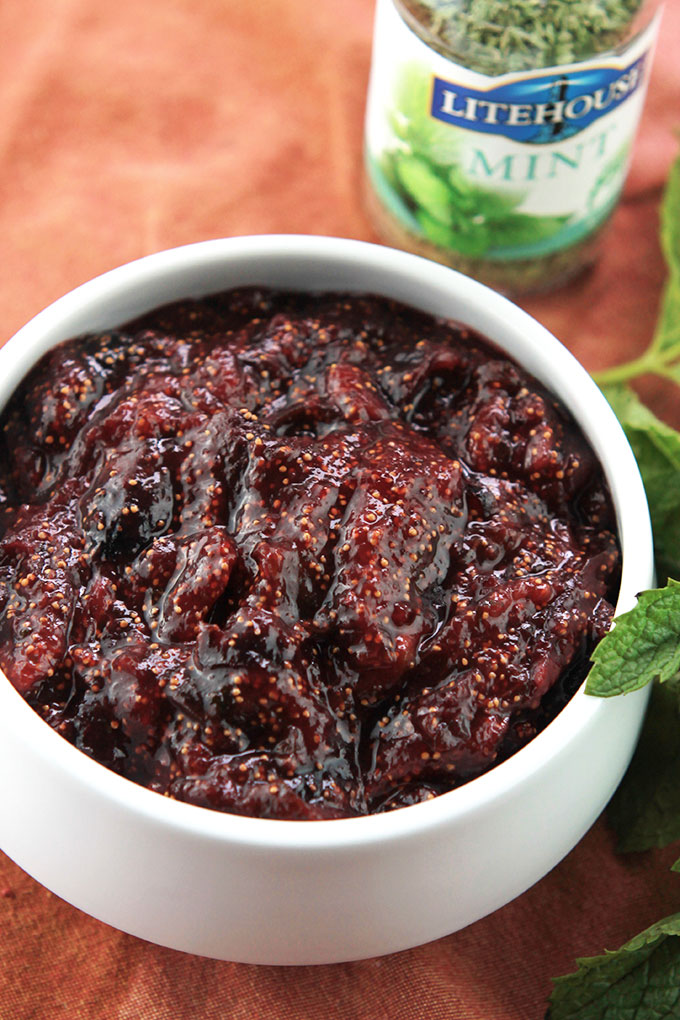 Print
---
12

to

15

fresh figs, stemmed and quartered

½

cup

maple syrup
juice of

one

fresh squeezed lemon
pinch of sea salt

½ teaspoon

vanilla extract

2 teaspoon

dried mint leaves or

2 teaspoon

fresh mint leaves, chopped
---
Instructions
Place all ingredients in a large saucepan, stir and bring to a boil.
Reduce heat and simmer until mixture starts to thicken. Add in extra water one tablespoon at a time as needed to prevent sauce from sticking to bottom of pan.
When mixture has thickened, remove from heat and allow to cool slightly. If you desire a smoother jam, as I do, transfer to a blender or food processor and pulse to the desired texture.
Store jam in air tight container in the fridge.
Enjoy!
---
---
Nutrition
Serving Size:

2 tablespoons

Calories:

51

Sugar:

11.4

Sodium:

8.1

Fat:

0.1

Saturated Fat:

0

Carbohydrates:

13.1

Fiber:

1.1

Protein:

0.3

Cholesterol:

0
If you make this recipe or a version of it, take a picture and share with me on Instagram, tag it #thewholeserving or leave a comment below. I'd love to see or hear about your version of Easy Maple Fig Mint Jam.