Sweet and crispy Buckwheat Pumpkin Clusters a perfect anytime snack.

You know when you're munching on food and you tell yourself "just one more bite", but before you know it you've eaten the entire thing. Well let me warn you, these Buckwheat Pumpkin Clusters will be that kind of food.
Buckwheat, yes it's more than just a stuffing for pillows. We started eating buckwheat about 5 years ago, we use it in cereals, salads and my daughter loves eating it by the handfuls even though it has very little flavor. She says it's like
eating a cracker without the salt.
Contrary to its name buckwheat is not a grain or cereal, it's the seed of a flowering plant which makes it grain and gluten-free. It is also a good source of b vitamins, magnesium, manganese, niacin and copper just to name a few.
Something else buckwheat has that's good for you is resistant fiber. This fiber is known to help lower blood sugar after meals and it also helps with weight loss. Buckwheat groats which is what I used in this recipe contains more of this resistant fiber than any other form of buckwheat and that's a very good thing.
I generally purchase raw buckwheat groats by the pound from the bulk food section at Whole Foods. I soak them several hours and dry them in my dehydrator before consuming. I soak them because it helps to make it more digestible and it removes some of the phytic acid from the buckwheat. Phytic acid is an antinutrient that prevents the body from absorbing important minerals and high levels of it can cause mineral deficiencies. After soaking and drying I simply store in an airtight glass container so it's ready when I'm ready.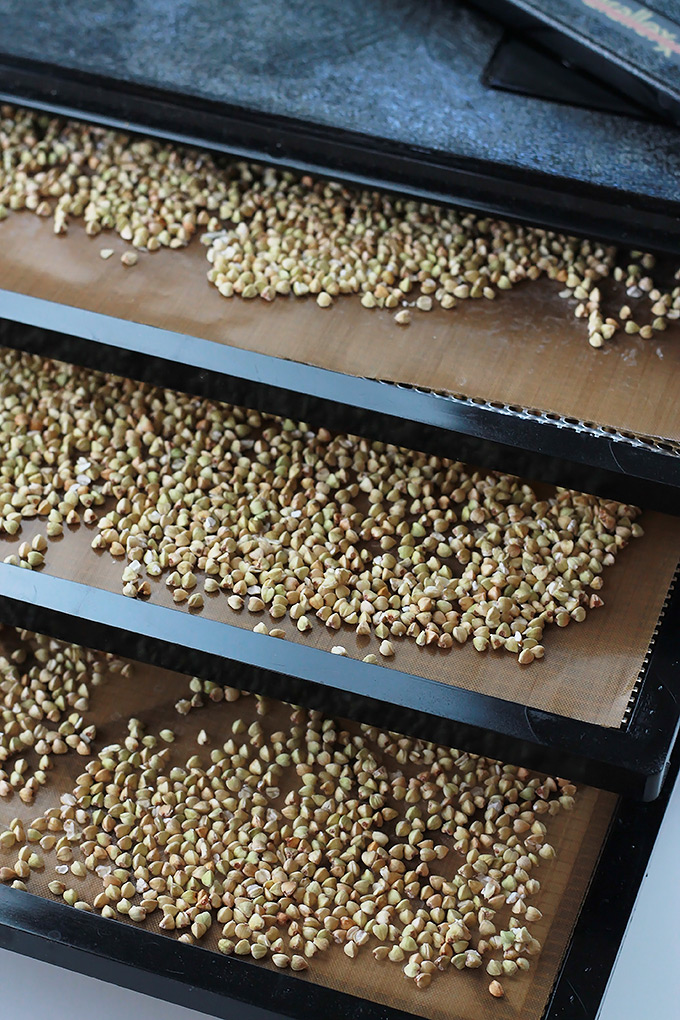 This recipe is another quick and easy one. After mixing the buckwheat, pepitas and almonds in a bowl,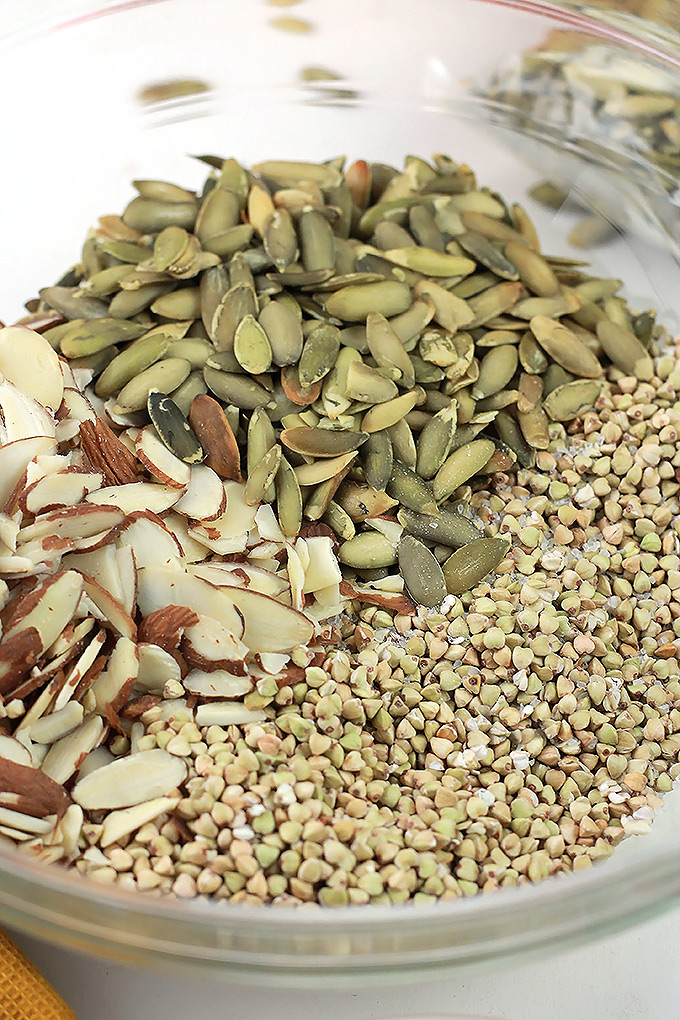 I bring the pumpkin puree, maple syrup, spices and salt to a boil, when it thickens just pour, stir and bake.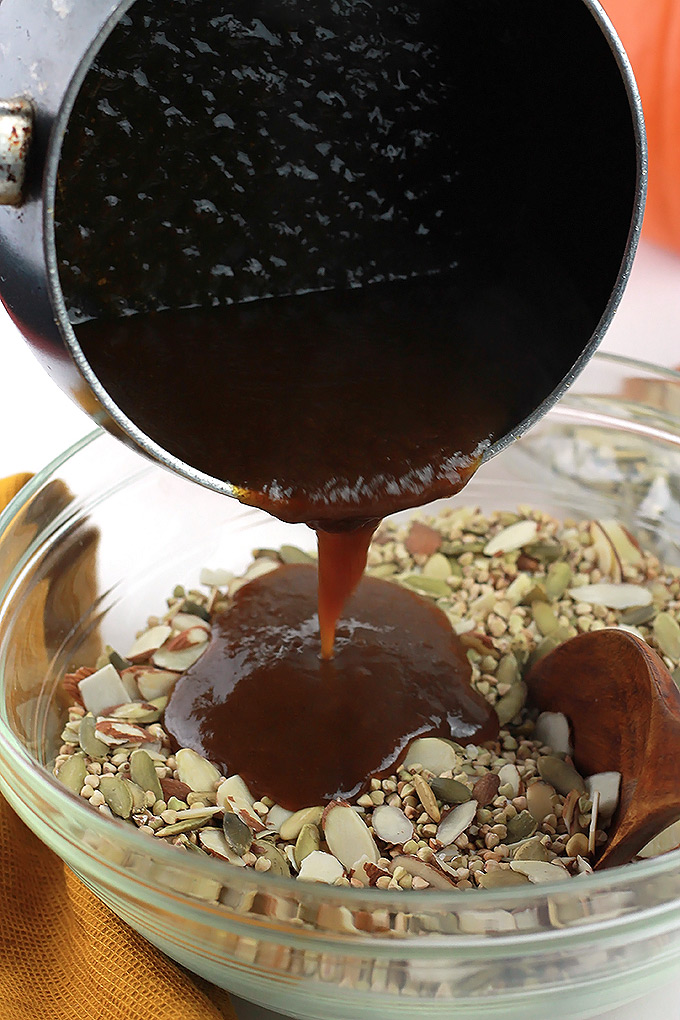 It hardens as it cools and then I dig in to all of its crispy goodness.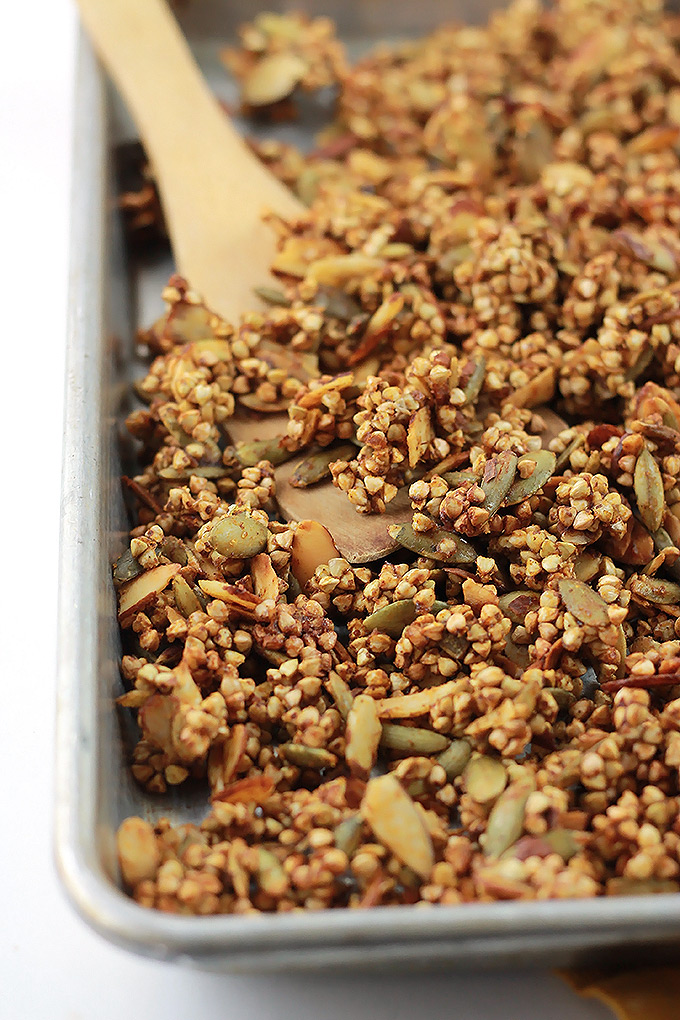 These Buckwheat Pumpkin Clusters makes a pretty good after workout snack because buckwheat is a good source of protein. It would also make a nice hostess gift for the upcoming holiday season.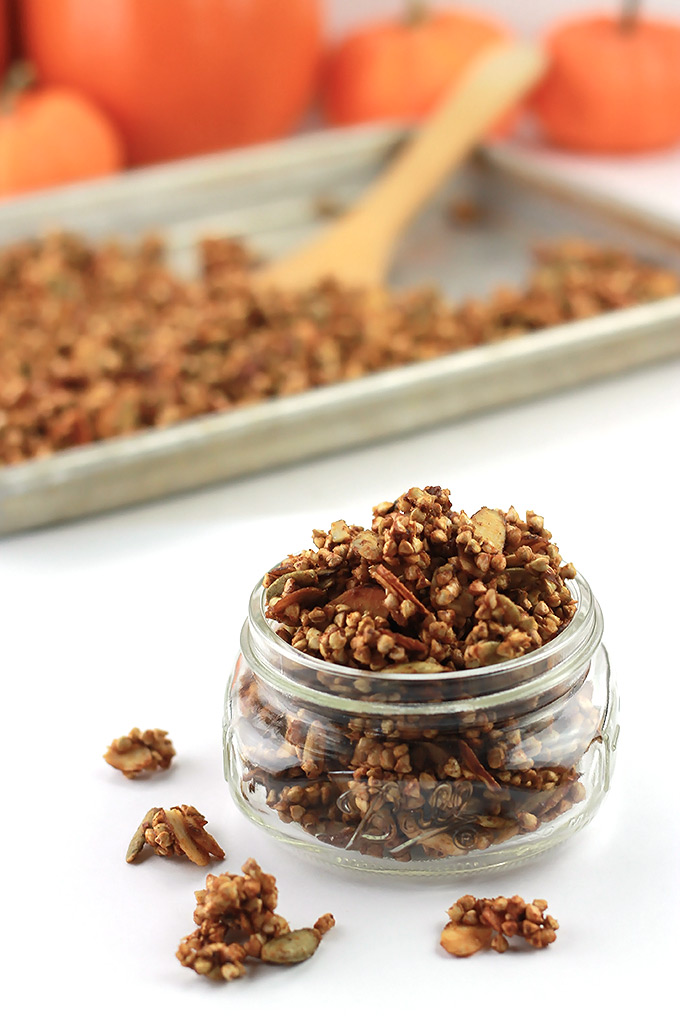 You can eat it as a snack or have it as a cereal with milk, in a salad or over a bowl full of yogurt. I served mine over coconut yogurt with dried cherries, so yummy.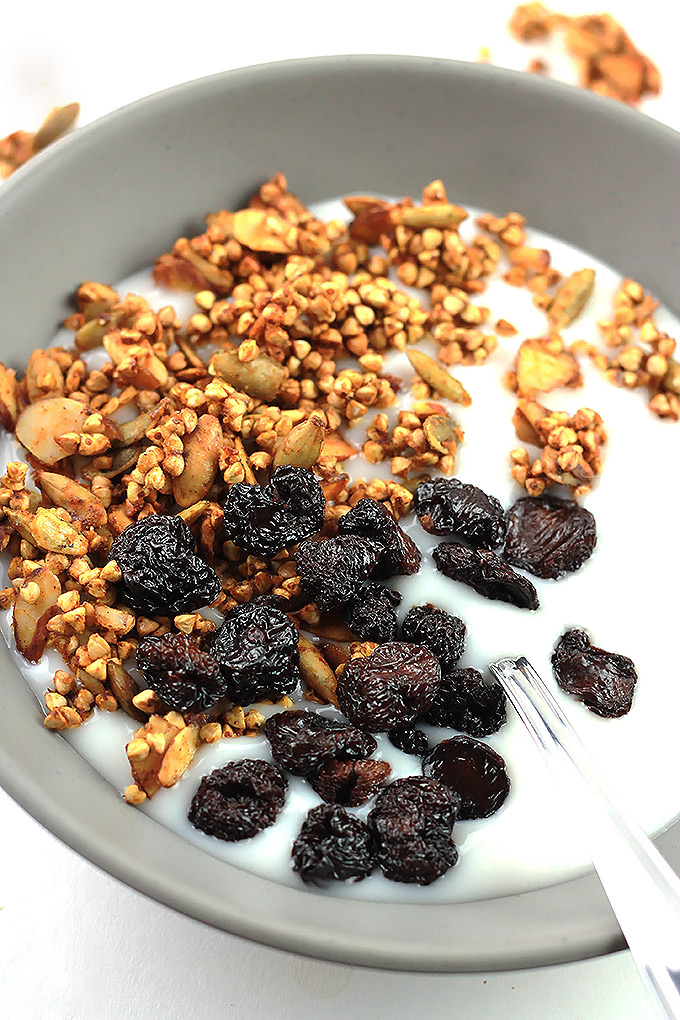 Print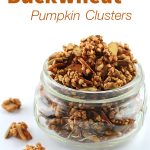 Buckwheat Pumpkin Clusters
---
2

cups

soaked and dried buckwheat

1

cup

pepitas (pumpkin seeds)

1

cup

sliced almonds

½

cup

pumpkin puree

½

cup

maple syrup

1 ½

to

2

teaspoons pumpkin pie spice

1 teaspoon

sea salt
---
Instructions
Pre-heat oven to 350 degrees and line a large baking sheet with parchment paper.
Poss together the buckwheat, pepitas, and almonds in a large bowl.
Mix together pumpkin puree, syrup, pumpkin pie spice and salt in a medium saucepan and bring to a boil over medium high heat. When it starts to boil, reduce heat to medium low and stir constantly for 2 to 3 minutes more or until it starts to thicken.
Pour the syrup mixture over the buckwheat, pepitas and almonds and toss until all of the buckwheat mixture is moistened.
Transfer to prepared baking sheet and spread evenly.
Bake for 25 to 30 minutes or until it's golden brown, tossing every 10 minutes.
Remove from oven and allow to cool, it will harden as it cools.
Enjoy immediately or store in a sealed container at room temperature for up to 2 weeks.
---
Notes
For more of a granola you can add in one cup of oats and increase the pumpkin puree and syrup by ¼ cup each.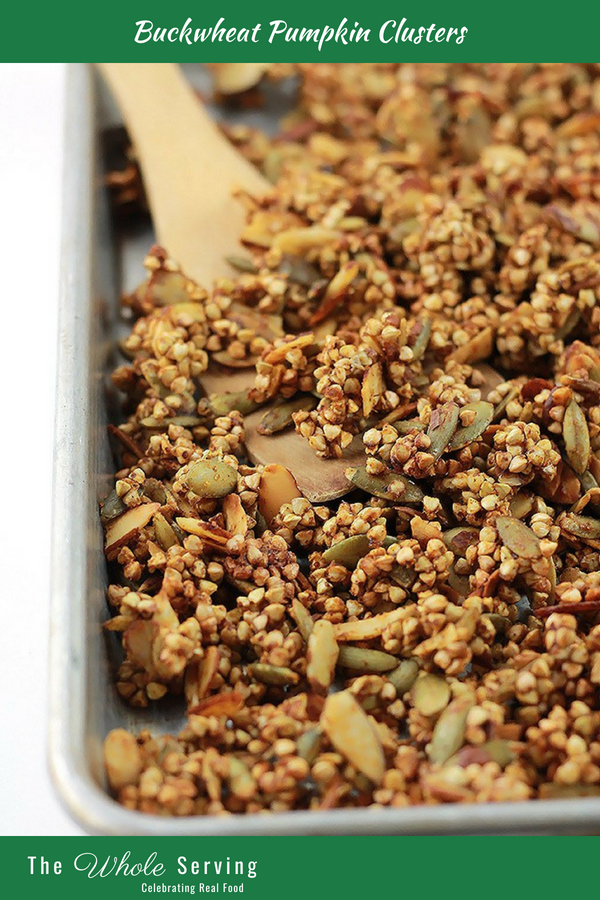 Question: Do you eat buckwheat?, If you do, how do you eat it?