I've been seeing donuts everywhere it seens.  I haven't had a donut in quite a while, but I had a craving for cake donuts and decided it was time to satisfy my craving with a homemade batch.
So off to the store I went to pick up a
donut pan
(Affiliate Link)
and a few more ingredients. I wasn't quite sure what flavor I would make, but after finding cinnamon chips and I knew exactly what I would make.
Apple-Cinnamon oven baked donuts. Much easier than frying and less calories too.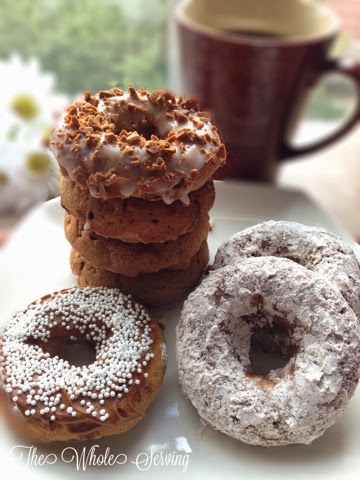 I had so much fun topping these donuts, there's so many ways.
Glazed and topped with chopped cinnamon chips.

Covered in powdered cinnamon sugar.

Topped with melted cinnamon chips with sprinkles on top.

Covered in chocolate if you are a chocolate fan.
I could go on and on. Yeah, I had fun topping these donuts, but I had more fun eating them.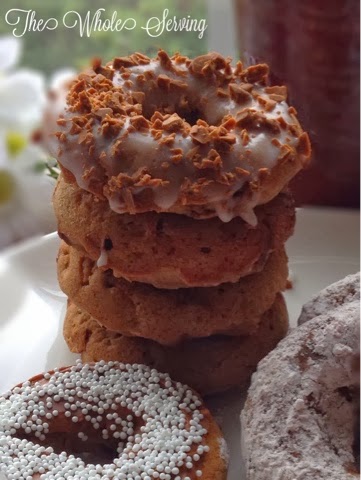 Apple-Cinnamon Donuts
Ingredients
2 cups, oat flour
½ cup coconut sugar
½ teaspoon sea salt
1 tablespoon baking powder
1 teaspoon cinnamon
2 tablespoon melted coconut oil
½ cup almond milk
1 egg, beaten
1 teaspoon vanilla
1 cup grated apple
¾ cup cinnamon chips
Glaze
1 cup powdered sugar
1 tablespoon warm water, use more if needed
Powdered Cinnamon Sugar
1 cup powdered sugar
1 teaspoon cinnamon
Instructions
1. Preheat oven to 350 degrees and lightly grease a
donut pan
(Affiliate Link)
.
2.
Whisk
(Affiliate Link)
flour, sugar, salt, baking powder,  and cinnamon together.
3. Mix in the oil, milk, egg and vanilla.
4. Stir in the grated apple and cinnamon chips until combined.
5. Transfer batter to
piping bag
(Affiliate Link)
for easy filling or just spoon each cup to about ¾ full.
6. Bake until donuts are light golden brown and spring back when touched, about 15 to 20 minutes.
7. Let cool slightly before removing from pan.
8. Blend powdered sugar and warm water to make dipping glaze in a small bowl.
9. Dip or pour glaze over donuts.
10. Sprinkle chopped cinnamon chips or candy sprinkles over glaze.
Powdered Donuts
Mix together powdered sugar and cinnamon, dust cooled donuts with sugar mixture.